The Most Savage NASCAR Brawls Saw These Big Names Bitter and Bloodied
Anytime you pair people together for competition and big cash prizes, you end up with a skirmish here and there. You only have to look toward motorsports and NASCAR to see how bad it can be. High speeds, 40 drivers, and a big desire to come in first can sometimes spark major conflicts.
Just take a look at some of the most savage NASCAR brawls. They show us what can happen when a little attitude and some big names end up a little bitter and a lot bloodied.
Kyle Busch vs. Joey Logano's pit crew (Las Vegas, 2017)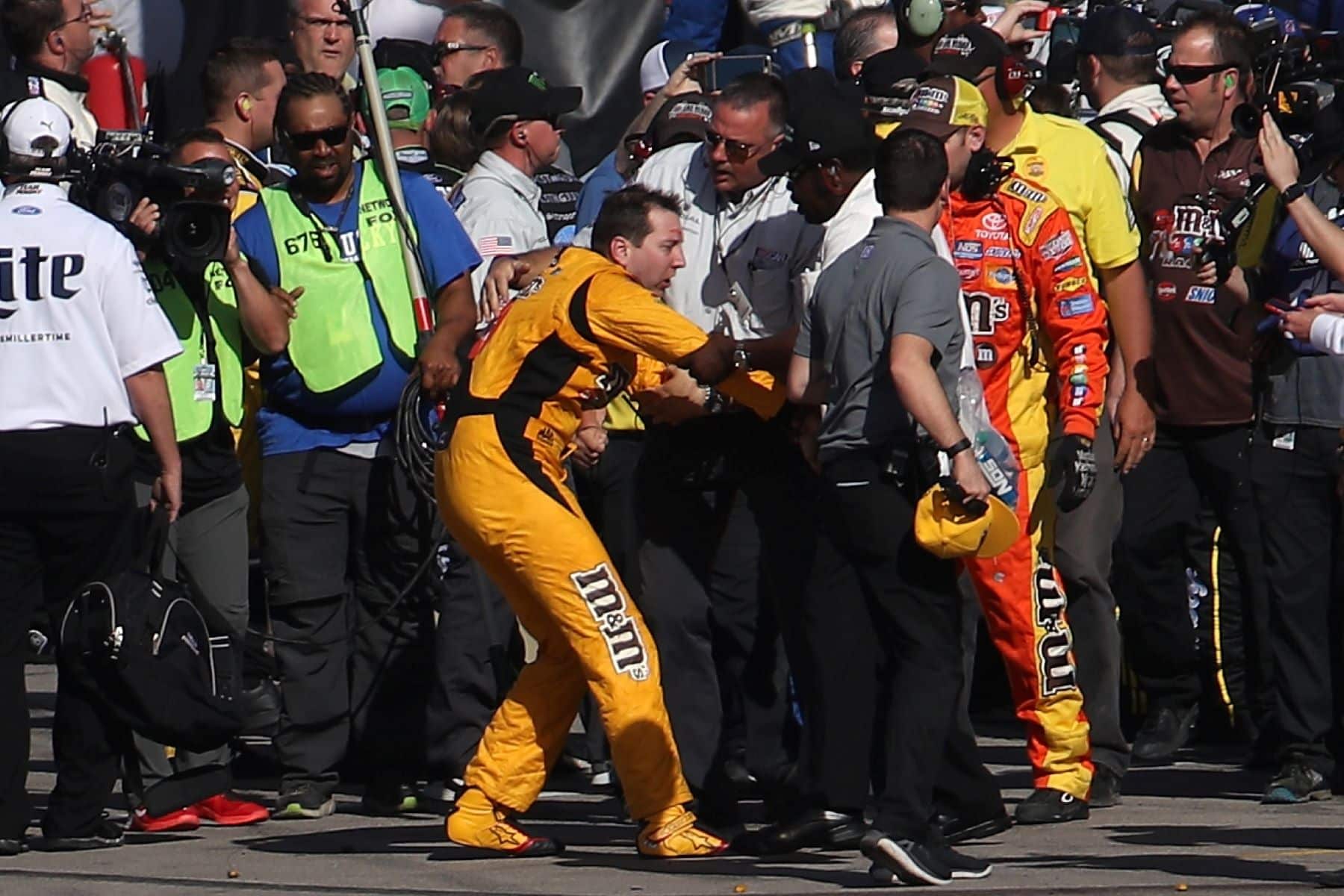 Kyle Busch has always been known for his attitude. He tends to show his anger in a variety of ways. In 2017, at Las Vegas Motor Speedway, it was a battle with Joey Logano, who also has been noted as a moody NASCAR driver. In this instance, Busch felt that he had been "dumped" by Logano and that he had "flat-out drove straight into the corner and wrecked me [Busch]."
According to USA Today, tempers flared because Brad Keselowski had some car issues, so he was running slow. Keselowski was running the high lane with Busch and Logano approaching on the final lap of the race. Busch moved down to get past Keselowski, and Logano didn't give enough space. The two made contact, and ultimately Busch finished the line in 22nd place because of it.
Jeff Gordon vs. Brad Keselowski (Texas, 2014)
This time it was Brad Keselowski in the hot seat when he came into contact with Jeff Gordon and put himself in the direct line of fire. Keselowski "saw a hole" on a restart, and Gordon happened to be too close to it.
At first, this battle was just a lot of fussing until Kevin Harvick shoves just a little in the pits. According to USA Today, soon after, the fists began swinging, and both Keselowski and Gordon walked away just a little bloodier that NASCAR day.
Jeff Gordon vs. Jeff Burton (Texas, 2010)
A few years before Jeff Gordon and Brad Keselowski battled it out, it was Gordon and Jeff Burton, according to Fox Sports. As the caution flag came out, Burton got into Gordon and pushed him into the wall. Though neither was racing at the front of the pack, when Gordon got out of his car, he set off with a purpose toward Burton's car.
It was mostly a lot of shoving since NASCAR crews intervened, but there is no denying that the tempers were a little warm on that day. According to Bleacher Report, there are also rumors that the dump began when the green flag was thrown prior to this caution since Burton came down on Gordon while they were running three-wide.
Kevin Harvick vs. Greg Biffle (Martinsville, 2002)
It all started with a slight bump that put Kevin Harvick in the wall and out of the race. The accident and the battle of words probably wouldn't be noteworthy. The altercation was little more than a shouting match. However, the way that Harvick dove over the roof of Greg Biffle's car was too impressive not to mention.
This wasn't the first time that these two had butted heads. They didn't really like one another and made no real secret of it. It still made the fans go wild and will always stand out in the history book of NASCAR battles.
Cale Yarborough vs. brothers Donnie and Bobby Allison (Daytona, 1979)
Cale Yarborough and the Allison brothers Donnie and Bobby made history in 1979. It wasn't just the fight that broke out, but it was the fact that it was NASCAR's first flag to flag televised race, according to Fox Sports. The fight was set into motion when Yarborough hit Donnie's race car, not one time, but two or three, until they both ended up in the wall.
When the cars came to rest at the bottom of the track, the people began to battle. Eventually, Bobby stepped in to try and help his brother, but the skirmish had already come to a stop.
RELATED: How a Post-Crash Fight Led to Dale Earnhardt Jr. and Tony Stewart Developing a Friendship