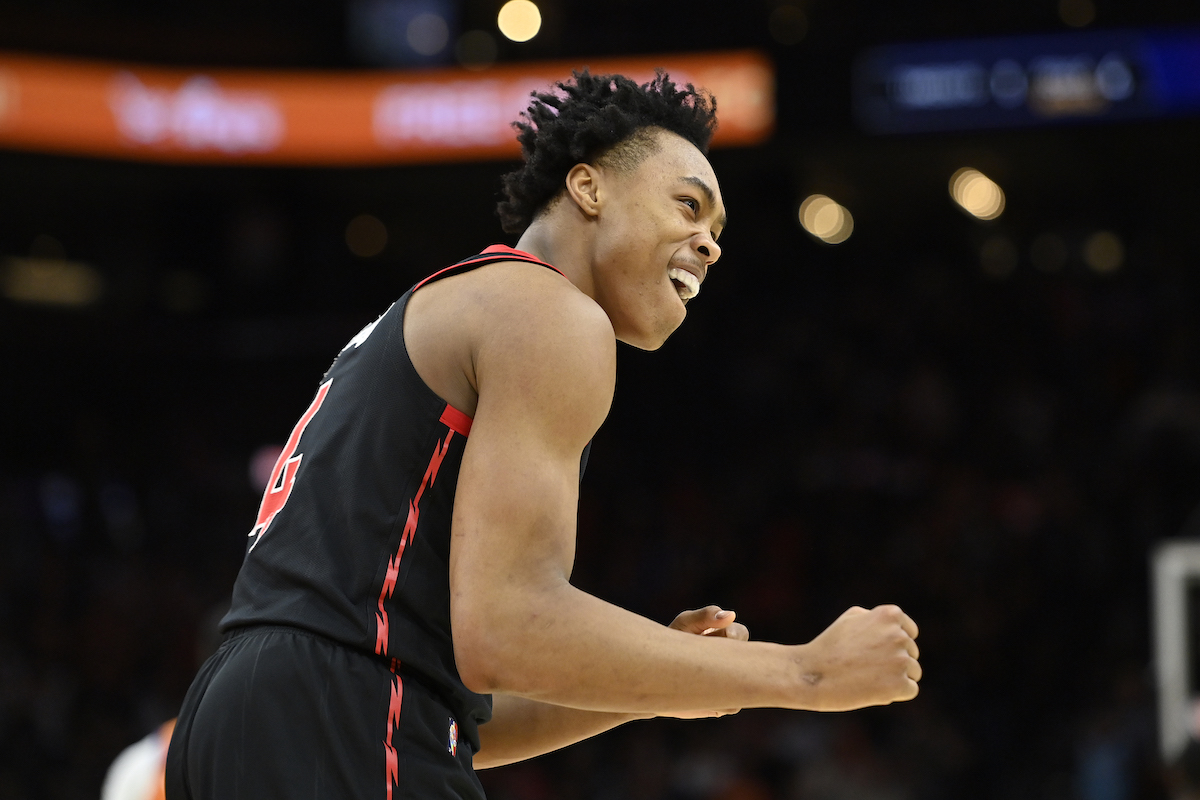 Scottie Barnes, Evan Mobley, Cade Cunningham Making NBA Rookie of the Year Irrelevant
Stop worrying about Rookie of the Year. Scottie Barnes, Evan Mobley, and Cade Cunningham are so special that NBA fans can be excited about more than an awar
Some NBA awards matter, but Scottie Barnes, Evan Mobley, and Cade Cunningham are doing their darnedest to make sure Rookie of the Year is all but irrelevant in 2021-22.
Sure, one of those three — barring a late mega-surge from Franz Wagner, who would be a leading contender almost every other year — will end up claiming the hardware, making their fan base beam with pride and unmitigated excitement about the future. But that accolade only matters so much during a season in which three players are showcasing best-in-the-league potential.
After all, the first-year standouts for the Toronto Raptors, Cleveland Cavaliers, and Detroit Pistons, respectively, won't be done competing after they complete their inaugural campaigns. Whoever wins Rookie of the Year will permanently feature that line on their resume, but they'll still have to keep improving — and quickly — to stave off the other competitors for the right to claim the best career.
Scottie Barnes as the surging do-everything forward for the Toronto Raptors
Since the All-Star break, Scottie Barnes has gone from "great for a first-year player" to "great for literally any player."
Dating back to his return from the midseason festivities, which began with a 28-point outburst against the Charlotte Hornets, he's averaged 19.0 points, 8.4 rebounds, 3.3 assists, 1.9 steals, and 0.9 blocks while shooting 57.4% from the field. He's struggled a bit with his outside shot, but he's more than made up for that lone deficiency by expanding his playmaking responsibilities without a corresponding turnover uptick and while continuing to thrive on defense.
Barnes' shaky jumper is one of two potential issues that could prevent him from rising into full-fledged superstardom — the other being his comfort operating more as a secondary scorer than a lead option, though he obviously has plenty of time to change that.
Otherwise, he checks all the boxes.
BBall Index's defensive versatility metric indicates that he's already one of the Association's most malleable stoppers. Only Juan Toscano-Anderson has a higher score there as Barnes has spent 17.4% of his possessions guarding point guards, 16.9% against shooting guards, 21.8% against small forwards, 20.6% against power forwards, and 23.3% against centers.
Defensive versatility isn't synonymous with defensive quality, but it is for Barnes, who is routinely posting 20-point games but has performed better on the less glamorous end of the floor in 2021-22.
It's entirely feasible to view him as a future Defensive Player of the Year candidate who can also create for his teammates with aplomb and score upward of 20 points per game.
Evan Mobley as the defensive fulcrum with unfettered offensive upside for the Cleveland Cavaliers
Even though they've been riddled by injuries throughout the 2021-22 season, putting a cap on their win-loss record in spite of the tremendous, ahead-of-schedule strides, the Cleveland Cavaliers have kept thriving on the defensive end. Only the Golden State Warriors, Phoenix Suns, and Boston Celtics have better season-long defensive ratings, and the sample has grown large enough to eliminate any possibility of flukiness.
Jarrett Allen is the easy recipient of the lion's share of the credit because of his shot-blocking prowess and work on the interior, but Evan Mobley has, arguably, been more important to the success. His ability to body up against bigger players and show off his lateral quickness on the perimeter gives him incredible switchability and makes him the rare first-year player who should — not could, but should — earn a spot on one of the league's All-Defensive squads.
Oh, and he can sometimes look like a LaMarcus Aldridge simulacrum on offense.
That's obviously a lofty comparison, and he doesn't deserve it with any semblance of consistency. But watch him put the ball on the floor from the right elbow and elevate for a smooth pull-up jumper, and you might see it too — if only momentarily.
Mobley still has work to do as a three-point marksman, but he's already comfortable finishing on the interior and creating for himself when the opportunity arises. Though the offensive results may be unsteady at this early stage of his career, the flashes indicate limitless offensive potential from someone who's already showing up in the betting odds for Defensive Player of the Year.
Cade Cunningham as the offensive dynamo with ridiculous feel for the Detroit Pistons
If Rookie of the Year were an award given to the first-year player who reached the highest level by the end of the season, Cade Cunningham would be an even stronger contender. But since it's theoretically supposed to be awarded to the qualified player who had the best season in totality, he's held back by the injury struggles and slow start at the beginning of his Detroit Pistons tenure.
As Cunningham has developed in the Motor City, he's made it clear that the perceived limitations stemming from his lack of top-tier explosion were unfounded. His feel for the game is off the charts, allowing him to calmly control the offensive proceedings whether he's calling his own number or setting up a teammate with a pinpoint feed.
Dating back to a breakout performance against the Utah Jazz on Jan. 21 in which he started getting always-on-the-floor treatment from head coach Dwane Casey, he's averaged 19.8 points, 6.7 rebounds, 5.7 assists, 0.9 steals, and 0.8 blocks. His jumper, as is often the case for rookies, has been inconsistent, but his accuracy at the charity stripe (87.5%) couples with his smooth form and impressive range to convey optimism about his future growth.
Since the All-Star break, he's been even better. Leading the charge for a surprisingly competitive Pistons outfit that has gone 5-5 while putting scares into a number of legitimate playoff squads, he's averaged 22.3 points, 7.5 rebounds, and 6.0 assists.
Cunningham doesn't have the defensive chops boasted by his fellow featured rookies, but his offensive potential can only be described as through the rafters and then some.
Franz Wagner, Herb Jones, Ayo Dosunmu, and the best of the rest
The beauty of this first-year crop is that it doesn't stop at three.
Scottie Barnes and Evan Mobley are the most likely to win Rookie of the Year, and for good reason. Cade Cunningham may finish the season as the most impressive player in his class while also boasting the most upside, even if other factors prevent him from garnering quite as much award consideration.
And while that triumvirate has such ridiculous long-term potential that the accolade itself feels like it'll be nothing more than an irrelevant footnote years into the future, the rest of this class could join the leading three on All-Star squads yet to come.
Franz Wagner is scoring 15.2 points per game for the Orlando Magic and proving he can thrive in any number of on- and off-ball roles. Herb Jones is a defensive menace who suffocates difficult assignments and wreaks havoc in passing lanes — enough so that he could join Mobley as a first-year All-Defensive representative. Josh Giddey is a preternatural passer on an Oklahoma City Thunder squad that's not so much tanking as successfully rebuilding.
Ayo Dosunnmu is another stifling defender with offensive upside. Chris Duarte has filled a steady role for the Indiana Pacers amid a tumultuous season. Jalen Green is coming on strong as a scorer and could follow in Anthony Edwards' footsteps as a second-year breakout candidate. Jonathan Kuminga defies gravity on a regular basis and is carving out an important role for the contending Golden State Warriors.
We haven't yet mentioned Alperen Sengun, Davion Mitchell, Jalen Suggs, Cam Thomas, or Bones Hyland, all of whom have submitted stretches impressive enough to make their fan bases excited about their long-term potential.
This class is flat-out special, and it's not just because the three young men leading the charge are already good enough that Rookie of the Year is a fun battle that will ultimately prove irrelevant in the long run.
All stats, unless otherwise indicated, courtesy of Basketball Reference and accurate heading into games on March 14.