Scottie Pippen Once Beat Pat McAfee in a Round of Golf and Then Learned How to Shotgun a Beer Afterward: 'Pippen Ain't Easy'
Scottie Pippen is an NBA legend who won championships with Michael Jordan and the Chicago Bulls. However, he is apparently a pretty decent golfer, too. In fact, Pippen once beat former NFL punter and sports media superstar Pat McAfee in a round of golf and then learned how to shotgun a beer after the match.
Scottie Pippen and Pat McAfee competed in the Baha Mar Showdown
In 2019, Chris Paul and Aaron Rodgers hosted the Baha Mar Showdown, a three-day golf tournament in the Bahamas.
There were ultimately two teams competing, as one consisted of current and former NFL players and the other had current and former NBA players.
According to the tournament's official Twitter, Team NFL had: Aaron Rodgers, Brett Favre, Larry Fitzgerald, Adam Thielen, Kyle Williams, Josh Scobee, Patrick Peterson, and McAfee.
Team NBA consisted of: Mike Conley Jr., Chris Paul, J.R. Smith, Ray Allen, Dell Curry, Deron Williams, Tyler Johnson, and Pippen.
CBS aired the tournament, and Team NFL ultimately won.
McAfee, though, failed to win against Pippen.
Scottie Pippen beat Pat McAfee head-to-head
As retold by McAfee on the July 2, 2019 episode of The Pat McAfee Show, and later in an April 2020 video, he learned he had to go head-to-head against Pippen after being told by Dell Curry the previous day that Pippen had been struggling on the course.
Because of this, McAfee's expectations for Pippen's game weren't too high, but, after teeing off, he quickly learned he had to take him more serious.
"I start seeing Scottie hit some shots that are just starting to come together, and I'm like … 'I think I was lied to,'" he said.
Pippen led McAfee by three strokes with seven holes left, but McAfee started feeling confident that he would make a comeback.
However, the six-time NBA champion had something to say about that.
"Scottie Pippen from 190 yards out just f—ing dunks it," McAfee said. "Boom, bang, and then walks up to the green, gets the ball, camera's on him, and he goes, 'Pippen ain't easy.'"
Pippen ultimately won the match, and McAfee jokingly confronted Curry afterward. Curry, though, stood by his claim.
"He was like, 'Well I saw, yesterday he was not great, and Greg Anthony told me,'" McAfee recalled. "I was like, 'Dell, he buried me, Dell Curry. He buried me.' He said, 'Hey, Pippen ain't easy.'"
Scottie learned how to shotgun a beer afterward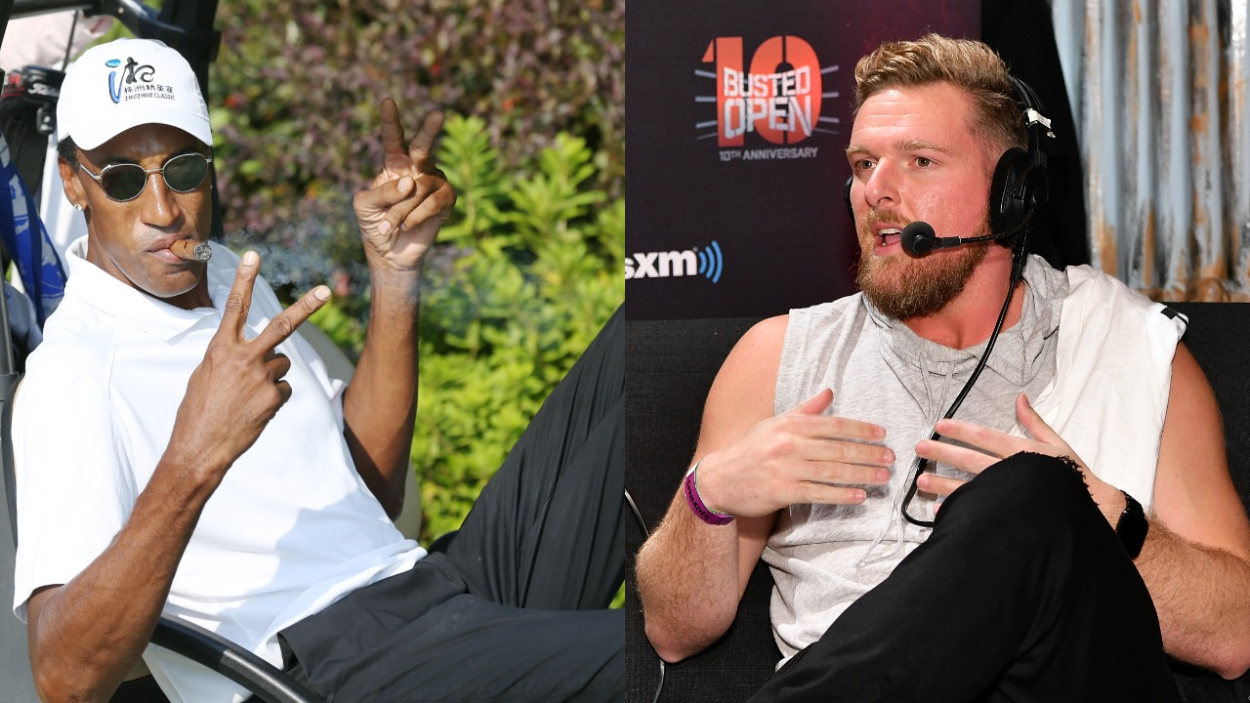 Despite McAfee's loss, there were no hard feelings between him and Pippen after the match, and the former punter actually taught him how to shotgun a beer.
"I taught him how to shotgun a beer after he had beat me, obviously, during there wasn't as much friendly banter," McAfee said. "Whenever he knew he won, I think he became a fan. … The NFL had already been deemed the champion, so I was already a champion; he had already beat me; we're in a win-win situation here. Let's put our swords away. … I teach him how to do it; he takes it down like a champ."
In the video McAfee posted, after Pippen finished the beer, he then said, "That's the best Bud Light I ever had." It's unclear if that was because he had beaten McAfee in golf or because he had just learned how to shotgun it, but it looks like it was pretty good beer after a successful day on the course.
Scottie Pippen and Pat McAfee had successful pro careers
Obviously, there's no comparing the pro success of McAfee and Pippen. They played two totally different sports, and McAfee played a position with a lesser impact on the game's final outcome.
But they both still had significant success.
Pippen is a Naismith Memorial Basketball Hall of Famer after earning seven All-Star selections and winning six NBA championships on the Bulls with Michael Jordan. He is widely recognized as one of the greatest players to ever play the game.
McAfee, on the other hand, was a two-time Pro Bowl selection and a First-Team All-Pro punter for the Indianapolis Colts. In his final NFL season in 2016, McAfee led the NFL in yards per punt with a 49.3 average. He also kicked off a Super Bowl for the Colts during his rookie season.
Pippen and McAfee had two completely different careers in entirely different sports, but it appears they had a pretty epic golf battle when their paths crossed in 2019. Maybe, one day, there will eventually be a rematch.
Stats courtesy of Pro Football Reference and Basketball Reference
RELATED: Scottie Pippen Refuses to Compare Kevin Durant to Michael Jordan: 'Why Would You Ask a Question Like That?'