Scottie Pippen Believes His Controversial Bulls Decision Could Follow Him to His Tombstone: 'It Was That Moment Where I Needed to Speak Out'
While Scottie Pippen received a ton of praise throughout his career with Michael Jordan and the Chicago Bulls, he hasn't been able to live one controversial moment down: the 1994 Eastern Conference semifinals.
The Last Dance docuseries discussed that particular game at length, as it gave Pippen's perspective and revealed what some of his teammates thought. But now, as it continues to hang over his head 25-plus years later, Pippen seems to think it could follow him around the rest of his life.
Scottie Pippen sat out the final 1.8 seconds in Game 3 of the Eastern Conference semifinals
Throughout his entire career up to that point, Scottie Pippen had been the Robin to Michael Jordan's Batman. MJ was the superhero while he was the sidekick.
However, during the 1993-94 season when MJ decided to play baseball, the Bulls were Pippen's team, and it appeared he was finally getting his own spin-off film that he deserved.
But he didn't. Head coach Phil Jackson stood in the way of Pippen getting his iconic moment.
With 1.8 seconds left in Game 3 of the Eastern Conference semifinals that year, the Bulls had the ball and were tied with the New York Knicks, 102-102. It was the perfect opportunity for Pippen to take the last shot.
However, Jackson called for Pippen to inbound the ball and for Toni Kukoc to shoot it. Scottie then chose to sit out the final play, and Kukoc hit the game-winner anyway.
The move has since been a highly-debated topic, and Pippen has received significant criticism for it.
"Scottie is one of our favorite teammates and favorite people in the world," Steve Kerr said during The Last Dance, per USA Today. "He quit on us. We couldn't believe that happened. It was devastating."
If emotions toward Pippen's decision had died down at all, the documentary's coverage of it stirred everything up again. And now the Hall of Famer seems to believe it could follow him around for the rest of his life.
The controversial moment has become a part of Scottie's legacy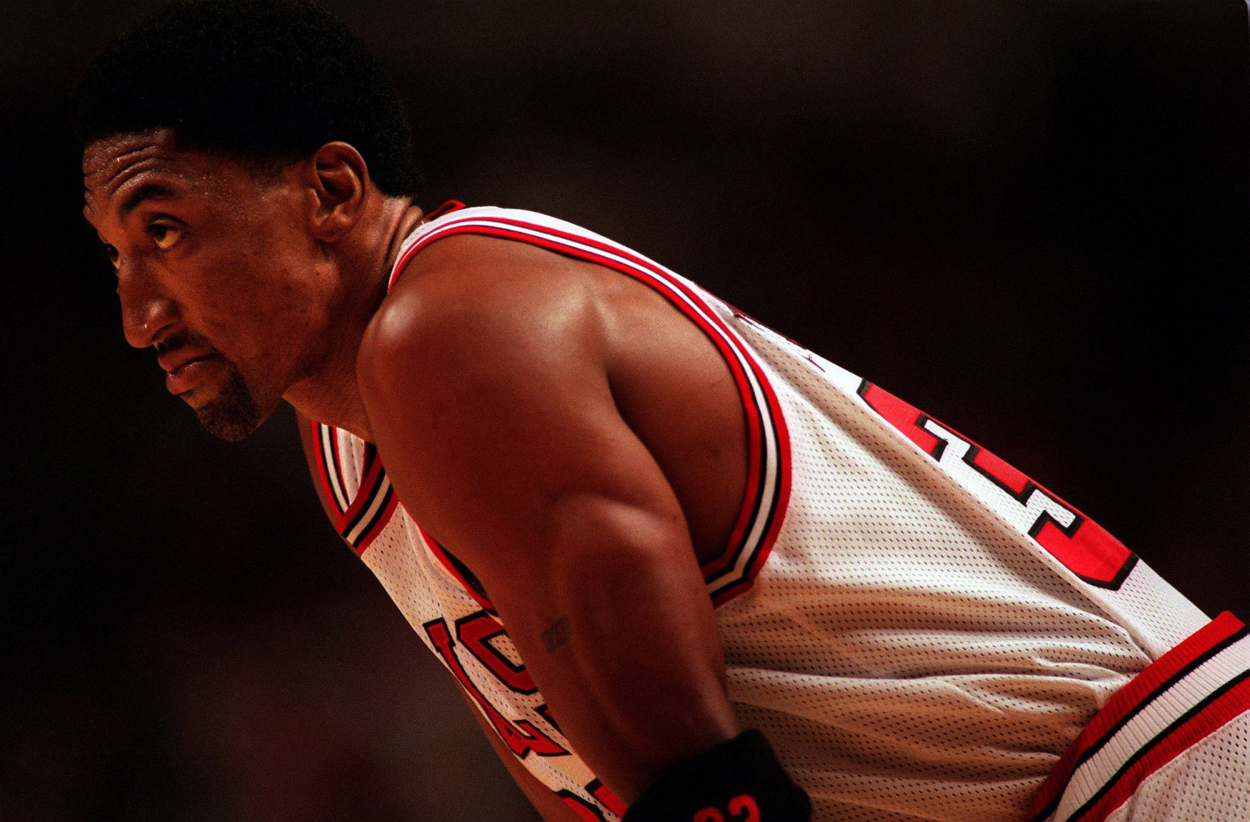 Scottie Pippen recently appeared on The Daily Show with Trevor Noah to discuss his book, Unguarded, and Noah brought up one of his favorite lines from the memoir.
"It seems morbid, but it's really funny where you write, 'I'm almost convinced that literally to my grave this will be my tombstone: Scottie Maurice Pippen, beloved husband and father. 1965 to [blank],'" Noah said on the Dec. 2 episode. "And then it's, 'Seven-time NBA All-Star; six-time NBA champion,' and below that, it says, 'sat out the final 1.8 seconds of a playoff game between the Chicago Bulls and the New York Knicks.'"
Obviously, Pippen probably doesn't really think his tombstone will say that. But the message is clear: He believes that moment is a major part of his legacy.
Noah then asked Pippen why he believes it has been so significant for him and for people who were on the outside.
"I think for what people saw from the outside: They had never saw a player really stand up for himself against a coach in that type of situation. And I think I was that player to sort of break that ice," Pippen said. "It was a moment in time for me because I have been challenged my whole life. And I had been playing under the wings of Michael Jordan for, I guess at that time, six years, three championships. So, I felt like it was time for me to break out and to let them know that, 'Hey, I came here to be a star player. I didn't come here to be a second fiddler to anyone."
Pippen also added that he felt he "needed to make that stance." But it "just so happened" that it took place during a critical playoff game.
"I felt like (during the game) it was that moment where I needed to speak out," he said.
Scottie Pippen continued his criticism of 'The Last Dance'
Everything turned out OK for Scottie Pippen, as he won three more titles with Michael Jordan. He's also widely-considered as one of the greatest players to ever play.
But the Central Arkansas product doesn't feel The Last Dance gave him and his teammates justice, and he has since made that clear through his book and various interviews.
"I feel like that the documentary was solely built and controlled through Michael Jordan," Pippen said to Noah. "And I didn't feel like it really gave justice to a lot of the great players [and] coach just that were a part of that journey. It was truly something that I felt like needed to be expressed from a team standpoint."
So, the coverage of his controversial moment isn't the only thing about The Last Dance that bothered Pippen.
But all in all, whether you still hate his decision to not play in those final 1.8 seconds or not, Scottie Pippen is more than that one moment. He's one of the greatest players to ever play in the NBA.