Scottie Pippen Made a Curious Choice in Dubbing One Former NBA Star 'The Kevin Durant' of His Generation
Kevin Durant has turned into one of the greatest offensive threats in NBA history. KD's height, length, athleticism, and skill are unmatched. Similarly, Scottie Pippen is one of the great one-on-one perimeter defenders of all-time. Presumably, Pip would know a great scorer when he saw one. In his memoir Unguarded (which is making the rounds), Scottie called Rasheed Wallace his generation's version of Durant.
The six-time NBA champion was teammates with Wallace with the Portland Trail Blazers for four seasons, so he got to see Sheed up close. What he saw, in his opinion, was the most versatile offensive forward of his time.
Scottie Pippen and Rasheed Wallace were teammates with the Portland Trail Blazers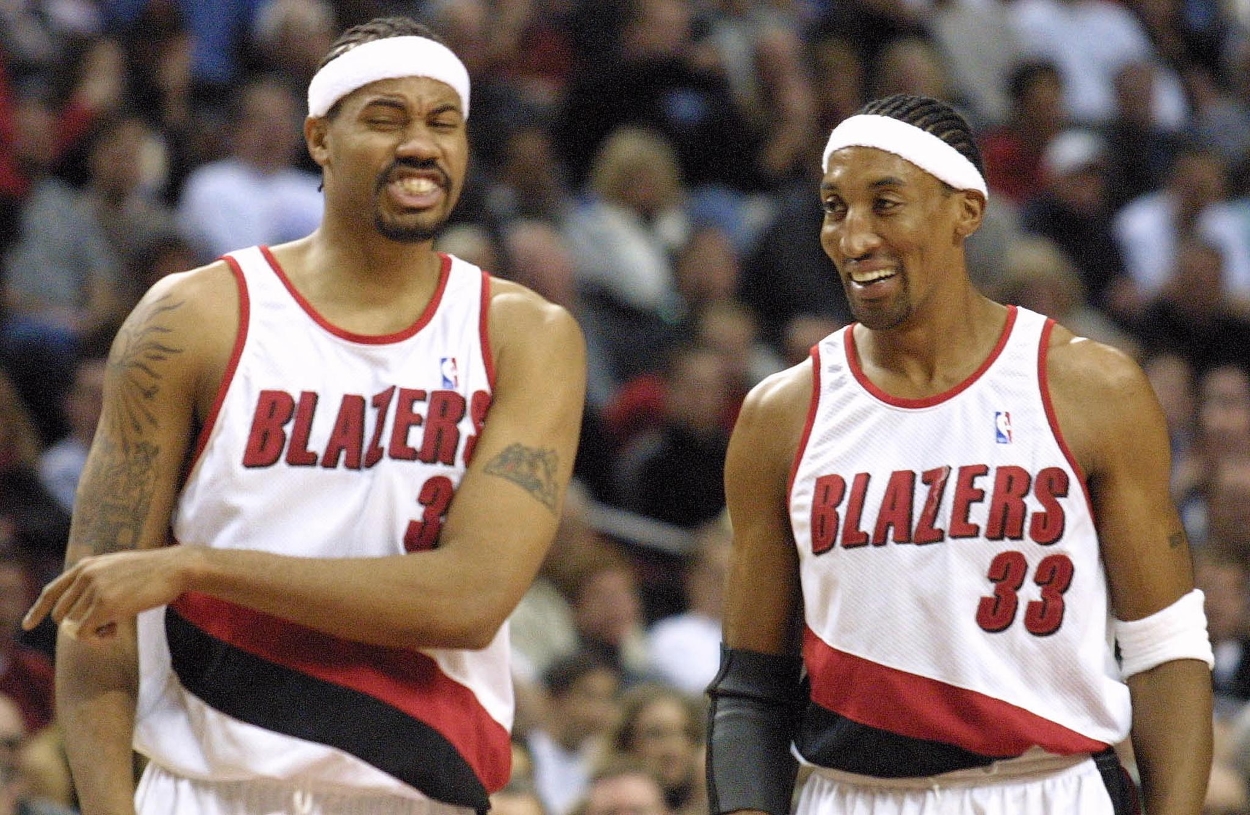 The legendary Chicago Bulls forward moved on from the franchise after Michael Jordan retired. The dynasty broke up after the 1997-98 championship season.
Pippen first found his way to Houston. That experiment lasted for a year before he demanded a trade and ended up with the Blazers.
Scott made an immediate impact, helping lead Wallace and his Portland teammates to the Western Conference Finals his first season with the franchise. They came up short, though, losing in an epic seven-game series to the eventual-champion Los Angeles Lakers.
The Central Arkansas product was part of his own dynasty and then witnessed firsthand the berth of another with the Shaquille O'Neal-Kobe Bryant Lake Show.
But one of Pippen's most pleasant surprises as a member of that Blazers team was the former North Carolina Tar Heel, who was just beginning to find his groove in the league.
Pippen called Sheed his generation's Kevin Durant
At first glance, Pip comparing Wallace to KD seems ridiculous. Statistically, it is. But skill-wise? Not necessarily.
Sheed came into the league as the fourth overall pick in the 1995 draft. He was a tall, offensively-versatile power forward. Part of his profile on DraftExpress reads:
"A tall, long, and talented player who is one of the best overall power forwards in the game. … Immensely talented inside-outside threat. … Very high consistent release. Capable from hitting shots all the way out past the three point line. Tremendously consistent from that range for his size and skill set. … Lights out when unguarded. Very good midrange game as well. Capable of hitting turnarounds and fade aways with impressive range."
Sound familiar?
Pippen apparently believes so. In Unguarded (h/t BlazersEdge), he wrote:
"Rasheed was the Kevin Durant of his day, able to get off a high-percentage shot anytime he wanted, with his left or right hand. He was one of the first bigs to run to the three-point line. He could make it from Steph Curry range."

Scottie Pippen on Rasheed Wallace in Unguarded
Sheed wasn't as quick or athletically gifted as The Slim Reaper, which on the eye test makes it appear like he wasn't as talented. But he was similarly skilled as an offensive player.
Wallace's skill set was tailor-made to play in the current NBA
That phrase seems to get thrown around a lot, but in this case, it feels accurate.
Roscoe averaged 14.4 points, 6.7 rebounds, and 1.3 blocks during his career. He shot 46.7% from the floor and 33.6% from three. He averaged 12.2 shots per game and 2.9 attempts from deep.
Durant is a career 49.6% shooter and has made 38.5% of his 3-point attempts. The caveat — Durantula averages more than six additional field-goal attempts and two more threes per game.
KD is one of the greatest players in basketball history. There are few, if any, offensive players like him who have ever existed. But from a pure skill perspective, Sheed was similar — a tall, long, versatile all-around shot-maker.
It's fair to assume, had he entered the league at the same time Durant did, Wallace would have played a similar role, which is what Pippen saw while he was in Portland.
The four-time All-Star and 2004 NBA champion remains one of the forgotten offensive talents of the last 25 years.
All statistics courtesy of Basketball Reference.