Scottie Pippen Calls Michael Jordan's Jump to Baseball a 'Selfish' Decision: 'It Was Kind of Who Michael Jordan Was'
Michael Jordan's entire NBA career was well documented. He was the best basketball player in the world, so everyone wanted to know what he was doing at all times. This was especially the case, though, after he announced his first retirement in 1993, as the most famous athlete on the planet did not just walk away from his sport, but he also launched a baseball career.
However, not many of us know how Jordan's superstar Chicago Bulls teammate, Scottie Pippen, felt about his decision to walk away from the team. Was he angry? Frustrated? Sad? All of the above?
Pippen recently shared his thoughts on Jordan's first retirement.
Michael Jordan retired from the NBA to play baseball in 1993
Jordan and the Chicago Bulls were atop the world in 1993. They had just won their third consecutive NBA championship, and Jordan had led the NBA in scoring for the seventh consecutive season.
However, in October of that year, Jordan retired from basketball. He then decided to try and launch a baseball career, as he played for the Chicago White Sox's Double-A team, the Birmingham Barons, in 1994. MJ hit .202 that season to go with three home runs and 51 RBIs. He also stole 30 bases.
Jordan ultimately sat out the entire 1993-94 NBA season. The Bulls were still good, though, as they went 55-27 and reached the Eastern Conference semifinals, but eventually fell to the New York Knicks in seven games. Pippen averaged a career-high 22.0 points per game that year to go with 8.7 rebounds, 5.6 assists, and 2.9 steals.
Jordan then returned to the NBA toward the end of the 1994-95 campaign. The Bulls lost in the Eastern Conference semifinals again that year, but later won three straight titles after that season.
Scottie Pippen discussed Michael Jordan's jump to baseball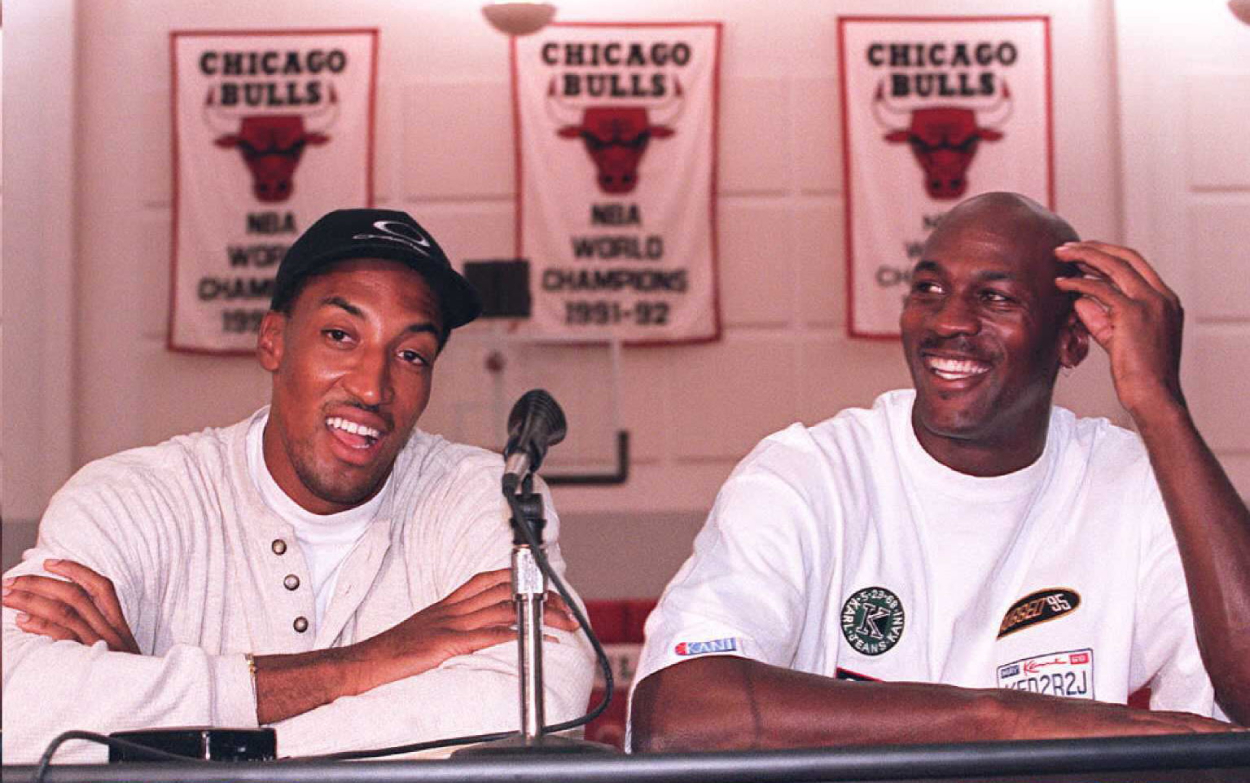 Pippen recently appeared on the Dan Patrick Show, and Patrick asked him what he thought when Jordan left the Bulls to play baseball.
"I didn't really think about it," Pippen said on the June 28 episode. "I was really focused on my own craft at that time."
However, when Patrick said that the move was a pretty big decision, Pippen agreed.
"It was a big decision, but it was a selfish decision," he added. "It was kind of who Michael Jordan was, and that was a guy that believed that he can do anything on his own."
You can't really blame Jordan for wanting to try a new sport. But you also can't blame Pippen for thinking Jordan's decision to leave the team was selfish. The Bulls had just won three straight championships, and they had the talent to win several more.
That wasn't all Pippen said about the 1993-94 NBA season, though.
Scottie Pippen revealed his issue with 'The Last Dance'
During the same interview, Patrick mentioned how it seemed like the documentary just kept piling on Pippen.
The NBA legend then revealed his issues with how The Last Dance covered the Bulls' 1993-94 season.
"I think my biggest thing with the documentary was that Michael, who didn't play in '94, [was] selling a video based on The Last Dance, [which] was something that he sort of tried to pull out to show that 'our winning was all about me, and this is what everybody else did when I wasn't around,'" Pippen said. "He didn't need that in his documentary; he wasn't on the team."
Pippen then addressed a conversation Jordan had with former Bulls coach Phil Jackson that he says was referenced in The Last Dance.
"If anything, if you're gonna show that you called Phil, why didn't you show that you called Phil to bat for me? I probably was the only man standing who had been there with him back in the early 80s," Pippen said. "But yet he comes back the next year because it was getting good; we weren't fading away."
The specific Jordan-Jackson conversation (or potentially conversations) Pippen was referring to while speaking to Patrick are unclear. But he may have been talking about the time Jordan called the former Bulls coach to discuss Pippen not checking in during the final seconds of Game 3 in the 1994 Eastern Conference semifinals. Jackson brought it up during the The Last Dance and said MJ told him he wasn't sure if Pippen would ever live that decision down, per CBS Sports.
Aside from Pippen's problem with that potential Jordan-Jackson convo, though, his remark about MJ returning to the Bulls because they weren't fading away is interesting. Chicago wasn't like a LeBron James-less Cleveland Cavaliers or Miami Heat team. The Bulls were still a force to be reckoned with while MJ was away, so maybe that made Jordan's decision to return a little easier.
No matter what his reasoning was for coming back to the Bulls, though, we all got MJ's perspective during The Last Dance. It appears Pippen now wants us to get his perspective, too.
Stats courtesy of Basketball Reference and Baseball Reference
RELATED: Dennis Rodman Once Scared Scottie Pippen by Diving Into a Crowd of People From the Top Floor of a Club