Scottie Pippen Continues His Michael Jordan Takedown on 'Good Morning America,' Boldy Says He Wants to Be Remembered as the GOAT
Scottie Pippen has made his issues with The Last Dance and Michael Jordan known throughout the past several months. And during a recent Good Morning America appearance, Pippen continued airing his grievances about his former teammate while also making a bold claim about his own basketball legacy.
Scottie Pippen discussed Michael Jordan and 'The Last Dance' on 'Good Morning America'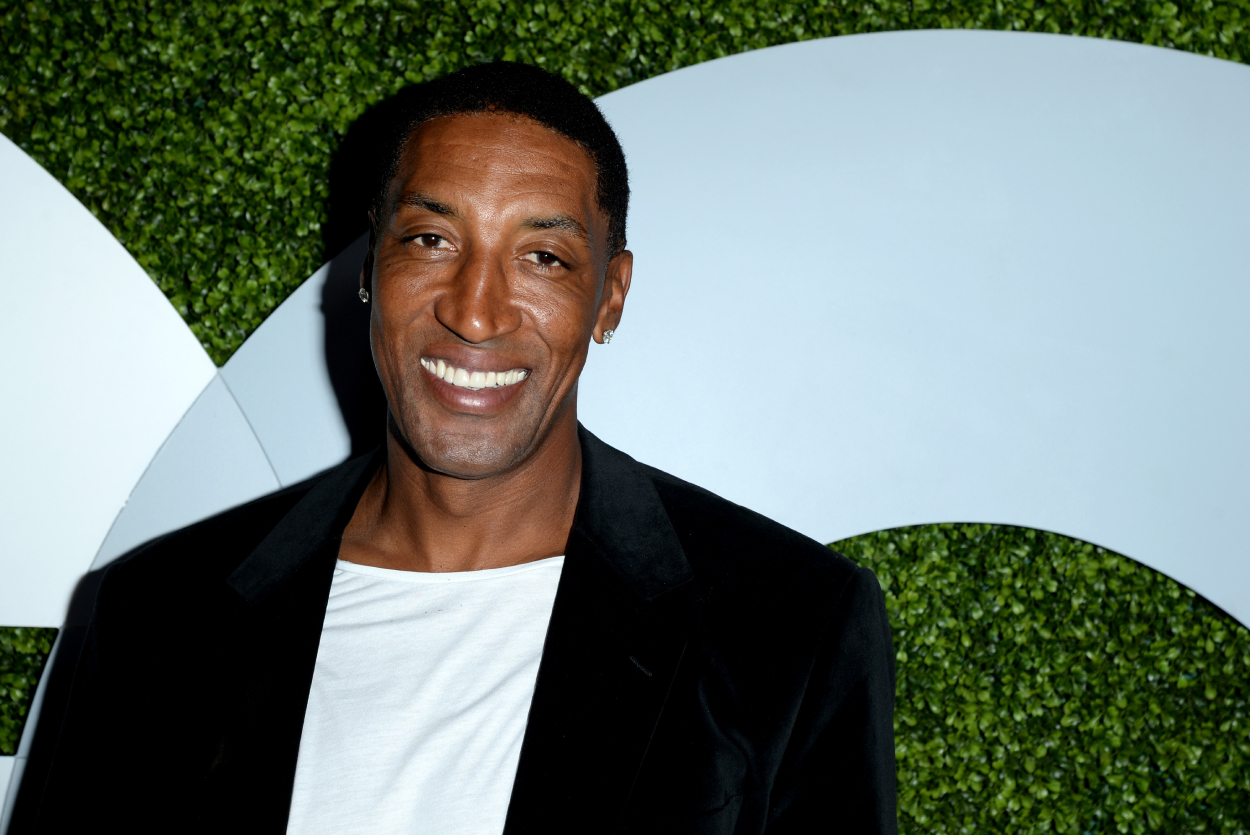 Scottie Pippen is in the process of releasing his new book, Unguarded, and in it, he took some shots at his former Chicago Bulls teammate Michael Jordan, specifically with how The Last Dance portrayed him.
"Michael was determined to prove to the current generation of fans that he was larger-than-life during his day—and still larger than LeBron James, the player many consider his equal, if not superior," an excerpt from the book reads in part, per CBS Sports.
To promote his memoir, Pippen appeared on the Nov. 8 episode of Good Morning America. The six-time NBA champ then continued sharing his issues with the documentary while speaking to former NFL star Michael Strahan.
"I thought it was a great documentary; I feel like the documentary only told a story that sort of glorified him as a player and not glorified us as a team," Pippen said.
Strahan then brought up how Pippen called Jordan "selfish" in the first chapter of his book, and the Hall of Famer responded by admitting MJ was a "great scorer" but that he didn't always have team-first actions
"A lot of things that he did was based on him as an individual, and I think basketball is a team game," he said.
Pippen also opened up about his relationship with Jordan, saying it wasn't like how it was on the court.
"We always will have that respect for each other, but our friendship is not where people [who] see it on TV think it is," he added.
Scottie still gave MJ credit for being a great player
Despite having some problems with his former Bulls running mate, Pippen still gave Jordan credit.
He said MJ wouldn't have achieved all that he did without him, but Scottie also said he wouldn't have accomplished all he did without Michael.
"I think we both complemented each other in a lot of different ways, and we kind of competed and pushed each other to be great," Pippen said on GMA.
But the Central Arkansas product also made a bold claim about where he ranks among other NBA greats.
Scottie Pippen wants to be remembered as 'the greatest of all time'
The debate about the greatest basketball player of all time is typically between Michael Jordan and current NBA superstar LeBron James.
But while Strahan was ending his interview with Pippen, he had an interesting question for the seven-time All-Star: "How do you want to be remembered?"
Pippen's response?
"As the greatest of all time."
The confidence is certainly great to see, but there probably aren't many fans who believe that to be true.
Fans will likely remember Scottie Pippen as a great player but not the greatest of all time
Despite his desire for others to remember him as the GOAT, there probably aren't too many minds in which Scottie Pippen holds that title, especially with everything Michael Jordan and LeBron James have accomplished.
Here's a look at each of their resumes:
Michael Jordan
14-time All-Star
Five-time NBA MVP
Six-time champion
Six-time NBA Finals MVP
10-time scoring leader
Three-time steals leader
32,292 career points (No. 5 all-time)
2,514 career steals (No. 3 all-time)
LeBron James
17-time All-Star
Four-time NBA MVP
Four-time champion
Four-time NBA Finals MVP
2007-08 scoring leader
2019-20 assists leader
35,516 career points (No. 3 all-time)
9,738 assists (No. 8 all-time)
Scottie Pippen
Seven-time All-Star
Six-time champion
1994-95 steals leader
2,307 career steals (No. 7 all-time)
Pippen was, obviously, an elite player during his career, but he probably won't find many fans who call him the GOAT.
Stats courtesy of Basketball Reference