Scottie Pippen Invaded Michael Jordan's Locker and Demanded Reporters 'Dry Their Eyes' Before His First Game Without MJ
The Chicago Bulls prepared for a new era following Michael Jordan's first retirement in the fall of 1993. All of Chicago media and the entire globe at large lamented the absence of one of the greatest sporting icons in human history. But Scottie Pippen assured Chicagoans that life would, in fact, go on without MJ.
Pippen embraced his new role as the face of the franchise and, as he has since indicated in his memoir, relished the chance to get out from under Jordan's shadow and show the full extent of his greatness. The Bulls great wasted little time ushering in the post-MJ era with a bold gesture during the 1993 preseason.
Michael Jordan's retirement made Scottie Pippen the new face of the Bulls
Michael Jordan successfully led the Bulls to the top of the NBA and spearheaded one of the greatest dynasties in league history. But after nine seasons, he'd finally had enough.
Jordan announced his retirement on Oct. 6, 1993. Though he did not mention as much at the time, MJ intended to pursue a career in professional baseball. His Airness had actually reached that conclusion before winning his third championship in 1993.
Money's decision came just before the 1993-94 season. Scottie Pippen believed it a selfish choice. However, Pip finally had the opportunity to see what he could do as a true No. 1.
Having been Jordan's co-star throughout his Bulls career, Scottie now found himself the unquestioned leader of a three-time defending NBA champion. Rather than shrink from the moment, Pippen almost immediately asserted his presence as top dog.
Pippen took a shirt from Jordan's old locker and jokingly insisted reporters use it to wipe their tears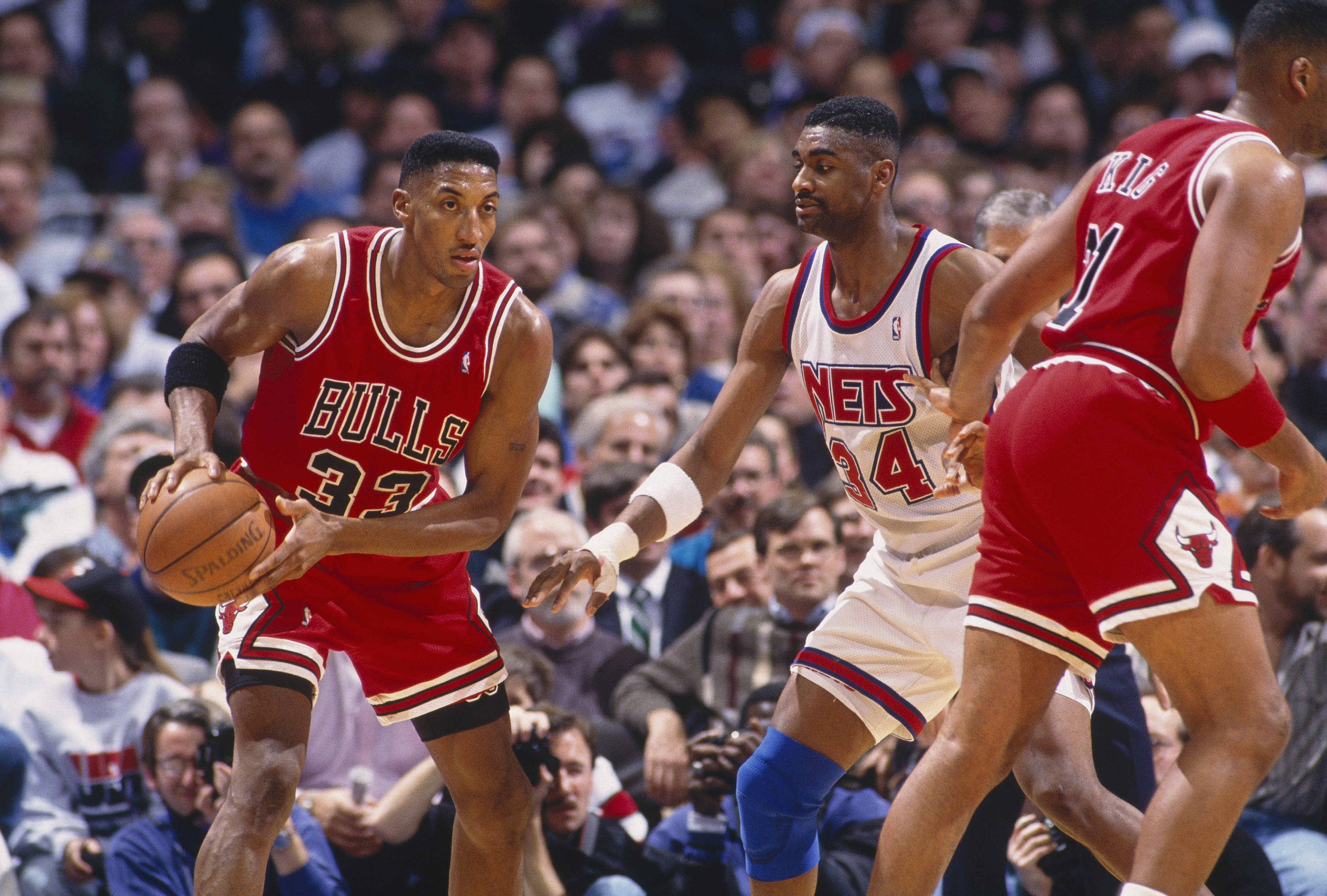 Local and national reporters swarmed around Scottie Pippen. The date was Oct. 28, 1993, and Pippen began preparations for his first game without Michael Jordan as a teammate.
The Hall of Famer did so in spectacular fashion.
Astutely aware that reporters no longer had the chance to cover a seminal figure like MJ, Pippen retrieved a shirt from Jordan's old locker. He jokingly asked the men and women in the room a simple question (h/t The Athletic) that essentially doubled as a demand.
"Here, anyone want to dry their tears?"

–Scottie Pippen (1993) to reporters after Michael Jordan's retirement, via The Athletic
Scottie then name-dropped Jordan, though he hardly took any time to dwell on the past.
"Michael, I love you, but I'm glad to see you go."

–Pippen (1993), via The Athletic
That brief press scrum before an otherwise meaningless preseason game officially made it clear that the Bulls belonged to Pippen. It also set the stage for one of the most underappreciated individual seasons in NBA history.
Pippen dominated during the 1993-94 season
The Bulls hardly struggled without Michael Jordan in 1993-94. They continued to thrive, thanks mainly to an MVP-caliber season from Scottie Pippen.
Pippen led the Bulls in scoring (22.0 points), rebounds (8.7), and assists (5.6). He also averaged 2.9 steals. Chicago won 55 games and finished the regular season as the No. 3 seed in the Eastern Conference. Pip made All-NBA First Team and finished third in the MVP voting.
As he first suggested that October, Pippen genuinely enjoyed playing without Jordan. The Bulls lost a heartbreaking playoff series against the New York Knicks and would not win another NBA title before MJ returned for a full run in 1995-96, but Scottie successfully proved he could dominate every facet of the game.
It's worth wondering what Pippen might otherwise have accomplished as a real alpha. Then again, the way he and Jordan complemented one another is what defined the Bulls dynasty.
Stats courtesy of Basketball Reference.