Scottie Pippen's Latest Michael Jordan Comments Receive Stern Criticism From Stephen A. Smith, Who Says He 'Ain't Box Office': 'He Ain't Jordan'
Scottie Pippen and Michael Jordan. For years, those are the two names everyone brought up when complimenting great duos or partnerships. In recent months, though, the outside perception that they had some sort of unbreakable bond has shattered into a million pieces.
Pippen has made numerous critical comments about MJ ever since the release of The Last Dance. And his recent statements about Jordan's iconic "flu game" drew a strong reaction from ESPN's Stephen A. Smith.
Scottie Pippen downplayed Michael Jordan's 'flu game'
Scottie Pippen has recently been on a media tour to promote his new book Unguarded. And when sitting down with Frank Isola on SiriusXM NBA Radio, Pip discussed Game 6 of the 1998 NBA Finals, the night he played with a severely injured back.
"I was done, pretty much," Pippen said. "I struggled to pull it through in that game. And I suffered from it, still suffering from it, but I wouldn't have played in a Game 7. I just wasn't able to go. I knew on Saturday that I probably had one game left in me, and the start of that game, I got a dunk early in the game and got banged a little by [Karl] Malone. That really put me back on my heels throughout that whole game, where I was running back in the locker room, cortisone, whatever kind of medication I could get in me, heat pack, whatever to try to carry on. But I definitely was not able to play a Game 7."
Isola then asked whether Pippen thinks he gets enough credit for that game compared to the credit Michael Jordan receives for his "flu game," which took place in Game 5 of the 1997 NBA Finals.
"Is it easier to play with a herniated disc or to play with the flu?" Pippen asked Isola. "… I don't see many 'bad back games,' but I do see 'flu games.' Flu; come on."
Stephen A. Smith blasted the notion that Scottie is disrespected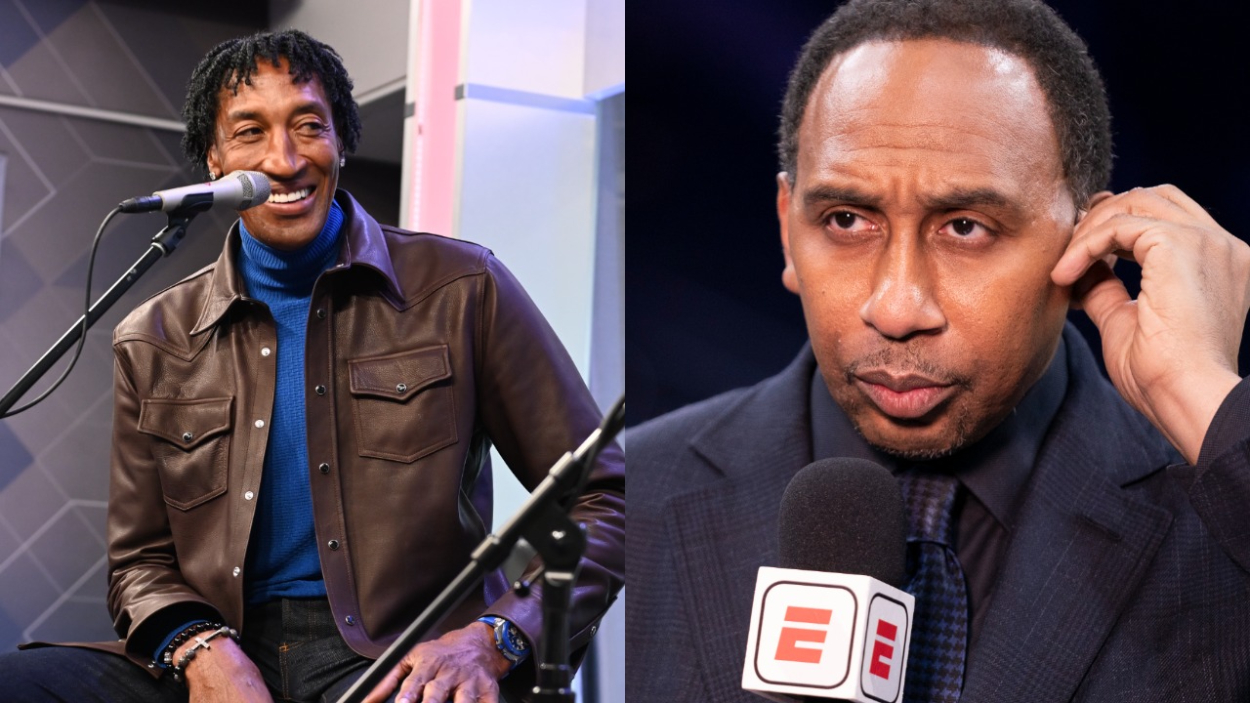 ESPN's Stephen A. Smith always has an opinion about NBA topics. But that's especially the case when it comes to Michael Jordan, so Smith had a lot to say about Scottie Pippen's recent "flu game" comments.
"This notion that Scottie Pippen is being disrespected is laughable," Smith said on the Nov. 10 episode of First Take. "Scottie Pippen is recognized universally as one of the greatest. The problem is: He ain't Jordan. Well, guess what? Nobody was Jordan."
Smith then said that Jordan gets significant credit for his "flu game" because he dropped 38 points. The commentator still praised Pippen for playing with a hurt back in 1998, but he pointed to the fact that he only scored eight in that game.
"Very valiant, courageous effort on his part. Worthy of appreciation. But the brother ain't box office. That would be Michael Jordan," he said.
Scottie Pippen received support from Kendrick Perkins
Despite Smith not having any time for Pippen's latest comments, former NBA player Kendrick Perkins stood up for the seven-time All-Star while appearing on the same segment of First Take.
"I'm so tired of people being on Scottie Pippen's back about what he's saying; he's telling his side of the story," Perkins said. "The Last Dance was supposed to be about the team. The Last Dance was a little bit about the team, about 10% of the team, and about 90% about Michael Jordan. It was really telling Michael Jordan's story. … But he (Pippen) has the right to tell his story."
Perkins later added: "Michael Jordan don't win those championships if he don't have the greatest Robin of all time. … All I'm saying is this: I'm not knocking what Michael Jordan was. I'm not knocking what Michael Jordan brought to the game of basketball. I got Js on my feet right now. All I'm saying is is that, I think when we hear Scottie talk, it's something that the media and something that the outside world, we can't see. There's something going on there, and all I'm saying is he has the right."
Whether you're Team Scottie Pippen or Team Michael Jordan, this feud likely won't go away for a while.
Like Sportscasting on Facebook. Follow us on Twitter @sportscasting19.