Scottie Pippen and Michael Jordan Had Ample Differences, but Their Key Similarity Powered the Bulls Dynasty
Past perceptions of Scottie Pippen's relationship with Michael Jordan have probably changed in recent weeks. But while Pip's recent media tour serves as an attempt to differentiate himself and MJ, the common ground they found on the court still holds more prominence when thinking about the Chicago Bulls dynasty. Interestingly, Scottie treated the practice court as a sanctuary every bit as His Airness.
Michael Jordan and Scottie Pippen took different approaches to leadership
Former Bulls guard and current Golden State Warriors head coach Steve Kerr offered a simple but telling description of how Scottie Pippen's leadership diverged from Michael Jordan.
In Episode 7 of ESPN's The Last Dance documentary, Kerr said that Jordan "would just bludgeon everybody around." By contrast, Kerr portrayed Pippen as someone who used positive reinforcement, saying, "Scottie was the guy who'd comfort you when things weren't going well."
Jordan led through sheer determination and chose to bear a lot of the team's responsibilities, notably in terms of scoring. On the other hand, Pippen played the role of a point forward who facilitated and willingly chose to get others involved.
As Kerr said, Scottie lent a "softer" approach in general. However, he shared MJ's ferocious attitude in the most necessary arena.
Pippen competed every bit as ruthlessly as Jordan in practice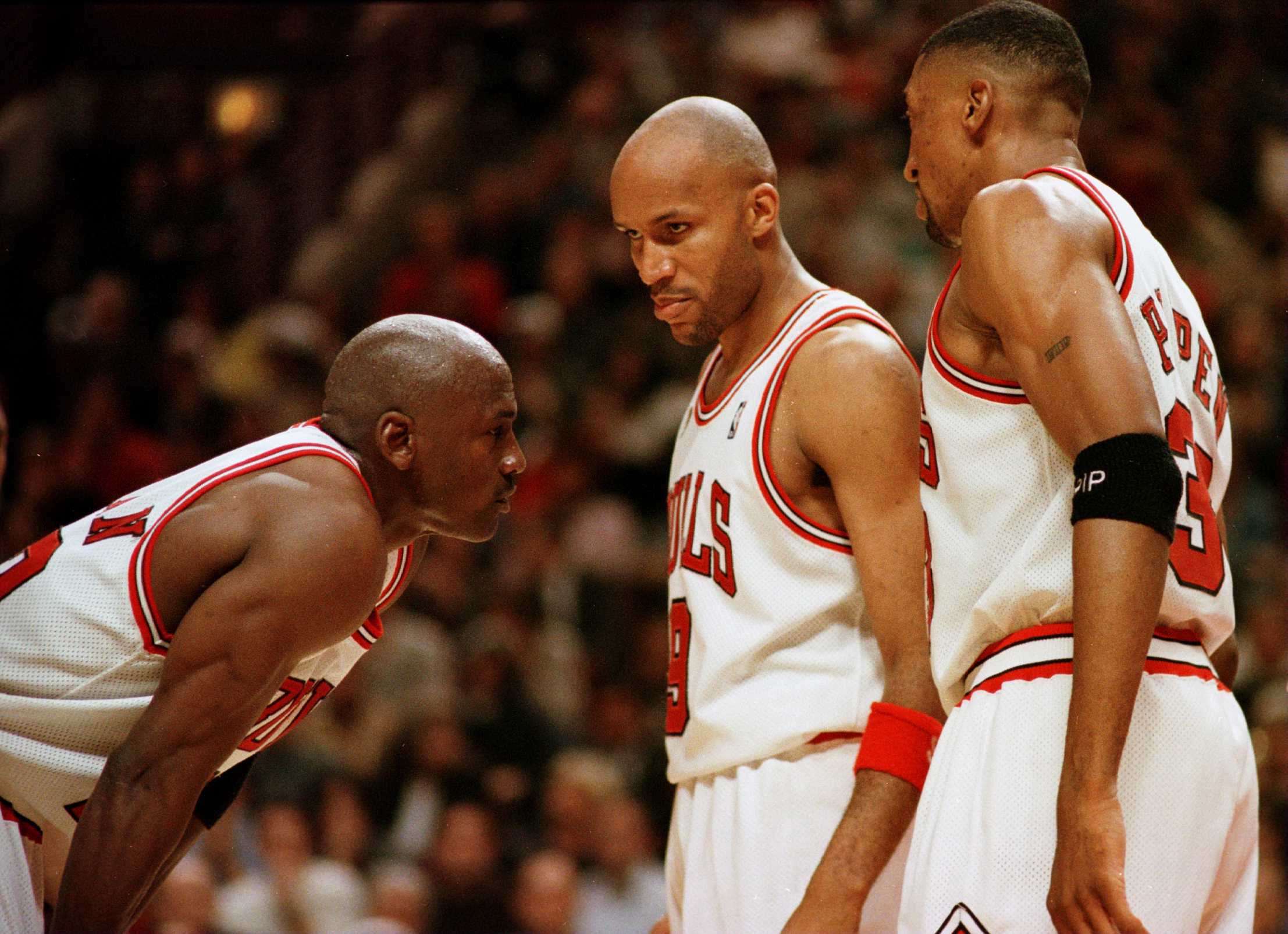 Michael Jordan treated practices like games. He believed that intrasquad competition would only benefit the Bulls against their opponents and thus constantly went after his teammates.
However, Jordan wasn't alone in his maniacal approach to practice.
Former Bulls point guard B.J. Armstrong played with MJ and Pip from 1989 to 1995. He called both men (h/t NBA.com) the best practice players he'd ever seen, adding that Scottie genuinely seemed to enjoy the grind.
"As good as [Pippen] was in games—and he was terrific—he was that much better in practice. He and Michael were the best practice players I've ever seen. I have no idea why they loved it so much or what their reasoning was, but they enjoyed practice. Scottie never complained about practice; he always showed up with that smile on his face. He was a great practice player and the ultimate professional in that regard."

–B.J. Armstrong (2010), via NBA.com
Shared commitment between star and co-star might seem necessary to form a championship team, but that's not always the case.
Shaquille O'Neal's somewhat lax approach to practice during the Los Angeles Lakers dynasty sowed the seeds of resentment between The Diesel and Kobe Bryant. Although LA won three championships between 2000 and 2002, it experienced an early playoff exit in 2003 and an NBA Finals loss in 2004. All the while, the relationship between Shaq and Kobe soured.
By contrast, both Jordan and Pippen used practice as a means to bring their teammates up to speed. That consistent and unified approach resulted in a whole lot of winning.
Good habits in practice helped the Bulls win six championships in the 1990s
The day-in, day-out work that goes into an 82-game season (plus playoffs) must feel like a slog. It probably feels even tougher after winning a championship. Yet the constant emphasis Scottie Pippen and Michael Jordan placed on practice helped the Bulls stay sharp.
Chicago not only won six championships during the course of the 1990s, but the Bulls hardly took a breath doing so. Head coach Phil Jackson used almost everyone at his disposal during Chicago's dynastic run. For example, Kerr played 82 games four times in his career, and all four seasons came with the Bulls. Armstrong and former Bulls forward Stacey King played all 82 nearly every year as well.
Every single player on Chicago's bench needed to be ready in case their number got called. No moment could be too big for any single player. Because while Jordan and Pippen carried the Bulls, they could not shoulder the whole load.
Indeed, looking back on Chicago's six title runs, one can find moments when bench players contributed in massive spots. These include John Paxson's game-winner in Game 6 of the 1993 NBA Finals, or Kerr's clutch jumper to seal the fifth championship in 1997.
Many of those instances can be attributed to all the hard work in countless practices, and Scottie Pippen set the tone every bit as much as Michael Jordan.