Scottie Pippen Saw His Mirror's Image in Grant Hill and Pinpointed the Reason Hill Still Doesn't Get the Respect He Deserves From NBA Fans: 'He's Being Thrown to the Wolves'
The best part of Scottie Pippen's prime years with the Chicago Bulls came to a close just as Grant Hill started coming into his own as the next great point forward in the NBA. Pippen saw much of himself in G-Hill, though he also pinpointed the exact reason that Hill isn't given the credit he very much deserves in the annals of league history.
Pippen spoke about Hill's talent in 1996, highlighting the key difference that distinguishes the two players in terms of historical province and appreciation.
Scottie Pippen excelled in the point forward role and Grant Hill took it to another level
Scottie Pippen's defensive acumen is an established part of his NBA legacy, but his ability to orchestrate the Chicago Bulls offense played every bit as significant a role for the Chicago Bulls dynasty.
Pippen emerged as the catalyst for Chicago's offensive system during the 1990s. He averaged 5.3 assists in 12 seasons with the Bulls, dishing out 6.5 times per contest during the team's first three-peat from 1991 to 1993.
The seven-time All-Star could grab a rebound on the defensive end and make plays in transition. He came downhill coming off screens and found shooters after sucking the defense in or, when big men showed, found cutters or bigs at the basket.
Grant Hill built on Pippen's foundation and took it to another level. Hill's advanced ball-handling abilities made it easier to create for himself off the dribble, which simultaneously forced defenses to commit on drives and helped Hill set up his teammates.
The 1994-95 Rookie of the Year averaged 6.3 assists in his six seasons with the Detroit Pistons, also tallying 21.6 points and 7.9 rebounds. He immediately cemented his place as one of the NBA's next great stars.
But one critical difference existed between Pippen and Hill: Scottie's national profile benefited from playing with Michael Jordan on a dominant Bulls team, while Hill's best years came for a lowly Pistons franchise.
Pippen starred on a dynastic Bulls team, whereas Hill wallowed as the standout player in the Motor City
Scottie Pippen recognized the similarities between him and Hill right from the jump.
Pippen lauded Hill's abilities after the Bulls played the Pistons on Christmas Day 1996. He spoke (h/t the Baltimore Sun) about the totality of Hill's talents and acknowledged the two forwards were a lot alike.
"When I look at [Hill], I see a lot of myself. He's a very talented player with an all-around game like mine. He finds the open shooters. He brings the ball up and gets them easy baskets in transition. Yeah, we're a lot alike."
However, what Pippen said next explains much of why he remains such a heralded figure in NBA history, while Hill's superstardom is practically akin to a lost relic.
"He's had an opportunity to get his career started a lot earlier than I did. When I came in here, I had a great superstar on my team. I was kind of eased into the picture while he's being thrown to the wolves. [The Pistons are] saying, 'Here, carry us and we're going to build a team around you.'"

–Scottie Pippen (1996), via the Baltimore Sun
Indeed, Pippen came into a good situation with the Bulls. His star trajectory made Chicago an indomitable force in the NBA, but it certainly helped to have Michael Jordan already on the roster.
Hill never had that luxury. The Pistons drafted the former Duke star following Isiah Thomas' final season in the NBA. Joe Dumars remained on the roster, though he began to decline in production and health with old age.
All told, Hill never made it out of the first round of the playoffs. He signed with the Orlando Magic in the summer of 2000, and injuries ruined the rest of his prime. The veteran swingman rebounded in a stint with the Phoenix Suns, but he was a different player at that stage of his career. Hill basically faded into the background until he retired in 2013.
Hill doesn't get the credit of someone like Pip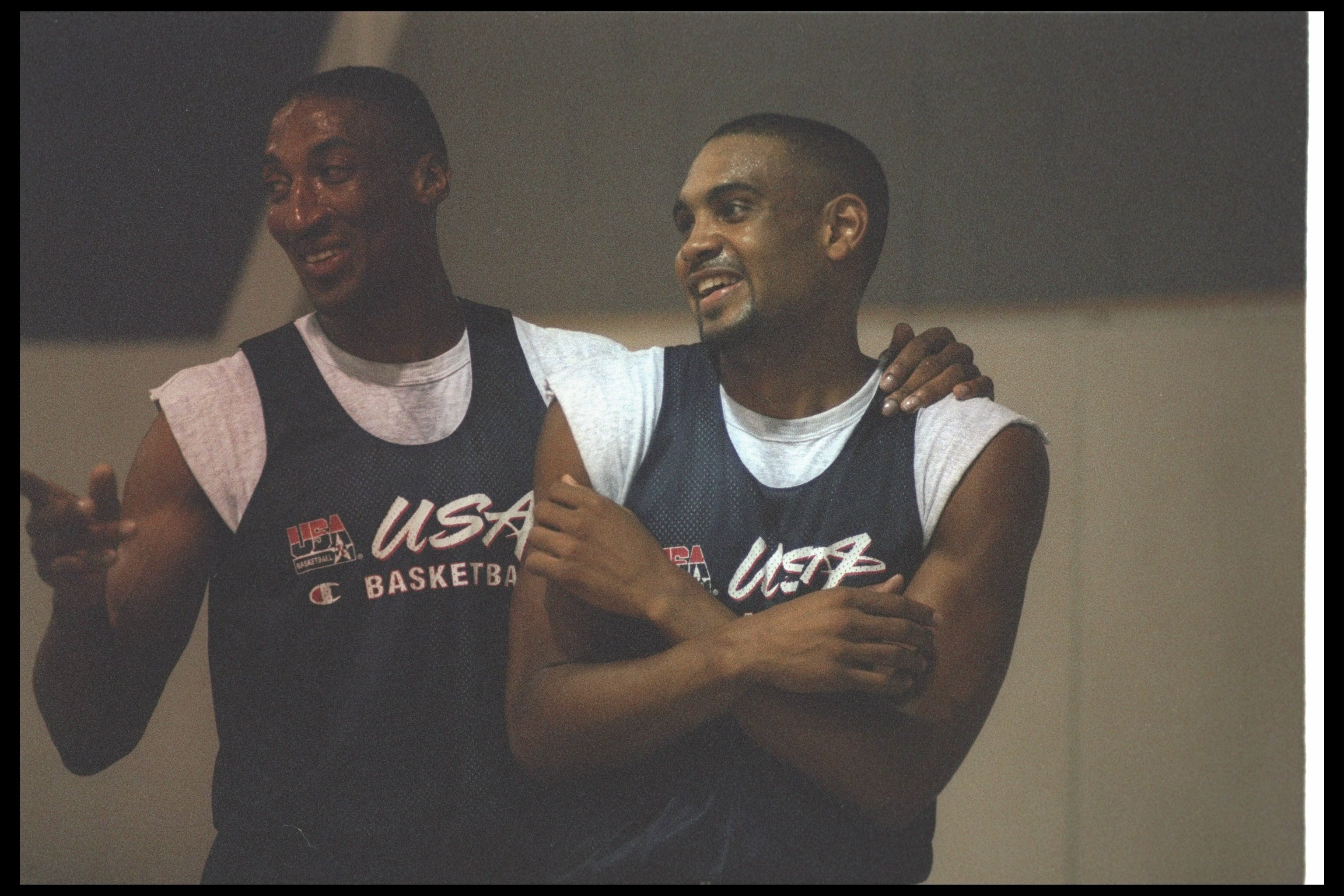 Scottie Pippen's good fortune of getting drafted by the Bulls and his evolution as an all-around star made him a seminal figure in NBA history. Hill doesn't get that same level of respect despite being even more dominant in his prime.
Let's add some more context as to how much winning matters to media members when making arbitrary selections, such as the NBA 75 list. Bill Walton is very similar to Hill. Walton had a short-lived prime disrupted by injuries. However, he played a key role on two championship teams. The Red Baron made the NBA 75 team. Hill did not.
One has to assume playing for the Pistons in the late 1990s and Detroit's relative lack of success in that era played a part in Hill's absence from the squad. Pippen essentially forecasted as much in 1996, even if he understood Hill's greatness.
Stats courtesy of Basketball Reference.
RELATED: Isiah Thomas Said Grant Hill Was Meant to Replace Michael Jordan as the Face of the NBA After 1998: 'We Were Talking About Passing the Mantle to You'