Scottie Pippen Claimed He Never Wanted to Replace Michael Jordan, but Would Trade With Him in 1 Area: 'I'm Comfortable With Who I Am'
Michael Jordan and Scottie Pippen represented one of the most famous duos in sports history. The two Hall of Famers were paired together for the better part of 10 seasons, guiding the Chicago Bulls to six titles between 1991 and 1998.
In the middle of that stretch, Jordan retired to play professional baseball, leaving Pippen as the head honcho in Chicago. Scottie once spoke about what it was like without MJ around and how becoming the alpha dog was something he never wanted.
Scottie Pippen missed playing with Michael Jordan
Following the Bulls' first three-peat in 1993, Jordan retired from the NBA to pursue a career in baseball. But the team was still in good hands with the 27-year-old Pippen.
As Chicago's new number one, Scottie averaged a career-high 22.0 points per game during the 1993-94 season. He led the defending champions back to the playoffs before losing in the second round to the New York Knicks in seven games. The Arkansas native averaged another 21.4 points per game the next season, but on March 19, 1995, Jordan returned to take back the reins.
Shortly after MJ's comeback, Sam Smith of the Chicago Tribune profiled Pippen. The 6-foot-8 forward shared what it was like to not have his partner in crime.
"I missed him as a teammate when he left," said Pippen. "He taught me a lot, but mostly it was fun in practice. That changed after he left. I loved competing against him, trying to beat him, although I'll admit most of the time he got the best of me. But it was such a challenge to stop a spectacular player like that."
Pippen didn't want to become the new Jordan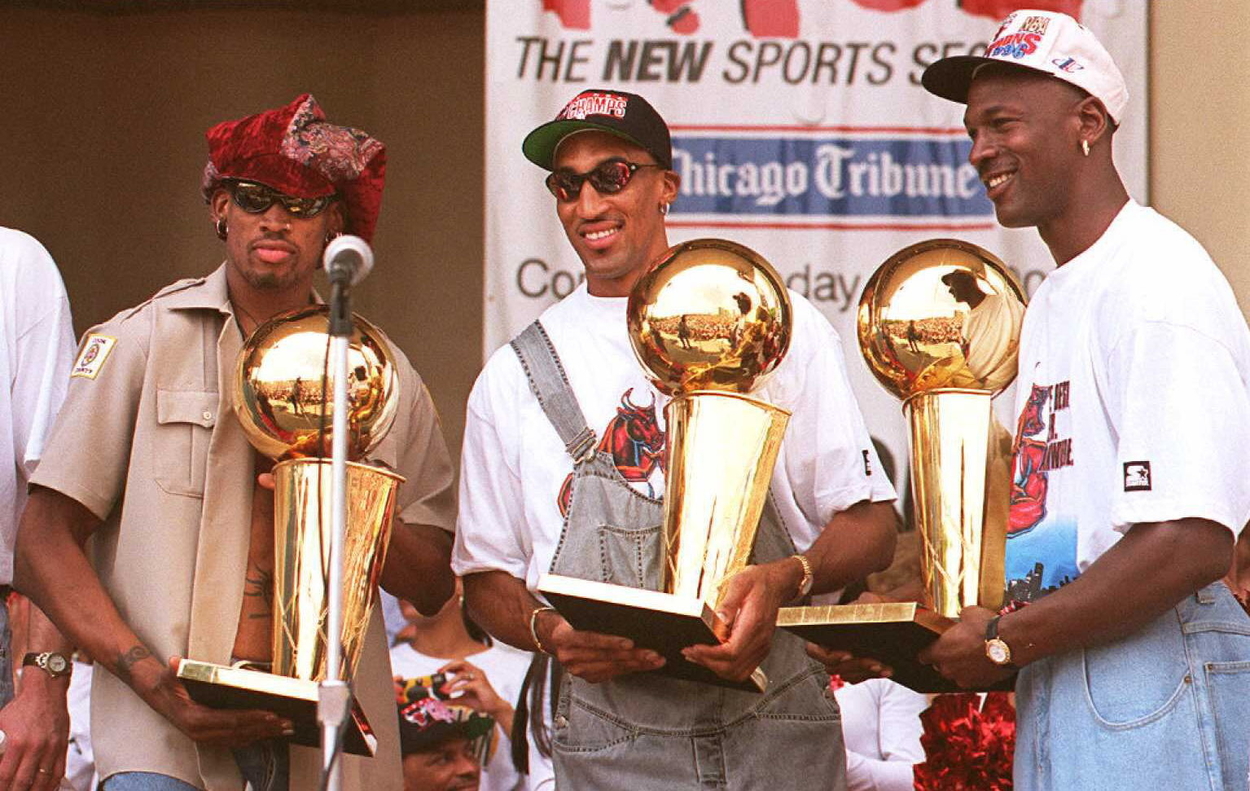 Pippen got a small taste of life as the star. And while he performed admirably for nearly two seasons, he told Smith that replacing Jordan was not something he ever wanted to do (h/t: Chicago Tribune).
"I never wanted to be Michael Jordan, although I would like to trade bank accounts. I'm comfortable with who I am. I came in during an era of legends — Michael, Charles [Barkley], Karl [Malone], David [Robinson] — players the league promoted. I was not one of those players, and I got where I am by playing. I'm proud of that."

Scottie Pippen
Scottie was more than fine with being Jordan's number two, but he wouldn't have minded swapping bank accounts. In 1995, Jordan's net worth was already close to $104 million. Pippen's net worth today is just $20 million.
Scottie Pippen was an all-time great number two
Pippen was far more comfortable as Chicago's second option, and the accolades validate his decision. The 56-year-old finished his 17-year career with 10 All-Defensive team honors, seven All-NBA honors, seven All-Star appearances, and a spot in the Basketball Hall of Fame.
Former Chicago Bulls coach Doug Collins told Smith that Pippen, despite the accolades and Hall of Fame career, gets a bad reputation as someone incapable of being "the man".
"Scottie is not the kind of player to make winning shots, game-winning plays, but he was always more unselfish than Michael," Collins said. "If I were on the floor, I'd want to play with a guy like Pippen more than Jordan, but the perception always runs ahead of the reality, and Michael was the guy always perceived as hitting that winning shot, and Scottie not doing it."
Fortunately, Pippen was comfortable with his role on the Bulls and harbored no jealously toward Michael Jordan the superstar. But having the Michael Jordan bank account wouldn't have been so bad.
All statistics courtesy of Basketball Reference.
RELATED: Scottie Pippen Didn't Think He Should Have Been on the Dream Team: 'I Didn't Feel Like That I Deserve to Be Called'