Scottie Pippen Receives Strong Support From a Former Hoops Star Who Says He's the Most Disrespected Legend in Any Sport: 'It's Not Even Close'
Ever since The Last Dance aired in 2020, Scottie Pippen has shown NBA fans a different side of himself. Despite all his success with Michael Jordan on the Chicago Bulls, things haven't always been great between the two of them. And we are just now seeing how strained their relationship actually is.
In fact, Pippen is now telling his side of the story, as he criticized both Jordan and the doc in a recently-released excerpt from his upcoming book. The passage has been a hot topic of conversation lately, and it has since led to former hoops star and current ESPN analyst Jalen Rose sending out major support for the Hall of Famer.
Scottie Pippen was critical of Michael Jordan and 'The Last Dance'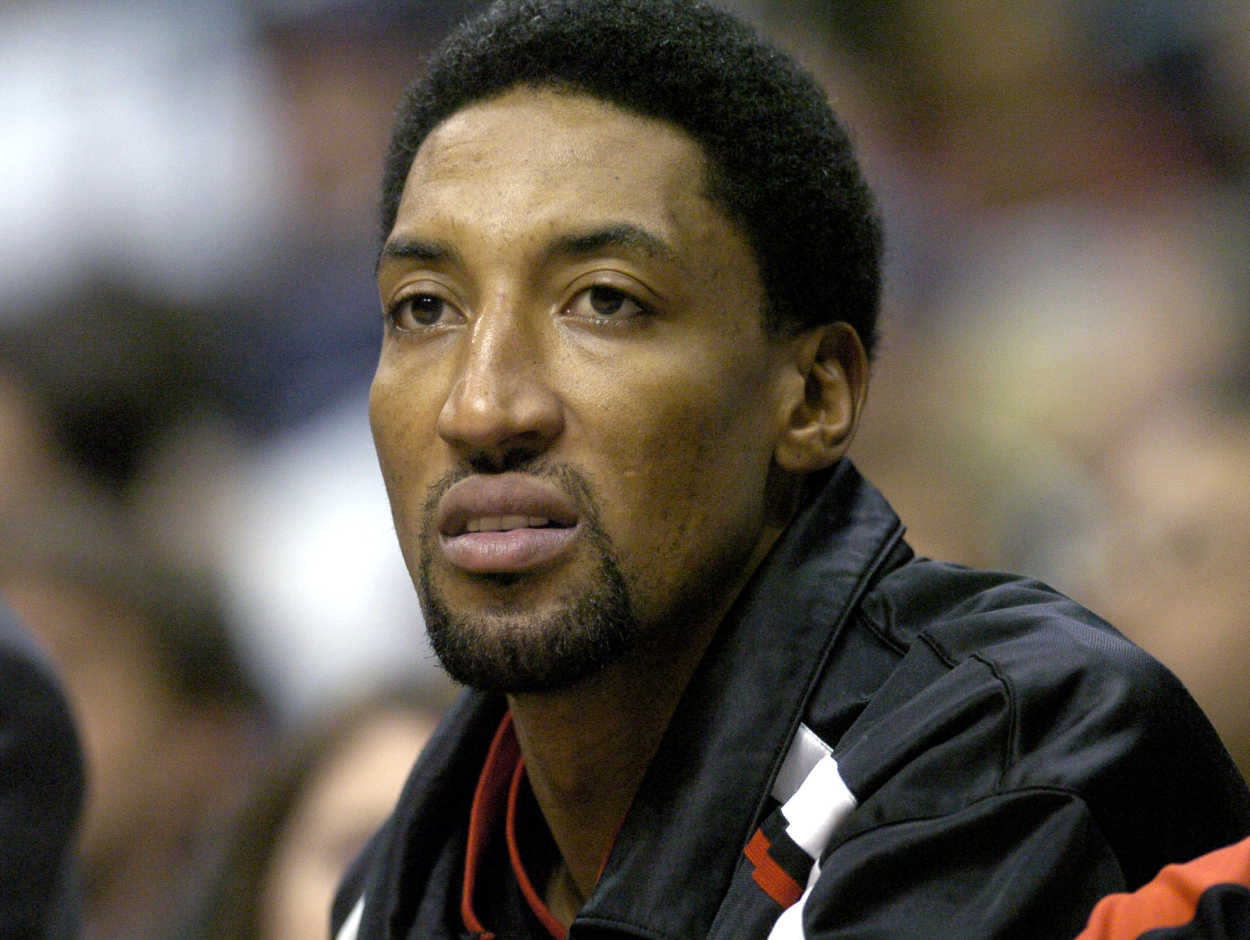 Scottie Pippen has a memoir coming out called Unguarded, and in a recently-released excerpt from it, the six-time NBA champ slammed his former Bulls teammate, Michael Jordan, and last year's documentary, The Last Dance.
"The final two episodes aired on May 17. Similar to the previous eight, they glorified Michael Jordan while not giving nearly enough praise to me and my proud teammates. Michael deserved a large portion of the blame. The producers had granted him editorial control of the final product. The doc couldn't have been released otherwise. He was the leading man and the director," Pippen wrote, per CBS Sports. "… Except Michael was determined to prove to the current generation of fans that he was larger-than-life during his day—and still larger than LeBron James, the player many consider his equal, if not superior."
He, of course, wrote much more, but while some may think his comments were low blows, others have come to his defense.
Former hoops star Jalen Rose defended Scottie on ESPN
Jalen Rose wasn't in the NBA until the year before the Bulls began their second three-peat run. But he had already become a hoops star himself, especially during his college career at Michigan, and he had watched MJ, Pippen, and company dominate the league from afar.
Rose is now a leading voice for ESPN's NBA coverage, and he strongly defended Pippen while talking on his show, Jalen and Jacoby.
"He's the most disrespected all-time great player in any sport that any game has seen," he said on the Nov. 3 episode. "It's not even close. Michael Jordan didn't win any championships without Scottie Pippen. But let me tell you why the public gets to denounce the role of Scottie Pippen. Two reasons. One: We always want to give the best player all of the credit. … When we talk about Jordan, we don't even mention, 'Oh, he had Phil too.' Phil kind of did go win five more championships after he left the Bulls, right?"
That's an interesting point, but what's the second reason for why everyone has denounced Pippen's role in the Bulls' title runs?
Scottie Pippen never had a 'signature moment' on the Bulls
Rose went on to say that the other reason Pippen has never received the credit he deserves is that he didn't have a "signature moment" during his runs with the Bulls. More often than not, Jordan took the last shot in close games. And when MJ was playing baseball, Phil Jackson gave the final shot in Game 3 of the 1994 Eastern Conference Semifinals to Toni Kukoc, which led Pippen choosing not to even enter the game.
"Have you ever seen Scottie Pippen make a game-winning shot?" Rose said. "When you played [with] Michael Jordan, you didn't get the chance to take the game-winning shot most of the time. You see what I mean? That's why when Jordan left, as it was shown in The Last Dance and Scottie felt like they should've shown it because MJ wasn't on the team; that's why it was on him when MJ left to play the MVP level. … That's what blew up the Toni Kukoc thing when he didn't go in the game."
It seems pretty clear that Pippen wishes he and his teammates had received more credit back in the day and during The Last Dance. At least he has someone like Rose on his side who knows just how much he meant to the Bulls during those six iconic championship runs.
Like Sportscasting on Facebook. Follow us on Twitter @sportscasting19.
RELATED: Scottie Pippen Was Loved by His Bulls Teammates Because His Value Extended Beyond the Court: 'As a Teammate, You Could Not Ask For Anyone Better Than Scottie, and That Includes Michael'