Scottie Pippen's Weird New Voiceover Gig Will Put You Right to Sleep
Over the years, the NBA has seen lots of prodigious scorers. Likewise, there have been plenty of lockdown defenders. Yet few players in NBA history have been able to blend those two skillsets. Arguably one of the greatest two-way players ever is Scottie Pippen, who spent his best years playing for the Chicago Bulls alongside Michael Jordan.
As it turns out, Pippen possesses several unique skillsets beyond his NBA expertise. Since retiring, he's built a career around his naturally deep voice — well suited for voiceover work. Let's look at Pippen's impressive NBA career and his recent voiceover gig that'll put fans right to sleep.
Scottie Pippen's NBA career
RELATED: Scottie Pippen Has a Good Reason to Be Furious at Michael Jordan
The Seattle SuperSonics took Pippen with the fifth pick of the 1987 NBA Draft, only to trade him to the Bulls in exchange for the eighth pick (Olden Polynice) and future draft picks. That trade paid huge dividends for the Bulls. Pippen went on to be a key part of six championship teams.
In addition, Pippen was a seven-time All-Star, a three-time All-NBA First Team selection, and an eight-time NBA All-Defensive First Team selection. Over the course of his 17-year career, Pippen put up averages of 16.1 points, 6.4 rebounds, 5.2 assists, and 2.0 steals per game, while shooting a solid 47.3% from the floor.
The 6-foot-8 Pippen was technically a small forward. But he possessed a skill set that allowed him to effectively serve as a point guard, shooting guard, and power forward. In addition to his NBA accomplishments, Pippen also won two gold medals with the Olympic Dream Team. He was inducted into the Basketball Hall of Fame in 2010.
Pippen's sleep-inducing voiceover work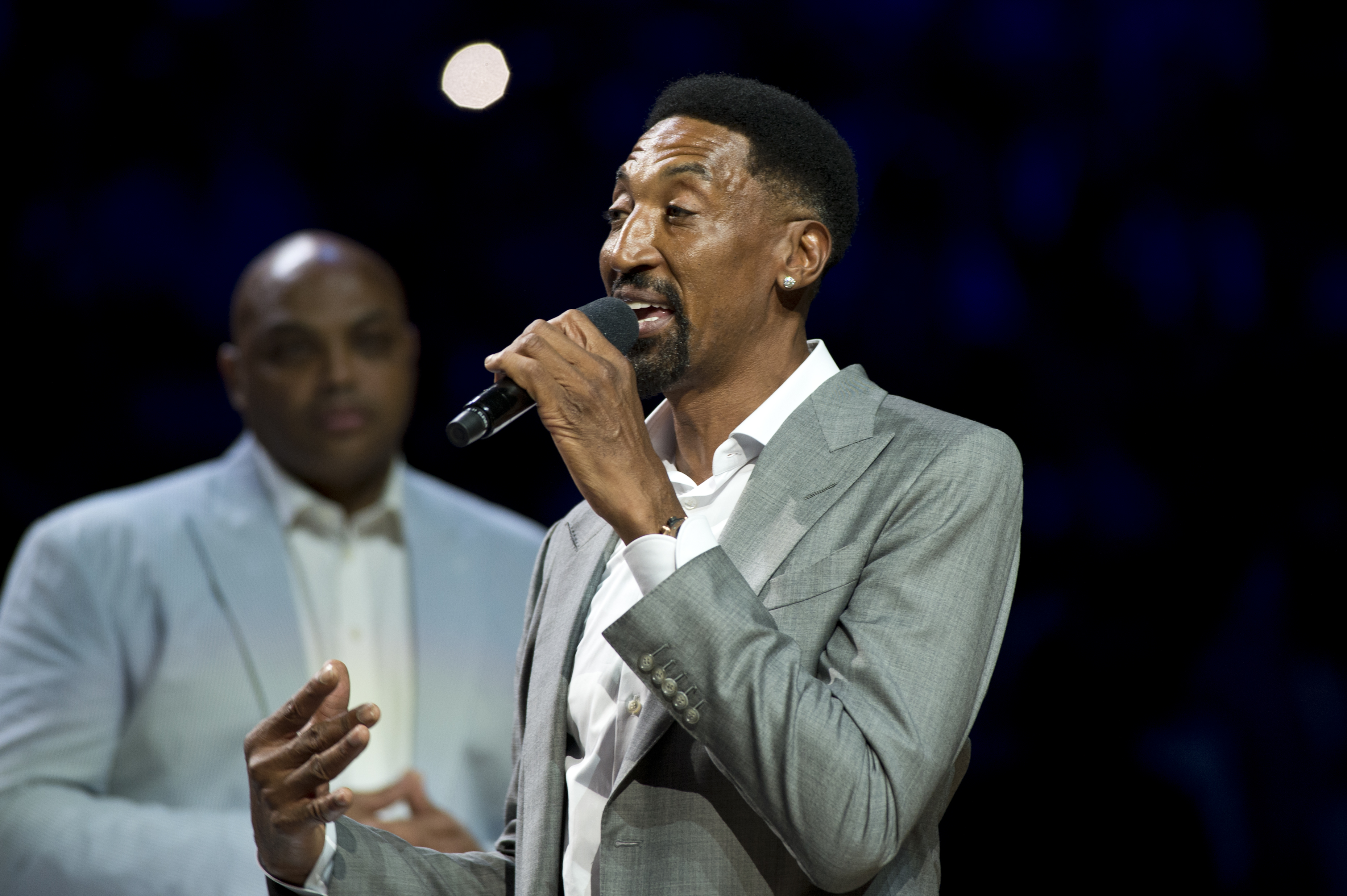 Pippen has an incredibly smooth deep voice. In recent years, he has been putting it to work by doing voiceovers. Fans who watched the recent NBA playoffs have likely seen at least one commercial he's done for Michelob ULTRA: "A Whole New Experience." That commercial has been getting heavy airtime for the last couple of months.
Pippen took to voiceover work so naturally that it didn't take long for his next gig to come along. This time he was approached by the makers of a meditation app known as Calm. Calm was partnering with American Express to create content for their app. They wanted Pippen to narrate a history of basketball as one a "Sleep Story" for the app.
In other words, the narrative is designed to help listeners relax and drift off to sleep at night. Yet it still manages to pack in plenty of facts and figures about the history of the game. Known as "The History of a Dream," the piece was written by Charles Duffie and has a 34-minute runtime.
Pippen's thoughts on mindfulness
RELATED: Scottie Pippen Has Enough Children To Fill Out His Own Basketball Team
Pippen recently did an interview with Business Insider, in which he discussed the genesis of his collaboration with Calm, as well as his general thoughts regarding meditation and mindfulness. Pippen related that his first real awareness of such techniques came courtesy of Bulls coaching legend Phil Jackson.
Jackson has long been known for encouraging his players to use meditation techniques to help stay calm and focused throughout the grueling NBA season. Pippen apparently took those lessons to heart, since he acknowledged that he still uses mindfulness techniques today. He also said that he had found them especially useful during the pandemic, "because you're kind of stuck in the moment."