Seahawks 36, Packers 16: Three Things You Should Know
The Seattle Seahawks opened defense of their Super Bowl championship with a 36-16 win over the Green Bay Packers as the 2014 NFL regular season kicked off Thursday night. The Seahawks picked up where they left off in February with a thorough — dare we say dominant — performance.
Marshawn Lynch, who has more 100-yard games since 2011 than any other player in the league, ran for 110 yards and two touchdowns for Seattle, and Russell Wilson threw for two scores as Seattle got its season off to an impressive start.
Here are three (more) things you should know from Seahawks 36, Packers 16.
It was a special night in Seattle, and the home team responded
Seahawks games are known for the raising of the '12th Man' banner — and Thursday's was extra special as Hall of Famers Steve Largent, Cortez Kennedy, and Walter Jones did the honors — but most of the attention from a regular season record crowd of 68,424 at CenturyLink Field was on a different banner.
Seattle unveiled its Super Bowl banner before the game, and it couldn't help but fire up the home team as the season got underway. "To see the banner drop down, that was pretty spectacular. That's going to be hanging up in CenturyLink Field forever," Wilson said.
"What a great celebration," coach Pete Carroll added. "To have all that going, everybody had so much fun, and then to get a great game to watch too, was really cool."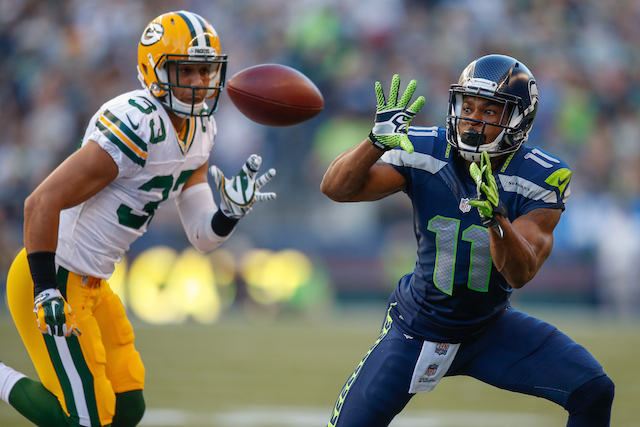 A healthy Percy Harvin makes the champs that much better
The best offseason addition in the NFL might not be a free agent or draft pick, but instead a player who was on Seattle's roster for all of last year. Percy Harvin played a grand total of one regular season game for the Seahawks in 2013 due to a hip injury, but could make the difference as the 'Hawks try to repeat this season.
Harvin caught a team-high seven passes for 59 yards in Thursday's win, and also averaged more than 10 yards per carry in his role as a do-everything wide receiver/running back/kick returner. His game-changing presence helped out Russell Wilson and crew across the board, as Seattle was able to gain six yards per play (compared to 4.5 for the Packers) and put together a half dozen scoring drives.
"We stayed on rhythm, we got our running game going," Harvin said of a well-rounded offensive performance. "We pride ourselves on being physical, so anytime we get 210 yards [on the ground], we're going to be pretty good."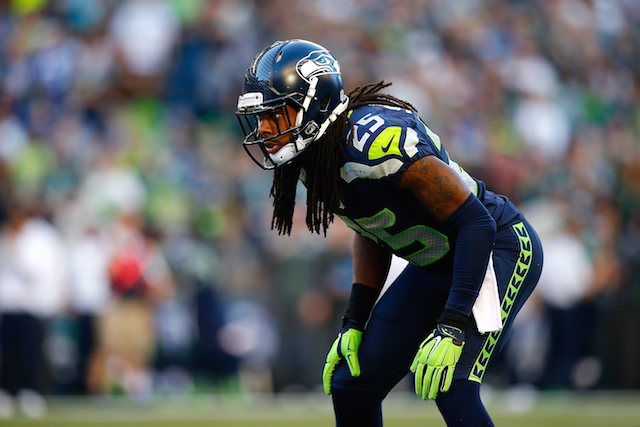 Richard Sherman's reputation proceeds him
According to an NBC on-air graphic late in the game, Seahawks CB Richard Sherman didn't allow a single catch Thursday. But that wasn't the most impressive part of the statistic. According to the network, Sherman wasn't even thrown at.
Talk about a slow night; it's like a soccer goalkeeper killing time in his own end against an opponent that can't cross midfield. No wonder we couldn't find a picture of Sherman and a Packers receiver in the same picture to use on this page: Green Bay never bothered to test one of the top cornerbacks in the league.
With Sherman intimidating Aaron Rodgers into not looking his way, the Packers' offense didn't have a prayer of matching the home team's 36-point output. If a star like Rodgers won't try to test Sherman, good luck to the Shaun Hills and Derek Carrs later on Seattle's schedule.