The Seahawks Can't Continue Ignoring the Massive $26 Million Problem That's Slowly Destroying Their Season
In last place in the NFC West with a 3-7 record, the Seattle Seahawks do not look like the team we've all become accustomed to seeing. Once viewed as a beacon of consistency, the Seahawks now look like an organization struggling to deal with the inevitable.
They're no longer a serious force in the NFC.
The Seahawks are off to a miserable start this season
There's still time for Seattle to turn their season around this year, especially when you consider the new expanded postseason format. However, time is certainly ticking, and the Seahawks' past few performances gave their supporters little to get excited about.
Even with quarterback Russell Wilson back in the lineup after missing time due to finger surgery, the Seahawks' offense looked utterly helpless in Week 10 and Week 11. They failed to score a single point against the Green Bay Packers (Week 10) and lost to a Colt McCoy-led Arizona Cardinals team (Week 11).
After nine straight seasons of winning records with Wilson under center, this is obviously not what Seattle fans have come accustomed to seeing.
Russell Wilson is proving to be a distraction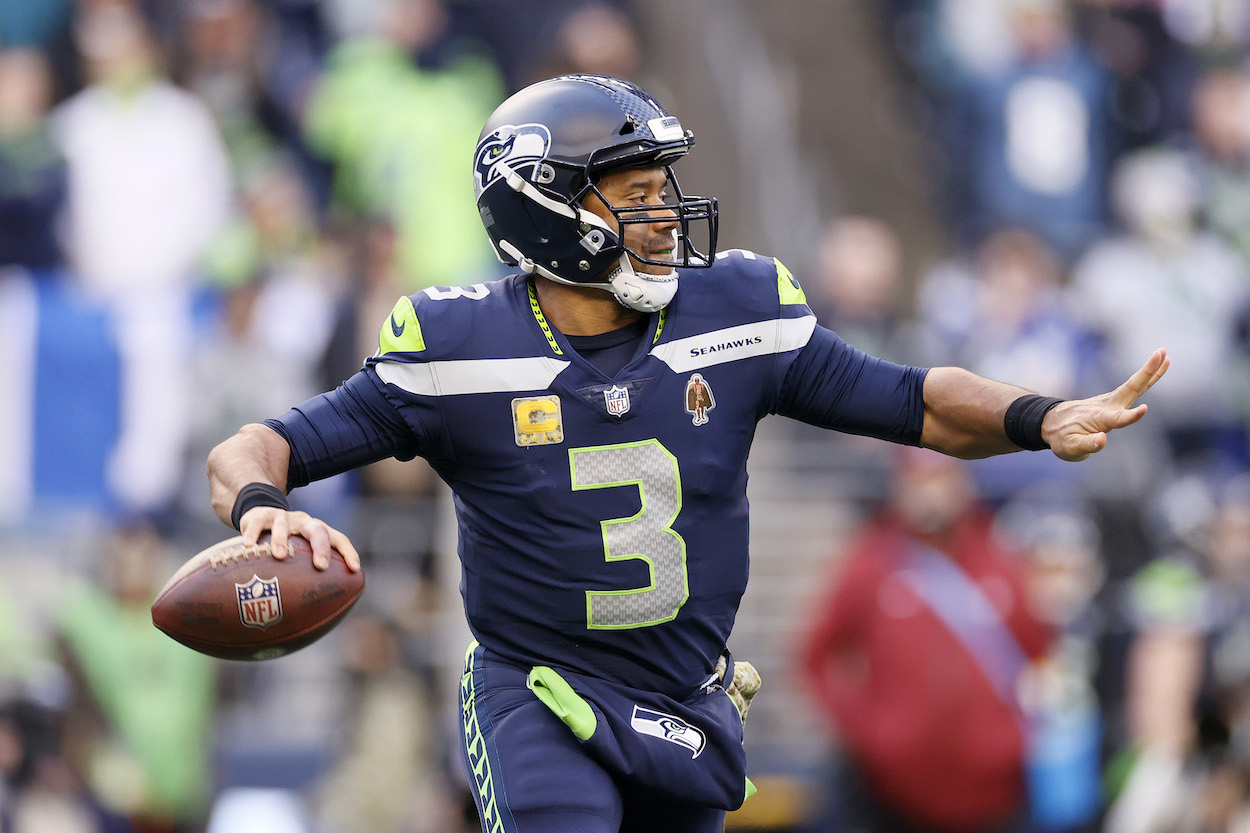 The Seahawks are dealing with more than one issue at the moment. Running back Chris Carson is undergoing season-ending surgery, and head coach Pete Carroll is struggling to field an adequate defense. However, at the root of Seattle's problems is Russell Wilson — and it's not his injury status causing the issues.
Wilson has been connected to trade rumors for the past two years now. He nearly forced his way to the New York Giants in 2020 and even had his agent release a list of favorable destinations in 2020. Frustrated with a lack of postseason results, Wilson is making it clear he's open to a change of scenery.
One can only assume this is causing quite the distraction inside the Seattle locker room. Wilson is supposed to be the team's leader. Instead, everyone is trying to figure out if he'll even be around in 2022.
The Philadelphia Eagles, for example, experienced a similar situation last season. Constant rumors circulated about QB Carson Wentz and his future following the drafting of Jalen Hurts. The rumors proved so loud that Wentz and the Eagles stumbled to a four-win season, ultimately causing him to be traded to the Indianapolis Colts (where he is playing much better).
It's not a perfectly similar situation. However, it's hard to imagine the rumors regarding Wilson's future aren't affecting him and his team's play.
The Seahawks are looking at a $26 million dead cap number
The somewhat good news for Seattle is Wilson's dead cap number is plummeting this offseason. It drops from $58 million in 2021 to $26 million in 2022 (Spotrac).
A far more reasonable number to work with during a potential trade.
No team wants to eat a $20-plus million dead cap number trading away their starting QB. However, the Seahawks have backed themselves into a corner. This feels like their only option, and $26 million is at least doable. The previously mentioned Eagles had to eat a far bigger dead cap trading away Wentz.
Ultimately speaking, Wilson and the Seahawks still have to get through the rest of 2021. The expanded postseason format is keeping their season alive despite the ugly 3-7 record. However, the trade talks will only get louder as the offseason nears. This isn't an issue that's going to magically disappear.
Like Sportscasting on Facebook. Follow us on Twitter @sportscasting19.