Seahawks Cornerback Shaquill Griffin Aspires to Represent Bath & Body Works Despite $3.2 Million Contract
Cornerback Shaquill Griffin is part of the Seattle Seahawks' solid defensive rotation. His path to the NFL is interesting because it involves his twin brother, Shaquem, who's always by his side. The brothers attended college together. Now both play for the Seahawks. But it hasn't always been easy for them.
Shaquem's hand was amputated when he was four years old. And brother Shaquill struggled in his first year in the NFL. Now, with both athletes playing well, the brothers got together and shared their favorite, can't-live-without products that help them be better athletes and people.
Shaquem and Shaquill Griffin's early days
RELATED: Inside the Stacked 2011 NFL Draft Class and Where They Are Now
Shaquill decided to play college ball for the University of Central Florida, even rejecting an offer from one of his top schools, the University of Miami, to be with his brother. He had 113 total tackles and six interceptions throughout his college career. After college, he participated in the NFL combine and met with several NFL teams.
Seattle picked him up in the third round of the 2017 NFL draft. He struggled a bit his first year and vowed to work harder, dropping twenty pounds and improving his play. Shaquem was drafted by the Seahawks in the fifth round of the 2018 NFL draft, and the brothers reunited again. Currently, Shaquill has 220 tackles and five interceptions in his NFL career and was named as an alternate to the 2019 Pro Bowl.  
Shaquill and Shaquem's favorite products
RELATED: Antonio Brown Just Received a Ringing Endorsement From an NFL Legend
With their success on the field, the brothers have had some fortunate opportunities. They recently sat down with GQ Sports to share some of their favorite products. First up was their cologne collection. From everyday cologne to a night out on the town, it's clear the twins always smell great.
Shaquem and Shaquill shared a story of how their dad had quite a collection as well, keeping them stacked on an old DVD player. They said Dad would always know if they used some of his scents because of the dust that was collected on it. They had to make sure to put the bottles back in the exact place — but somehow, Dad always knew.
Fresh breath is next on the list, with Shaquem keeping mints for himself and offering gum to everyone else. Shaquill is more interested in his nails, saying he keeps a colorful nail file with him wherever he goes, "Keep it right, keep it tight." Something the brothers can both agree on is a nice set of headphones to listen to music while they travel.
All that travel means they need to keep themselves safe, so hand sanitizer easily makes the list. Since the brothers are both known for their long locks, hair ties are essential to create their "sloppy bun" look. Finally, to tie their outfits together and hold all their favorite items is a bag.
Shaquem Griffin lotions up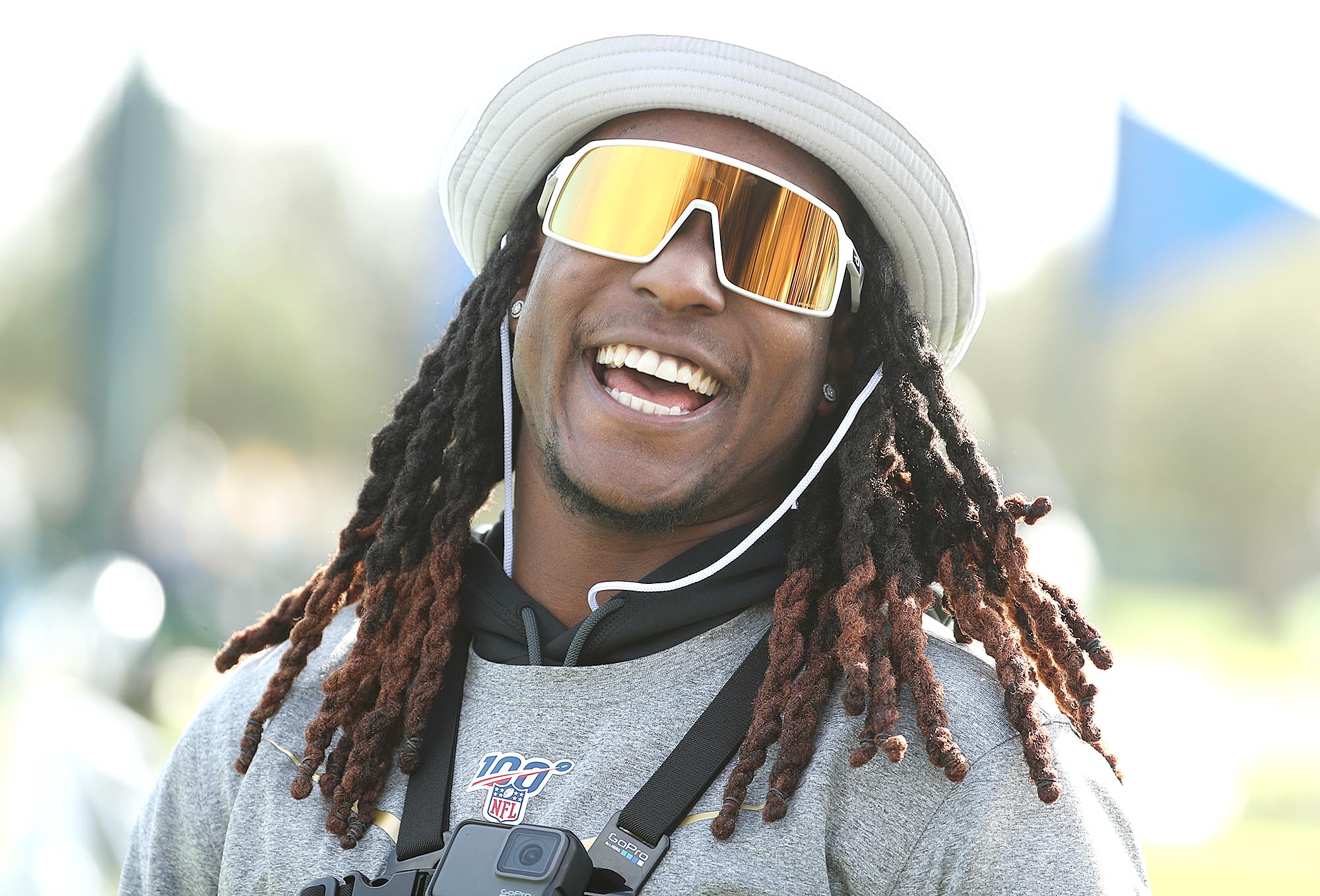 Plenty of NFL players have lucrative endorsement deals, and Shaquill Griffin is no different. However, he wouldn't mind selling Bath and Body Works Atlantic lotion. He says that when he was a kid, he was ashy and didn't learn until he was older to use lotion. Now, he doesn't go anywhere without it. The lotion not only moisturizes his skin but smells good too. He told GQ Sports, "Bath and Body Works never did me wrong. Bath and Body Works, if you need me to sell some lotion, I'm your guy."
With the way Griffin has been playing recently, Bath and Body Works might want to take him up on his offer. Even Shaquem agrees about Atlantic lotion, saying he would "eat that bottle of lotion."