Seahawks Fined Over $300K for Practicing Too Hard, Caring Too Much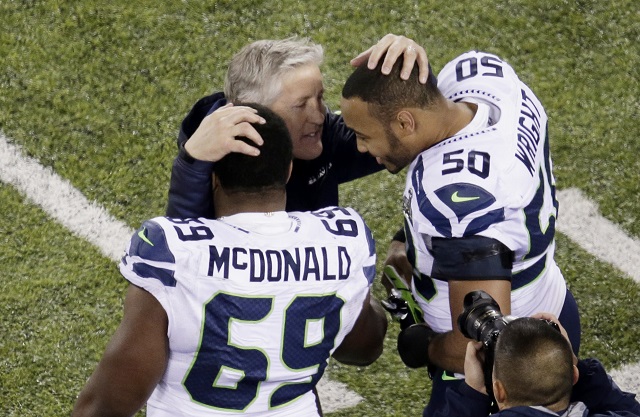 All is not well in Seattle, as the defending NFL champions were just fined a pair of 2015 minicamp sessions and a financial hit of just over $300,000, doled out in two separate bills — one for head coach Pete Carroll and one for the team proper — after the Seahawks were found to have violated the NFL's "no contact" policy. What is the no contact policy? Well, it's the NFL's standard of what constitutes acceptable and unacceptable levels of physical contact during practices, essentially a barometer that the league and the NFLPA have in place to ensure that there aren't a rash of injuries suffered before games, when there's no money to be made from the spectacle.
According to Seattle Times reporter Bob Condotta, the incident that sparked the investigation was an altercation between Richard Sherman and Phil Bates, which prompted the NFL to review footage of the entire practice, and upon review, the league "deemed Seahawks coaches were encouraging too much contact," as Fox Sports 1′s Mike Garafolo put it. Which means that this isn't necessarily the league coming down on the Seahawks in malice, but that the NFLPA, the players union, gently pointed the main office in the direction of the Pacific Northwest.
Per the CBA, which you can find online here: "Contact work (e.g., 'live' blocking, tackling, pass rushing, bump-and­ run) is expressly prohibited in all offseason workouts," and "There will be no contact work (e.g., 'live' blocking, tackling, pass rushing, bump-and-run) or use of pads (helmets permitted) at minicamps." The Seahawks were found to be in violation of this, and the size of the two fines — $100,000 for Carroll, and just over $200,000 to the team — is almost certainly consistent with the fact that this is the second time they got caught doing this after a similar incident in 2012. Seattle was also fined that year.
While the team declined to comment this time around, Carroll told NBC's Pro Football Talk the gist of what happened in 2012, and we can't imagine a that this new incident is all that different.
"We had a visit from one of the officials guys from the Players Association, he watched our practice, he thought it was a good practice. But they went back and looked at some tapes of another practice that they thought was over the top," Carroll said in 2012, before adding, "we've asked these guys to compete and bust their tails to get everything we can out of these days, and in their eyes we took it to a physical nature that was too high of a level of intensity."
We've included the footage of the Sherman and Bates altercation so you can see it for yourself. Does that look like it was worth more than $300,000 in fines?