Seahawks HC Pete Carroll Gives Honest Admission on Life Without Russell Wilson: 'If We Didn't Have Russell, I Probably Wouldn't Be Here a Long Time'
The Seattle Seahawks' struggles are not going away anytime soon. Pete Carroll's team lost a nail-biter to the New Orleans Saints on Monday Night Football and have proceeded to fall to 2-5 on the season and keep digging a hole the size of Mount Rainier.
The Seahawks are tied with the San Francisco 49ers for last place in the NFC West after an offseason full of hype. But, the loss of Russell Wilson and Chris Carson is too much for this team to overcome for the time being as they have now dropped three straight games.
After another loss, Carroll got brutally honest about missing his quarterback in the midst of what is quickly becoming a lost season.
Russell Wilson's absence affects everybody and Pete Carroll knows that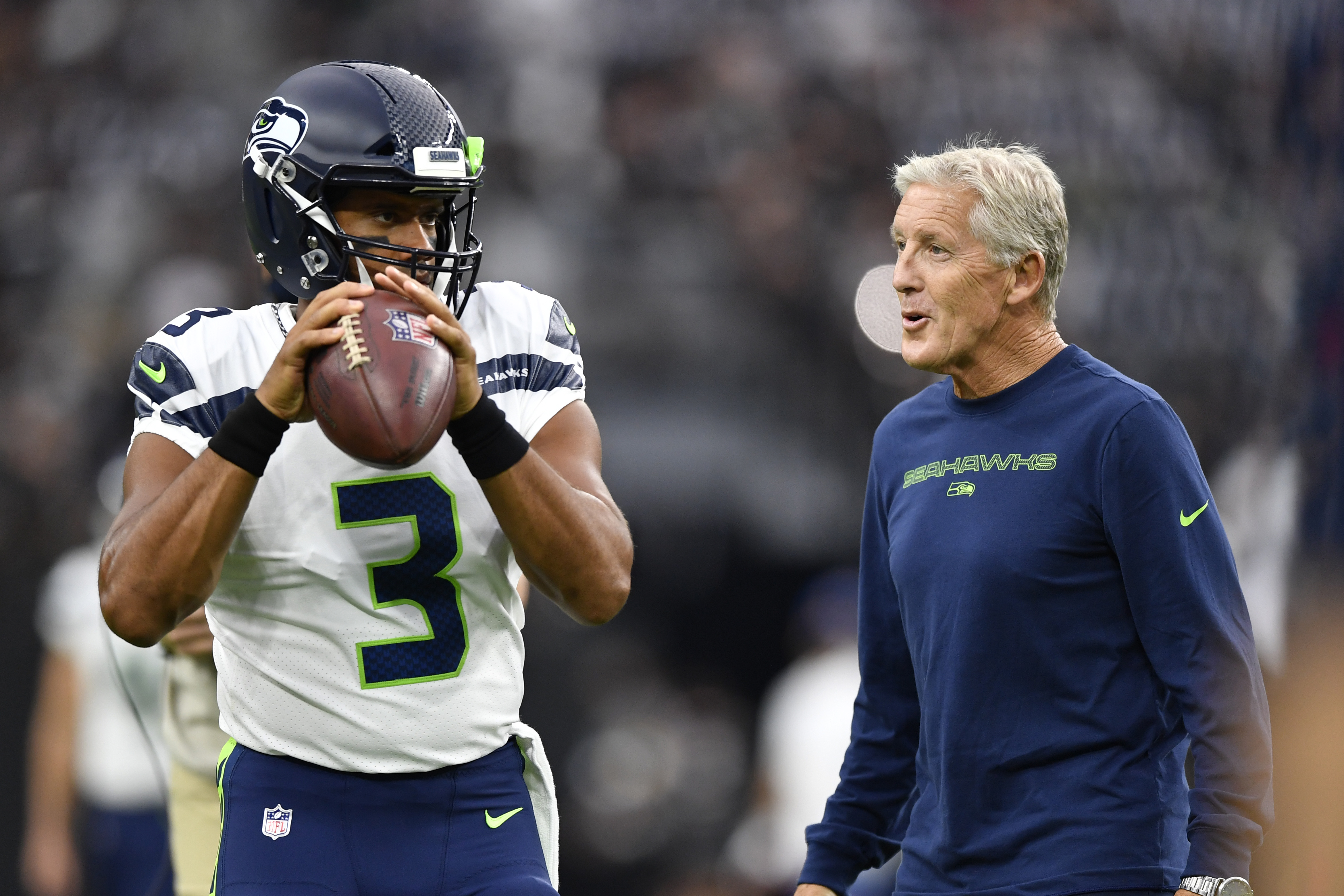 Remember all offseason when Wilson's reported displeasure of the Seahawks led to trade rumors? Well, those talks subsided, and Wilson headed back to the Pacific Northwest with a trip to the Super Bowl on his mind.
Unfortunately, the Seahawks have gone from contender to pretender quicker than ever, and the rash of injuries certainly haven't done them any favors.
After the loss to the Saints, Carroll couldn't help but admit how much he misses Wilson, giving a perfect answer (h/t Greg Bell of the News Tribune).
"Well, I've been here a long time. And if we didn't have Russell, I probably wouldn't be here a long time."

Pete Carroll on the absence of Russell Wilson
Yeah, that sounds about right.
As good as a head coach as Pete Carroll is and as talented as the famed Legion of Boom defense was, Wilson is the gasoline that keeps the car going.
For the past 10 years, Wilson has been under center for the Seahawks. Before 2021, he started every single game from 2012 until now, which is an unheard-of streak, especially for a quarterback in today's NFL.
For some comparison, Carroll headed to Seattle in 2010. Since Wilson's been the signal-caller, the Seahawks have won double-digit games eight times and have gone over .500 in every season Wilson has been at the helm. Unfortunately, that streak is in danger of ending in 2021 unless the former Wisconsin Badgers quarterback can right the ship when activated off of IR.
The last three weeks have been brutal for Seattle, and the collective fan base will be hoping for #3 to return soon.
Wilson's dominance is uncanny
Wilson has remained as one of the most consistent quarterbacks in the NFL for nearly a decade. He plays every game and performs well week in and week out. When he's out there, they have a shot, and Carroll can sleep much better at night.
However, the dropoff from Wilson to Geno Smith is astronomical, and even that might be an understatement. Throw in the fact that their starting running back is also on IR, and this team has little to no shot of winning football games for the time being. Carroll went on to rave more about his longtime quarterback after the loss (h/t Brady Henderson of ESPN).
"Russell's a factor. He's a fantastic positive factor and always has been. That's his time. That's when he shines. We miss him. In the meantime, we're going to keep fighting and clawing and doing everything we can."

Pete Carroll raves about Russell Wilson
To make matters worse, Wilson is fresh off his best statistical season as a pro. In 2020, he threw for a career-high 40 touchdowns and was seven yards shy of his career-best mark for passing yards.
Oh, and even though he wasn't playing on Monday night, he was still out there working and getting his warm-up in.
Wilson is truly a one-of-a-kind talent, and the Seahawks — and Carroll — are lucky to have had him for this long. What the future holds for Wilson is up in the air, but the Seattle head coach will enjoy every last second he can around him.
The Seahawks will hope for the best case scenario for Wilson
It has been three weeks since Wilson injured his finger in the loss against the Los Angeles Rams. At the time, it was projected that he would be out anywhere from six to eight weeks, essentially ending the Seahawks season.
However, Wilson is as tough as they come, and his return might be happening quicker than anybody had imagined.
Unfortunately, it might not matter if Seattle can't tread water enough until he returns from his injury. After the loss to the Saints, they sit at 2-5. On the other hand, the Seahawks face the Jacksonville Jaguars and then head into their bye.
On the other side of their bye, things get brutal. Carroll's team faces the Green Bay Packers and Arizona Cardinals in back-to-back weeks, and the hope is Wilson can return for at least one of those games — although nothing is imminent.
Things aren't pretty in Seattle right now, and Carroll can't help but think how different things would be with #3 under center.
Stats Courtesy of Pro Football Reference
RELATED: Pete Carroll's Desperate Admission That Seahawks Have Reached Out to Cam Newton Shows Just How Much They Miss Russell Wilson