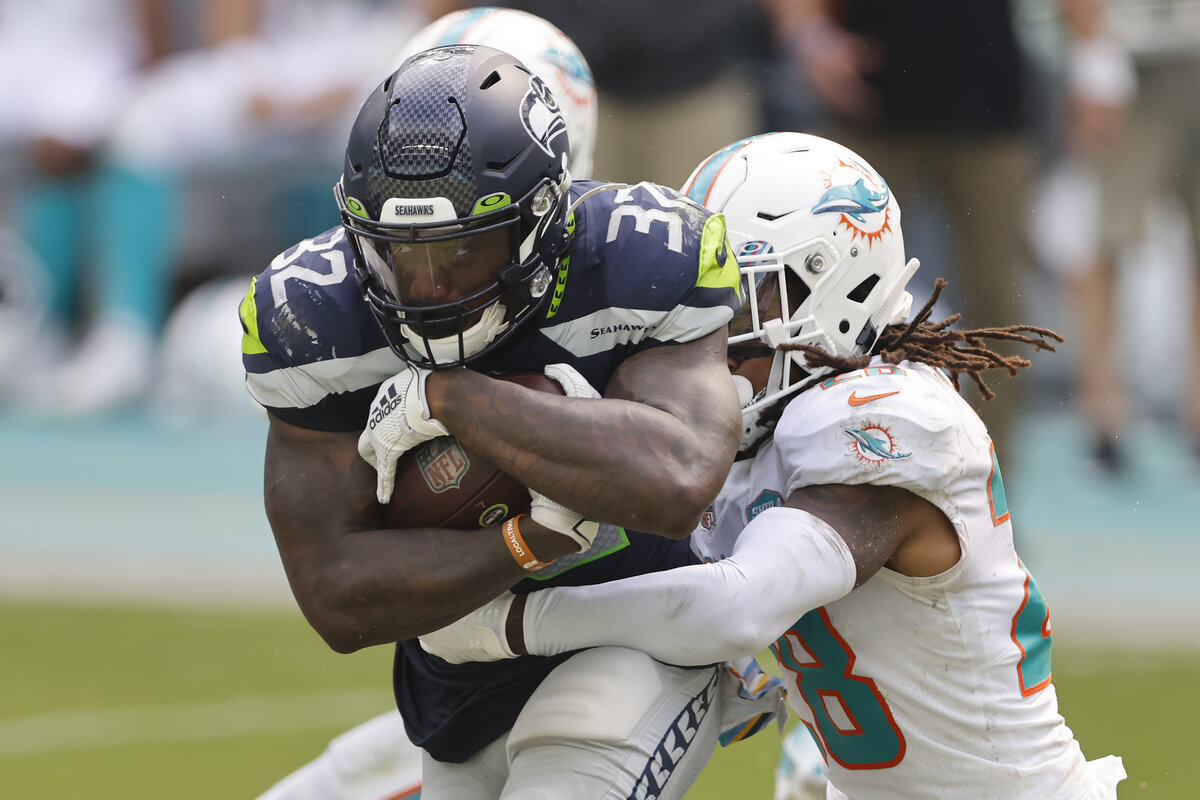 Seahawks RB Chris Carson Just Revealed the 'Only Reason' He's Playing Football
Seattle Seahawks running back Chris Carson is enjoying a terrific 2020 season. Carson just revealed the "only reason" he's playing football.
Seattle Seahawks running back Chris Carson is rescuing his career, and his future, at the right time.
Carson, 26, is in a contract year. The former seventh-round pick, who has quietly been one of the league's top running backs when healthy, is scoring touchdowns and boosting his case for a long-term contract. 
Seattle may have found their new Marshawn Lynch in Carson, the humble running back who escaped personal tragedy to triumph.
As he tries to lead the Seattle Seahawks back to the Super Bowl, Carson just explained the "only reason" he's playing football this season — and it has nothing to do with the Lombardi Trophy.
Chris Carson is in his fourth NFL season
Chris Carson is one of the best NFL players that a fair share of fans likely don't know about just yet. 
Carson has never made a Pro Bowl or earned All-Pro honors, yet he's positioning himself to end 2020 with a third-straight 1,000-yard rushing season. 
A seventh-round pick in 2017, Carson totaled 267 yards from scrimmage in four games as a rookie. Healthy for the Seattle Seahawks in 2018, Carson picked up 1,151 rushing yards and nine touchdowns in 14 games. 
Carson ran for 1,230 yards and seven touchdowns in 15 games last year, although he irritated fantasy football owners with seven fumbles. He also caught 37 passes for 266 yards and two scores. 
Carson is riding high for the Seattle Seahawks
Healthy and trying to earn a new contract, Chris Carson started the 2020 season off in a big way for the Seattle Seahawks. 
Carson ran for 289 yards and three carries on 4.7 yards per carries in Seattle's first five games, all wins. Eighteen of Carson's 61 carries either went for touchdowns or traditional first downs. 
Carson also caught 21 passes for 140 yards and three touchdowns. 
Across a full 16-game season, Carson is on pace for 925 rushing yards and 10 rushing touchdowns; the veteran running back would also turn 67 catches into 448 yards and another 10 touchdowns.
Chris Carson just revealed the 'only reason' he plays football
Every athlete has a different reason why they play professional sports. 
Some do it for money and fame. Others do it because it's their way out of a bad life, and the sport provides a path to salvation.
Others, like Chris Carson, do it for their family. In a recent interview with The Athletic, Carson said the "only reason" he is playing this season is to earn enough money to buy his mother a house.
The Carson family's home burnt down in 2013 because of an electrical failure. Carson promised his mother he would buy her a house when he earns enough money in the NFL.
According to Spotrac, Carson's base salary this year is $2.1 million. He is in the final year of his rookie contract. 
If Chris Carson stays healthy and playing at a high level, the Seattle Seahawks will have to consider extending him. Carson will play most of the 2021 season at 27, so he is in line for one — and maybe two — significant paydays.
Does Carson think he's going to put the money down for his mother's new house in the coming months?
"It's finally going to happen soon," Carson said. 
All contract figures courtesy of Spotrac.