Sean McDonough Explained Why Working With Jon Gruden on 'Monday Night Football' Was So Uncomfortable and 'Awkward'
Those who worked on ESPN's Monday Night Football, including Las Vegas Raiders head coach Jon Gruden, may not want to send Sean McDonough any holiday gifts later this year. 
In fairness to McDonough, who served as MNF's play-by-play voice from 2016-17, he didn't say anything too offensive or outlandish during a recent interview. However, he is nonetheless speaking out about the uncomfortable experiences he had working with Gruden, then the color commentator, and the production staff.
Sean McDonough felt his years on 'Monday Night Football' with Jon Gruden were awkward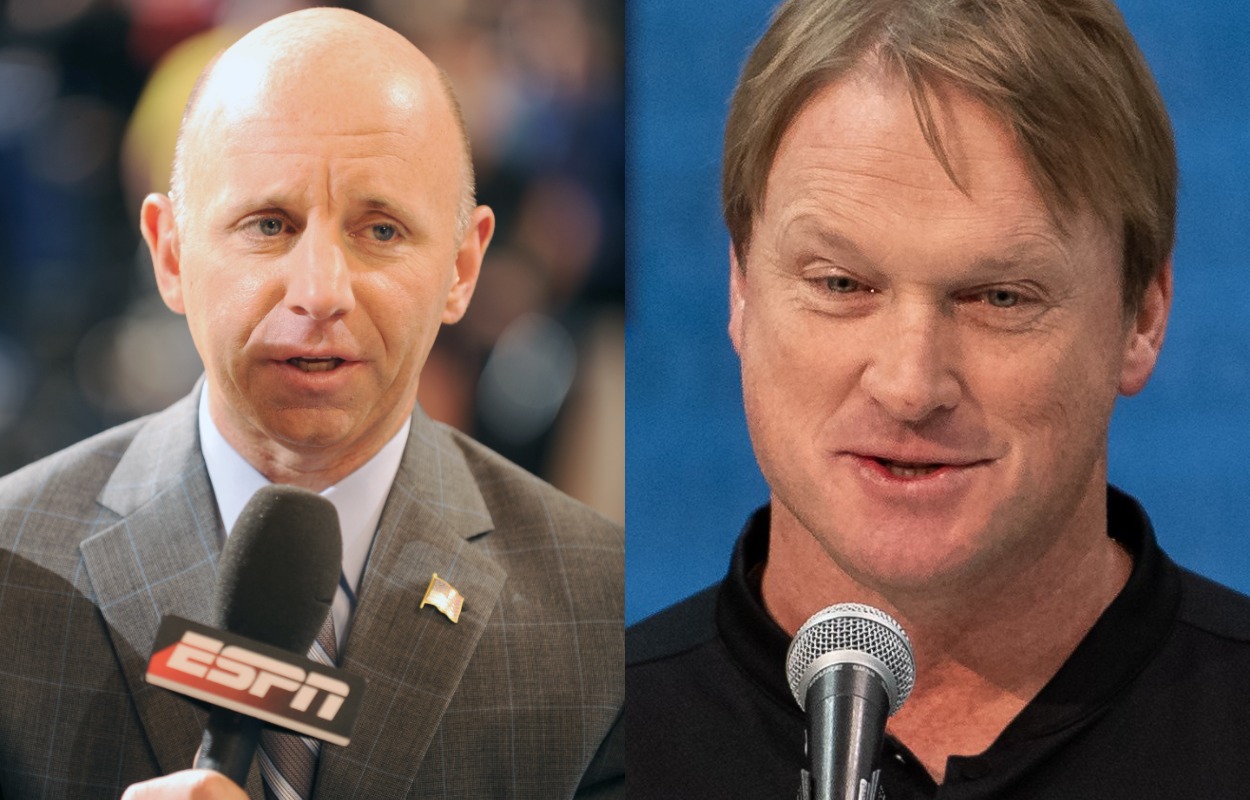 Over three years removed from his final game in the Monday Night Football booth, McDonough wants everyone to know where things went wrong.
ProFootballTalk transcribed comments McDonough made during a recent appearance on the SI Media Podcast. The 59-year-old announcer reflected on his awkward partnership with Gruden, one he said harmed the game's production value.
McDonough explained that Gruden made it clear the former coach preferred not to tell stories on the air. Instead, Gruden wanted to break down plays and schemes, and those who produced Monday Night Football embraced that philosophy. That presented problems when McDonough asked questions, and Gruden, who was so focused on preparing to use the telestrator, didn't respond.
"It was awkward for me. You're standing there next to somebody wondering, 'If I ask him a question about this, is he gonna answer it, or is he gonna be annoyed that I asked him?' So it was uncomfortable."

Sean McDonough
McDonough made it clear he wasn't criticizing Gruden, and he understood why the producer and director opted to build the game around the former coach's strengths.
"It made sense," McDonough said. "It just didn't match with what I was there to do."
McDonough called his final MNF game in January 2018. Several years later, he said he was glad he had the opportunity to spend two seasons in that role.
"Did I think we were bad? No. I thought it was fine," McDonough admitted. "But it could've been great, in my opinion, and it wasn't."
Gruden famously had an awkward goodbye in his final ESPN performance
By the end of the 2017 season, it quickly became apparent the partnership between McDonough and Gruden wouldn't last much longer. After nearly a decade at ESPN, Gruden wanted to coach again, and he had his eyes set on the perfect spot.
When the then-Oakland Raiders fired head coach Jack Del Rio, many speculated the move occurred because the team wanted to hire Gruden again. He'd previously served as the Raiders' head coach from 1998-2001. In fact, the news of his return to California leaked before ESPN aired a wild-card round matchup between the Tennessee Titans and Kansas City Chiefs in January 2018.
McDonough referenced Gruden's impending departure when the broadcast opened. However, because neither the Raiders nor Gruden had announced the hire yet, the veteran coach needed to do damage control.
"Well, thank you, nothing's official yet, but these Chiefs fans have been on my case since I got here."

Jon Gruden
The two shook hands and had a more natural farewell when the game, a Titans victory, ended later that day. ESPN rebooted the booth with the much-criticized trio of Joe Tessitore, Booger McFarland, and Jason Witten beginning in 2018.
Gruden surely shouldn't regret leaving ESPN and 'Monday Night Football'
The Raiders officially announced Gruden as the franchise's next head coach in January 2018. And while the wins haven't been there, Gruden likely isn't wishing he's back at ESPN right now.
Gruden signed a 10-year contract worth a staggering $100 million, and it proved to be the right move … for him, at least. Despite the Raiders going 19-29 in his first three seasons, the team realistically could not fire him without dealing with the severe financial ramifications. 
Much has changed since that chilly January day at Arrowhead Stadium. Gruden and the Raiders are entering their second season in Las Vegas. McDonough is ESPN's new play-by-play voice for the NHL and will officially start that role later this year.
As for Monday Night Football? Steve Levy, Brian Griese, and Louis Riddick showed potential during the 2020 season and will return for a second year in the booth this fall.
Like Sportscasting on Facebook. Follow us on Twitter @sportscasting19.