Sean McVay Could Follow in Jon Gruden's 'Monday Night Football' Footsteps
For the time being, Sean McVay is happy as the Rams' head coach.
But if things change, at least one major company wants McVay, who led the Rams to a Super Bowl after the 2018 season, on their side.
Even with him under contract and the Los Angeles Rams publicly backing the fourth-year coach, football fans shouldn't be surprised to see McVay eventually wind up at ESPN.
Sean McVay is entering his fourth season with the Rams
RELATED: Sean McVay Hints at Jalen Ramsey Earning a Record-Breaking Deal
A former wide receiver at Miami University — the RedHawks and Steelers quarterback Ben Roethlisberger's alma mater, which is not to be confused with the Miami Hurricanes — in the mid-2000s, Sean McVay got his coaching start early.
A pre-existing relationship with Buccaneers coach Jon Gruden allowed McVay, 22, to spend the 2008 season as an offensive assistant who primarily worked with the receivers.
Tampa Bay parted ways with Gruden after the 2008 season. McVay spent 2009 as the quality control/wide receivers coach for the Florida Tuskers of the now-defunct United Football League.
McVay returned to the NFL for good in 2010. He served as the assistant tight ends coach for new Redskins coach Mike Shanahan and earned a promotion to tight ends coach in 2011.
McVay held that role until Washington fired Shanahan after the 2013 season. Jay Gruden, Jon's younger brother, promoted McVay to offensive coordinator when Gruden replaced Shanahan.
McVay held that role for another three seasons. Then, McVay made history when he became the Los Angeles Rams' head coach on Jan. 12, 2017. McVay was 12 days away from turning 31 and became the youngest head coach in modern NFL history.
The Rams are 33-15 in McVay's three seasons and won the NFC West in the first two years. Los Angeles made Super Bowl 52 after the 2018 season but lost, 10-6, to Tom Brady and the New England Patriots.
McVay has an incredible football mind
RELATED: Sean McVay Says 'A Lot' Went into Cutting Todd Gurley
Sean McVay has gone viral not just for his coaching and the Rams' success, but his football mind.
In December 2018, a reporter asked McVay to evaluate the Chicago Bears' defense. According to NBC Sports, McVay recited eleven Bears starters, ten of whom started in the nickel package.
A few months earlier, McVay rattled off various plays he called both with the Rams and Redskins in a segment with Bleacher Report. McVay not only remembered how a drive from a 2015 game ended, but correctly noted it was the game — a 31-30 victory over the Buccaneers — that inspired Kirk Cousins' you like that?' meme.
Bleacher Report called him the "Einstein of football."
ESPN wanted Sean McVay to join the 'Monday Night Football' booth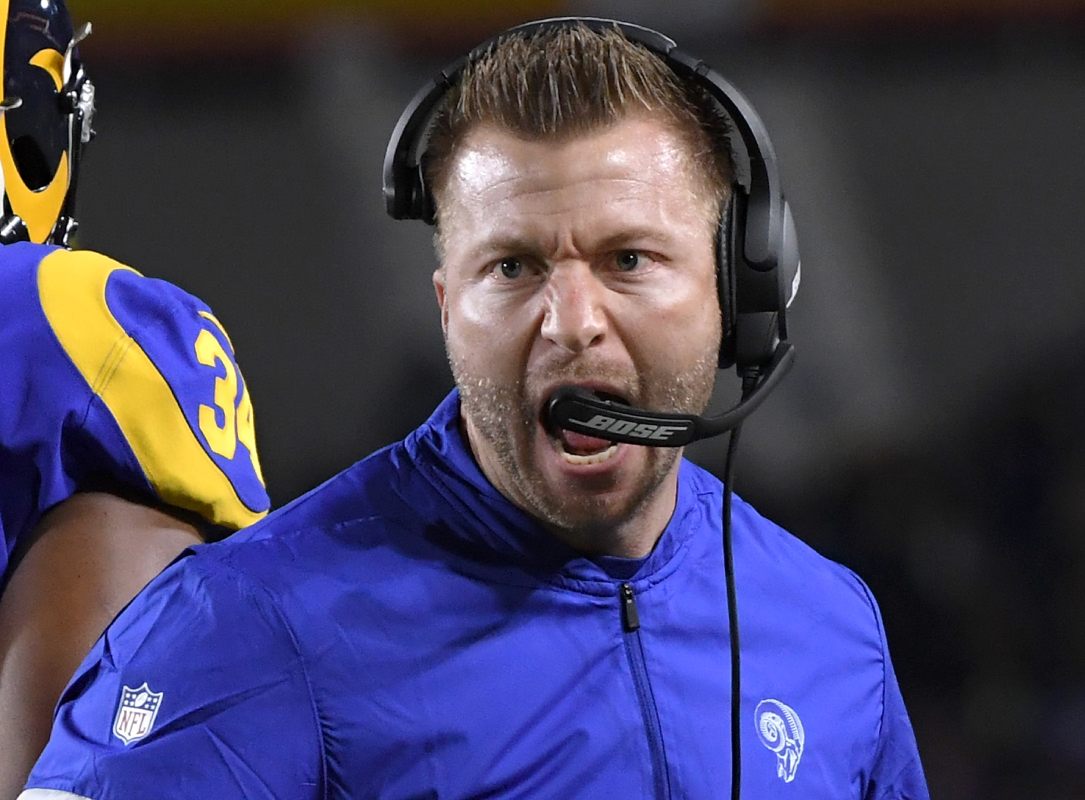 RELATED: Peyton Manning Isn't Ready to Join ESPN's Monday Night Football Broadcast Just Yet
For the time being, Sean McVay is the Los Angeles Rams' head coach.
If that changes, ESPN wants McVay under contract. The New York Post reported the Worldwide Leader is interested in having McVay eventually join the Monday Night Football booth.
"ESPN executives think McVay could be a standout in the booth, somewhat like Jon Gruden. McVay is just 34, has already been to a Super Bowl and is under contract, but a conversation was had."
McVay is both personable and knowledgable about the game. The same was said for Jason Witten, however, and he struggled in his lone year with ESPN.
If or when McVay enters broadcasting, he may want to consider starting small. The MNF job brings a great deal of attention and pressure, especially in recent years.
The 2020 MNF booth will reportedly feature Steve Levy, Louis Riddick, and former quarterback Brian Griese. College football announcers Chris Fowler and Kirk Herbstreit will work a September 14 game between the Steelers and Giants.
Like Sportscasting on Facebook. Follow us on Twitter @sportscasting19.