Sean McVay's Cruel Prank on Kliff Kingsbury Included 'a Couple Vodkas' and Making a Friend Pretend to Be Roger Goodell
Kliff Kingsbury saw his Arizona Cardinals improve tremendously last season as they made the jump from 5-10-1 in 2019 to 8-8 in 2020. Their success, though, was largely due to the play of Kyler Murray, who appears to have the makings of becoming a franchise quarterback. However, at one point, Kingsbury thought he wasn't going to get Murray in the 2019 NFL draft, and it was all thanks to a cruel prank that Los Angeles Rams coach Sean McVay played on him.
Kliff Kingsbury and Sean McVay are friends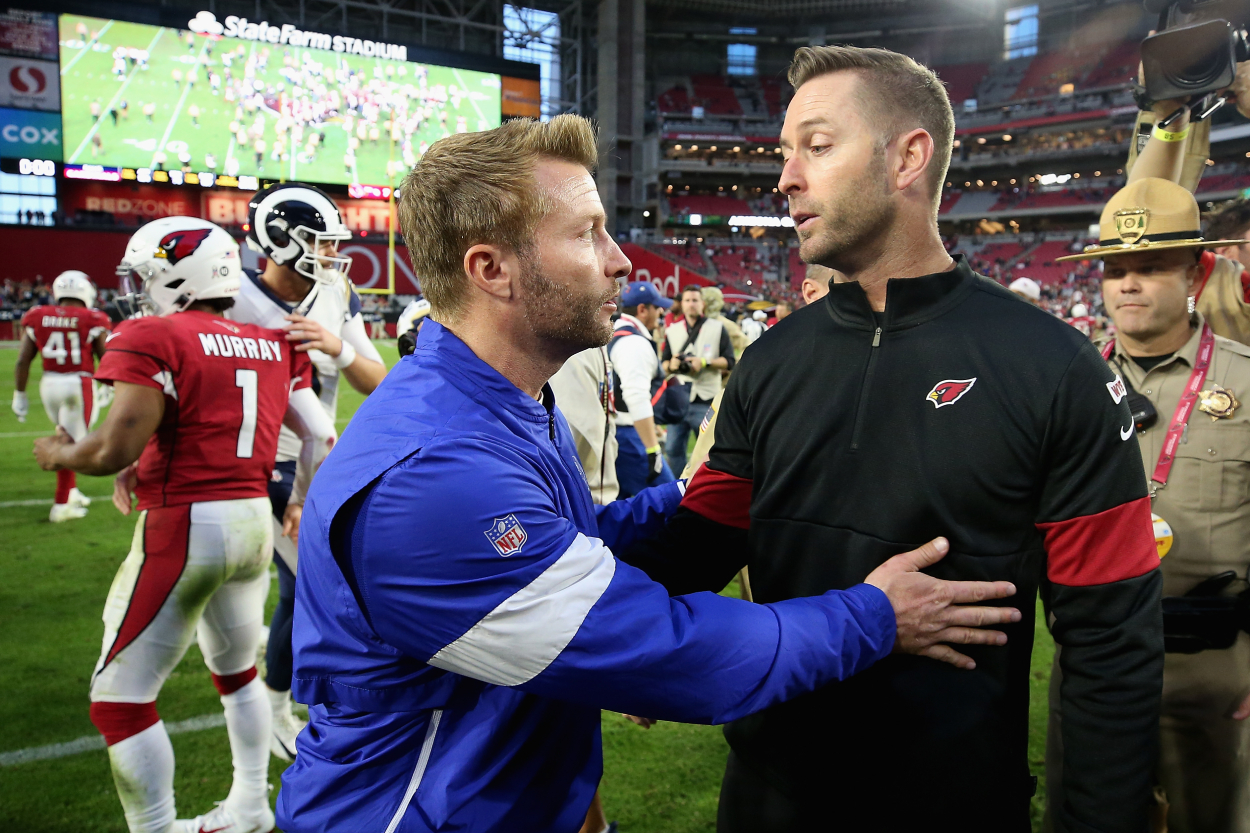 McVay and Kingsbury are two young and successful coaches in the NFL.
In his four years as the head coach of the Rams so far, McVay has taken LA to the playoffs three times. He also led the team to a 13-3 record and the Super Bowl during the 2018 season.
Kingsbury, on the other hand, hasn't had quite as much success as McVay, but he helped the Cardinals improve from 5-10-1 to 8-8 in his first two years as Arizona's head coach.
While their teams may be rivals in the same division on the field, they are actually pretty good friends off it. McVay and Kingsbury first met through a mutual connection in former NFL receiver Chas Gessner, who played with Kingsbury on the New England Patriots and under McVay in the UFL.
"It was crazy because (Gessner) told me, 'This guy is going to be a star in coaching,'" Kingsbury said, per the Cardinals' team site. "I was like, 'Yeah, right.' He was like the tight ends coach for the Orlando Tuskers. Good luck, buddy."
He continued: "But (Gessner) was right. You get around (Sean), talk to the guy, he is phenomenal as a person, as a coach, he can talk some football now."
McVay said that "it was a pretty easy connection" for them to make due to their love for the sport they coach.
"When we got to know each other, he's got a good vibe, he's a great football coach, we both love football," McVay said, per the Cardinals' team site.
Sean McVay pulled a cruel prank on the Cardinals coach
During the 2019 offseason, Kingsbury was heading into his first year as the Cardinals' head coach, and Arizona had the No. 1 overall pick in the 2019 NFL draft. Essentially everyone knew that the Cardinals were going to take Murray with that pick.
However, during that same time, McVay and Kingsbury both went out to dinner with Patrick Mahomes, who played under Kingsbury in college at Texas Tech, and some other friends. The Rams coach then decided to play a cruel prank on Kingsbury.
"I knew he was going to make fun of me a year from now about having my shirt off on Hard Knocks, so I'm gonna get this guy first," McVay said on the Flying Coach podcast, per a tweet from cohost Peter Schrager.
McVay then switched his friend's number in his phone to say it was NFL commissioner Roger Goodell's number.
"I told him to text me, 'Hey, you know better than this. I know Kingsbury checked with the league office, but he didn't really do his due diligence; you know better than this,'" McVay said. "… [Kingsbury] was walking around like he was seven foot, he was feeling so good about taking Kyler. … So, we get a couple vodkas in, and I say, 'Hey, send me the text.'"
McVay's friend then texted him acting as if he were Goodell and said that the two coaches were in "deep trouble for tampering."
"So, I just show the screenshot to Kliff, and I told him, I said, 'Hey man, he never texts me. You better get on the phone with (general manager) Steve Keim and [owner Michael Bidwell] right now because I think we're both losing picks," McVay said. "This guy looked like he was going to throw up. He's always got a good tan and a nice glow. He was as white as my walls behind me."
McVay certainly had some fun at Kingsbury's expense that night, and quickly told him it was a joke. Kingsbury, though, eventually got his guy.
Kyler Murray has been a star for Kliff Kingsbury and the Cardinals
After eventually going to Kingsbury and the Cardinals with the No. 1 overall pick in the 2019 NFL draft, Murray had an outstanding rookie season.
He threw for 3,722 yards, 20 touchdowns, and 12 interceptions that year, and also ran for 544 yards and four touchdowns. His play even earned him the AP Offensive Rookie of the Year Award.
Murray then had an even better season in 2020. He threw for 3,971 yards, 26 touchdowns, and 12 interceptions while also running for 819 yards and 11 touchdowns, which all earned him Pro Bowl honors.
To put it simply, Murray has lived up to the hype for the Cardinals. He appears to be a guy that can play quarterback in Arizona for years.
Kingsbury's fear of losing him was certainly justified.
Stats courtesy of Pro Football Reference