Sean McVay Gets Emotional About Matthew Stafford as Los Angeles Rams Head to Super Bowl: 'If You Don't Root for This Guy, Something's Wrong With You'
Matthew Stafford and the Los Angeles Rams are heading to the Super Bowl. Exactly a year to the date that it was announced the Rams acquired Stafford via a trade with the Detroit Lions, their faith in the signal-caller has paid off.
The Rams beat the San Francisco 49ers in the NFC Championship Game on their home turf, ultimately prevailing in a hard-fought 20-17 win. After the game, head coach Sean McVay gave emotional testimony about his quarterback. McVay is going to his second Super Bowl since becoming LA's head coach, and it sounds like he couldn't be happier to be making the second appearance alongside Stafford.
The trade for Matthew Stafford worked out for the Los Angeles Rams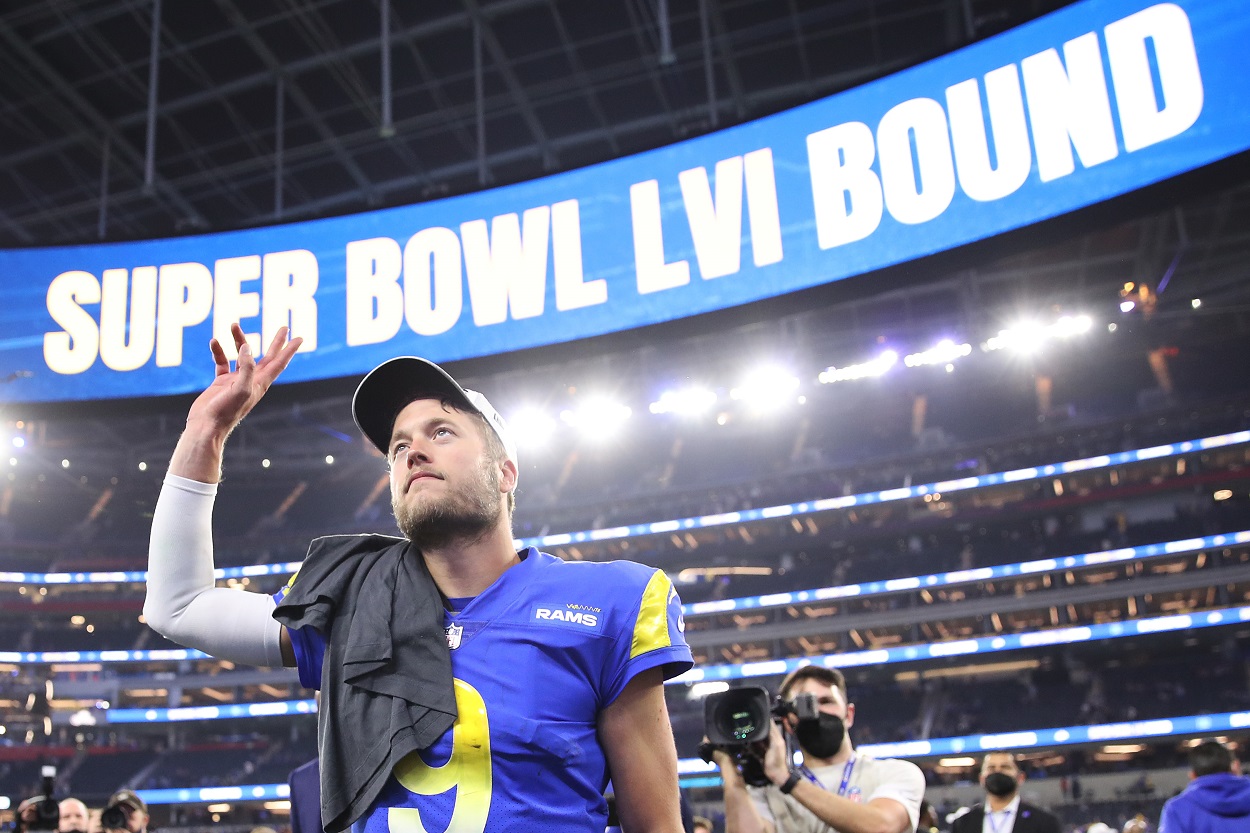 The Rams traded two first-round picks (one in 2022 and one in 2023), quarterback Jared Goff, and a 2021 third-round pick to the Lions for the privilege of having Stafford as their quarterback.
Stafford had played in Detroit for 12 seasons after the Lions took him No. 1 overall in the 2009 NFL Draft. He was always one of the more talented quarterbacks in the league, but he could never win anything of consequence in Detroit. The Lions never won the NFC North in his tenure, and though they made the playoffs three times, he never won a playoff game.
His time in Detroit was full of empty stats and seemingly wasted talent, but McVay and the Rams saw what he could be with the right people around him. They mortgaged their future to get McVay his quarterback, and it couldn't have worked out better.
Not only did Stafford pick up the first playoff win of his career, but he now has three under his belt as he led the Rams past the Arizona Cardinals, Tom Brady and the Tampa Bay Buccaneers, and the 49ers.
Super Bowl 56 will be played at SoFi Stadium, the Rams' home turf.
Frankly, the trade couldn't have worked out better for LA.
Sean McVay waxed poetic about his quarterback after the NFC title win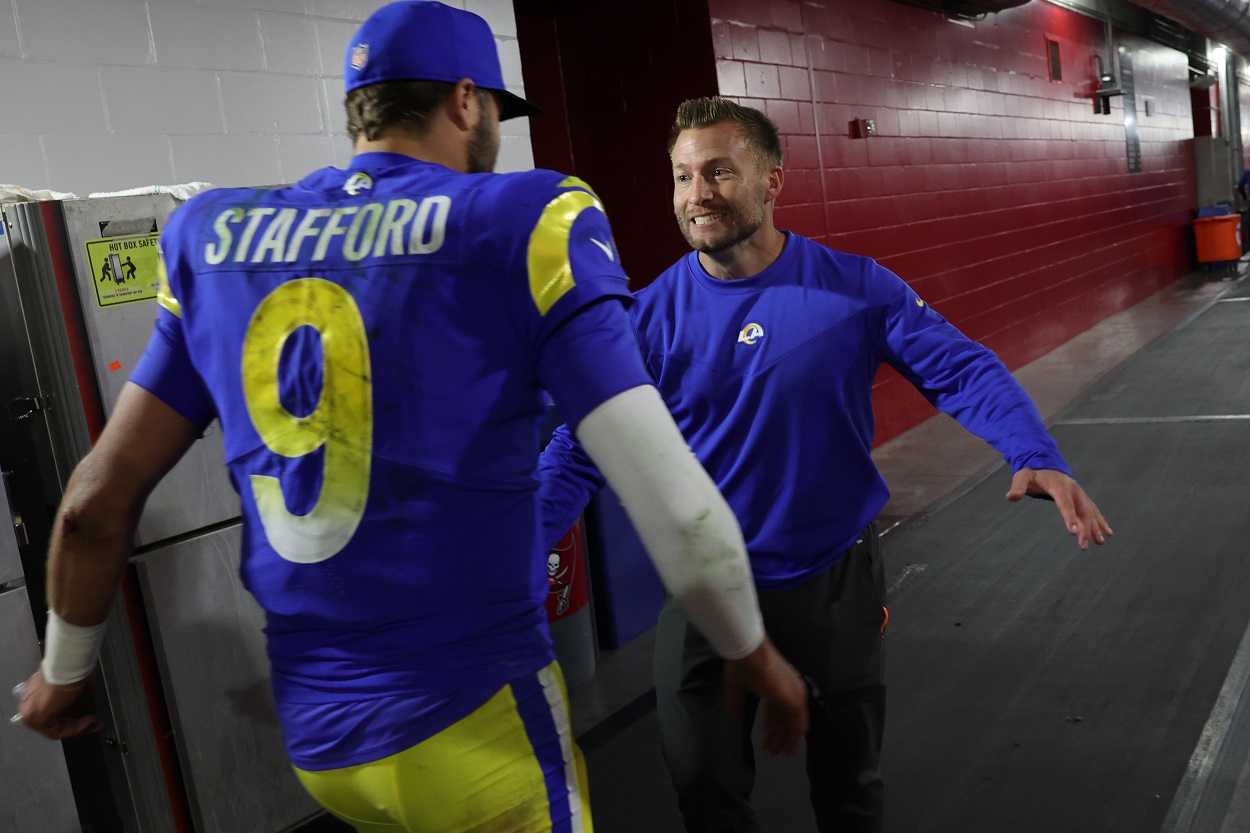 McVay was clearly jazzed up after the win over the 49ers, and for a good reason. His defense had just secured the game-winning interception off Jimmy Garoppolo deep in the 49ers' own zone. That game-sealing defensive stand was set up by a 10-play, 49-yard drive led by Stafford that ended in a Matt Gay field goal with 1:46 to go.
Stafford was 4-of-4 on that drive, including a massive 25-yard strike to Cooper Kupp on third down to move the ball to the San Francisco 12. Had it not been for a sack he took on third down, Stafford would have been perfect, but he still got the Rams in position to secure the game-winning points.
In all, Stafford completed 31 of 45 passes for 337 yards, two touchdowns, and one interception. He threw six touchdowns compared to just the one interception in LA's three playoff games.
"We went out and got him [Stafford] because we thought it was a chance to be able to get a great player of his magnitude. Those things don't come around often," McVay told the media after the game, according to NFL.com. "What he's done … he's elevated everybody around him. He's made me a better coach. He's made his teammates better. He's such a great person. You guys [the media] know from getting a chance to interact with him. If you don't root for this guy, something's wrong with you."
McVay went on to talk about Stafford's competitive spirit and said that even though he saw it from his quarterback all season long, it really came out in the playoffs.
"He embodied competitive greatness today," the coach said. "I love Matthew Stafford."
The Rams will take on the Cincinnati Bengals in Super Bowl 56
LA's reward for winning the NFC is a trip to Super Bowl 56 and a matchup with Joe Burrow and the red-hot Cincinnati Bengals.
The Bengals are coming off a road win over the reigning AFC champion Kansas City Chiefs. It was a game that saw them topple Patrick Mahomes and company in overtime, 27-24.
It's poetic — if not ironic — that Stafford will be facing Burrow in this matchup. The Bengals took Burrow with the first overall pick in the 2019 NFL Draft, and he's led the franchise to the Super Bowl in just his second season.
His quick journey to the top is a stark contrast to Stafford's, who had to wait 13 seasons, but Burrow savored his team's AFC Championship win just the same.
"I think if you would have told me coming into the league when I got drafted that we'd be here this year, obviously it would be a shock," Burrow said after the game, according to ESPN. "But like I said earlier, no, I'm not surprised."
Burrow completed 28 of 38 passes against the Chiefs for 250 yards, two touchdowns, and one interception. The Bengals were actually down 21-3 late in the second quarter and looked completely overmatched, but they scored 11 unanswered in the third quarter to tie the game. Rookie kicker Evan McPherson hit a field goal in the fourth and then the game-winner in overtime to send Cincinnati to its third Super Bowl in franchise history.
According to ESPN, the Rams have opened up as 3.5-point favorites over the Bengals, but don't expect LA to come in cocky.
After the win, Stafford sounded like he was ready to get back into the office and back on the grind.
"Today wasn't easy. It wasn't perfect in some spots, but we found a way to win the game and that's what it's all about. I'm just happy and proud to be a part of this group," he said, per ESPN.
"We've got some more work left to do."
Stats courtesy of ESPN and Pro Football Reference.
RELATED: Tom Brady's Comeback Made the LA Rams' Win Sweeter for Matthew Stafford Because He Got to 'Steal Somebody's Soul'