Sean McVay Gets Rolling on Bringing Aaron Donald Back During the Rams' Super Bowl Parade: 'Run It Back'
Well, that didn't take long. Not more than 72 hours after the Los Angeles Rams became Super Bowl Champions with a victory over the Cincinnati Bengals, head coach Sean McVay expressed his desire to bring back Aaron Donald. Before Super Bowl 56 began, Rodney Harrison reported that Donald might retire if the Rams got the victory, and after the game, Donald did nothing to shut down those rumors.
Then, McVay's future also became a talking point because of his comments leading up to the Super Bowl. However, while the Rams paraded down the streets of LA during their parade, McVay dropped some words that show he and Donald should be back in the 2022 season.
Sean McVay makes public sales pitch to Aaron Donald during Rams' Super Bowl parade
As the Rams floated down the streets of LA in celebration, McVay got right to business and made sure to give Donald a massive ring of endorsement.
As retirement talks swirled around Donald — and some even said this is a leverage move for a more significant contract — it is no surprise that the Rams head coach wants him back.
The exchange between these two is pure gold.
McVay and the entire Rams team were clearly enjoying this one, and it's a well-deserved celebration. While Donald was speaking, McVay grabbed the mic and screamed "run it back" multiple times, bringing about a perfect response from Donald.
Donald gave Rams fans everything they wanted with a few simple words: "Why not run it back?"
That means something, even during the middle of a joyous celebration.
Sean McVay also hinted at his future with these few simple words
After hoisting that cherished Lombardi Trophy, McVay sure didn't shut down the retirement rumors. If anything, he did the exact opposite.
"We'll see." Those were the words from McVay's mouth, and Donald didn't shut down his rumors either.
Both of these guys left the door open for retirement while admitting they wanted to enjoy the "moment."
We can respect that, sure, but their activity during the parade strongly suggests that both will be back in the Rams locker room when the 2022 NFL season begins.
Or, at least, that's the hope for the Rams. After all, why wouldn't they run it back for at least one more season?
The Rams championship window isn't closing just yet, which is even more reason why McVay and Donald should return in 2022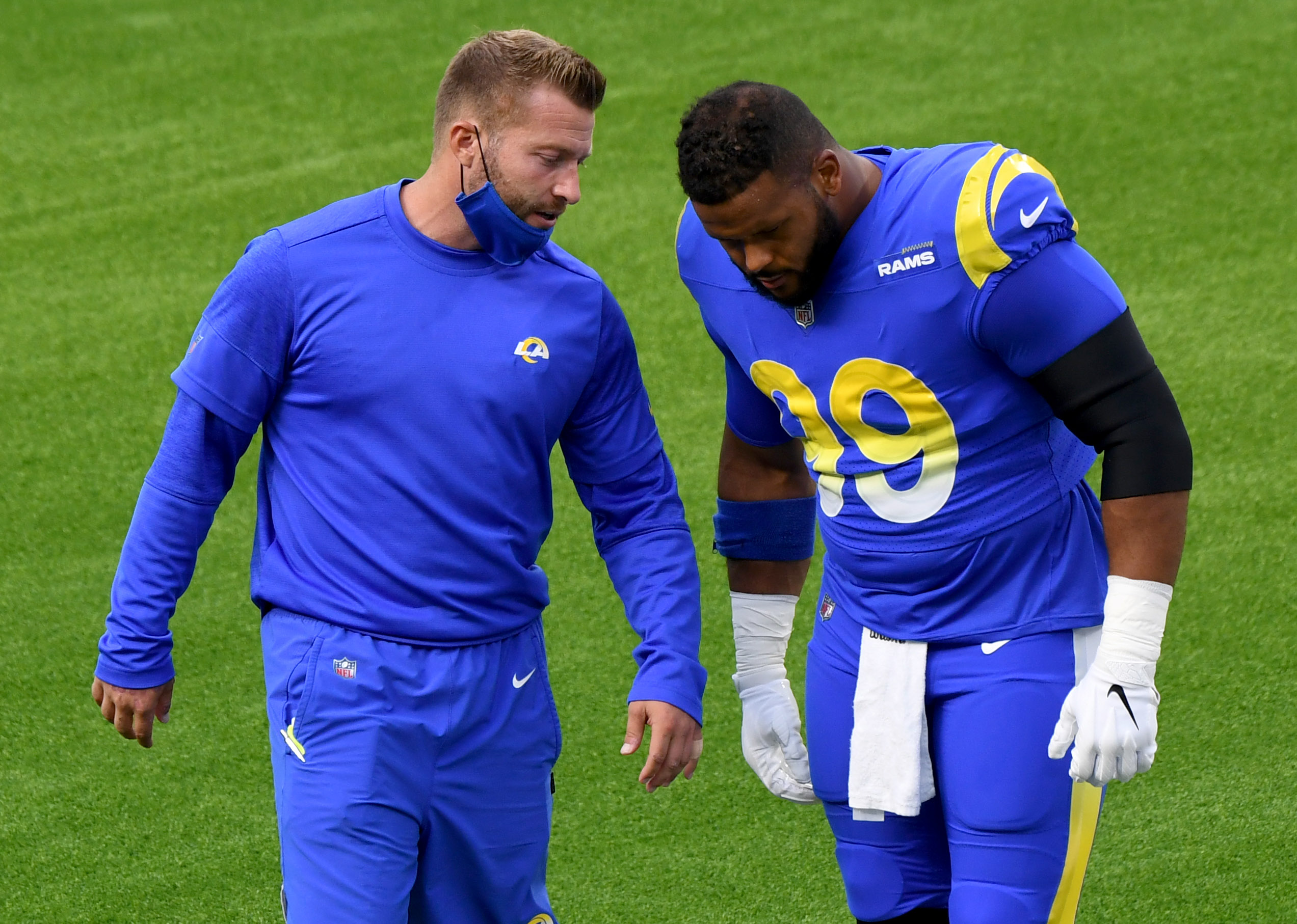 The Rams went aggressively all-in to win the championship this season — and it worked. Matthew Stafford delivered. After a turbulent tenure with the Cleveland Browns, Odell Beckham Jr. enjoyed a resurgence.
Von Miller came over via a trade with the Denver Broncos, and Sony Michel came from the New England Patriots. The list goes on, including Eric Weddle coming out of retirement to help the Rams win a title.
Nonetheless, this team isn't going anywhere, and there is reason to believe that they should be a Super Bowl contender for at least the next couple of seasons — even more if Donald and McVay stick around.
Miller also stated his desire to stay in LA, and the Miller-Donald duo was formidable for opposing offenses. Miller also suggested that the feeling of a title might keep Donald around for a bit.
Beckham could also be back depending on how the free-agent market works out. Oh, and Super Bowl MVP Cooper Kupp is still around, and Robert Woods should be recovered from his injury.
If the Rams bring back all of their key pieces, their chances of a Super Bowl repeat are terrific.
Why would McVay or Donald want to walk away just yet? If the parade is any indication, it doesn't look like they are going anywhere.
RELATED: Aaron Donald's Looming Retirement Threat Could Cost the Rams Millions