Sean McVay Just Revealed a Haunting Reality About Odell Beckham Jr.'s Controversial Role With the Rams
The Odell Beckham Jr. experience got off to a slow start for the Los Angeles Rams during Week 11. Despite Sean McVay doing his best to ramp OBJ up to speed upon signing with LA, the enigmatic wide receiver could not learn the playbook well enough to be a factor during his Rams debut.
Beckham Jr. only logged 15 snaps playing against the San Francisco 49ers. He finished the game with a measly two catches for 18 yards. Matthew Stafford also threw an interception on an ill-timed deep shot to OBJ.
Odell Beckham Jr. didn't know the playbook
While the Rams tried to force the ball Beckham Jr.'s way on more than one occasion, the former Cleveland Browns WR ultimately ended the night on the bench due to a lack of playbook knowledge.
According to Pro Football Talk's Mike Florio, the Rams were forced to huddle before every play against the 49ers due to Beckham Jr. not knowing the plays. Once the Rams fell behind by multiple scores, OBJ was relegated to the sideline so Stafford could run a no-huddle style of offense.
It was a frustrating first taste of OBJ-in-LA for everyone involved. Beckham Jr. was supposed to come in and immediately improve McVay's already impressive offense. Instead, he spent most of the night sitting on the bench watching from afar.
Unfortunately for the Rams, it doesn't appear this problem is getting solved anytime soon.
Sean McVay says OBJ's involvement is still a work in progress
The Rams are coming off their bye week, staring down a Week 12 matchup with the Green Bay Packers. On paper, they should've had plenty of time to ramp Beckham Jr. up to speed regarding his role in the offense.
However, according to McVay himself, this doesn't appear to be the case.
"I think that's a work in progress," said McVay when questioned about OBJ's role. "I think it was important for everybody to be able to get away. Odell was doing a great job of kind of working on his own, getting himself physically ready to go because there was still some stuff that he was working through just physically to get his body feeling overall the way that he wants to play at the level that we all know he's capable of. And so, there's some moving parts to that."
For as gifted of an offensive mind as McVay is, this does not sound like a play-caller who is confident in his new WR.
Odell Beckham Jr. and Sean McVay need to get on the same page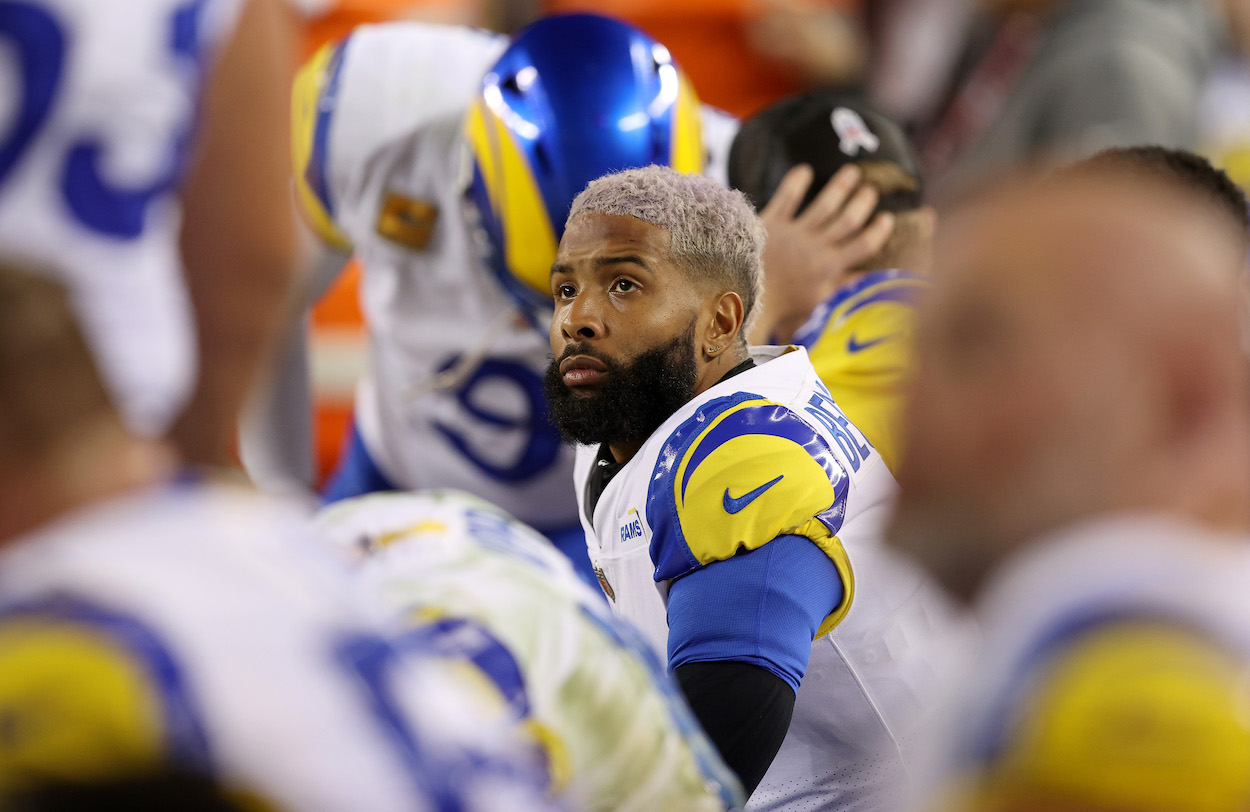 When the Rams first announced they were signing Beckham Jr., the general public reaction was annoyance. The Rams were building a super team, and OBJ was just one more piece to the puzzle.
However, there was a quiet voice of concern out there as well. Beckham Jr. has a history of wanting things done a certain way regarding targets, and McVay himself has a history of not always pertaining to player requests. DeSean Jackson, for example, demanded his release from the Rams this season due to a lack of involvement.
On the surface, OBJ joining the Rams should only improve their offense, especially following the injury of Robert Woods. However, if he and McVay still aren't on the same page after an entire extra week of preparation, it's reasonable to assume problems are set to persist past their first game together against the 49ers.
The Rams are coming off back-to-back losses. They need to get this figured out sooner rather than later.
All stats courtesy of Pro Football Reference.