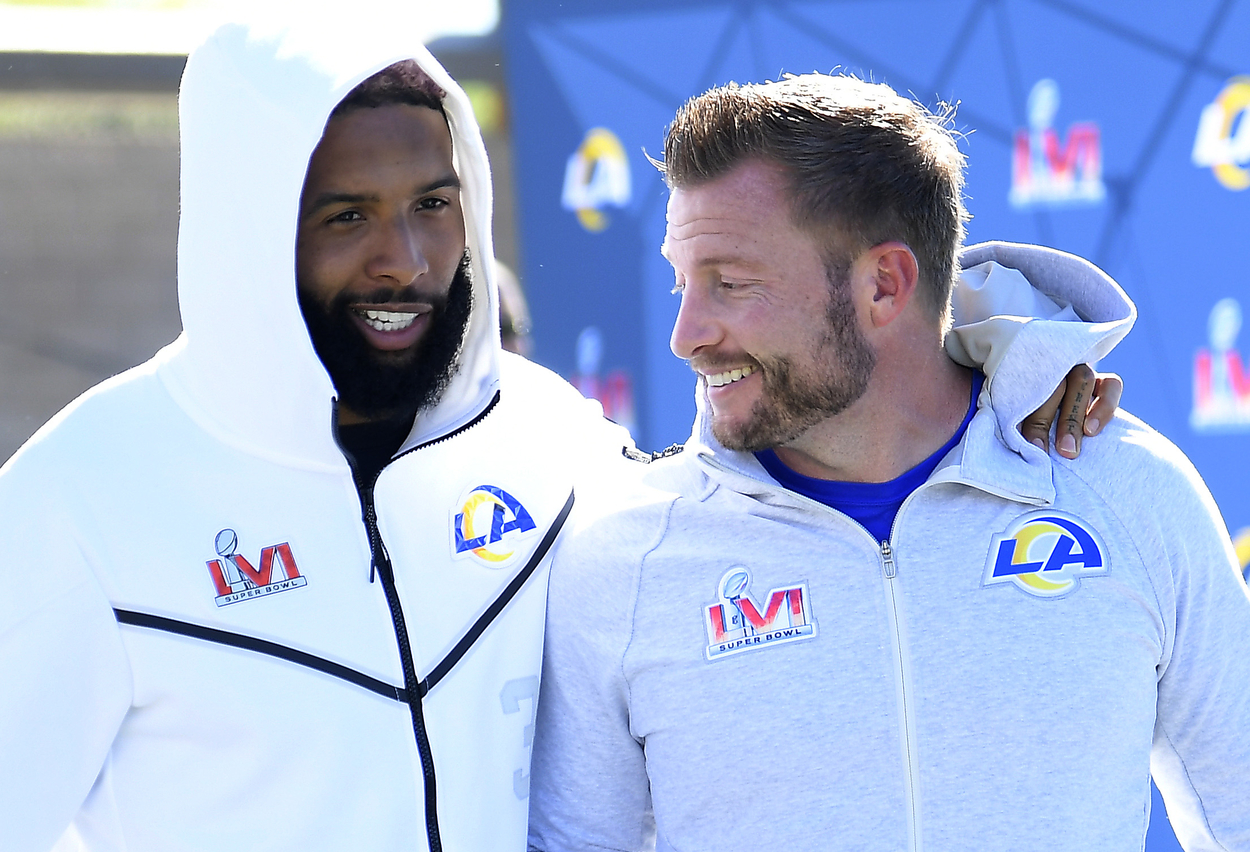 Sean McVay's Newest Odell Beckham Jr. Update Should Have Rams Fans Overjoyed
If Los Angeles Rams head coach Sean McVay gets his way, the defending Super Bowl champions will run it back with Odell Beckham Jr. in the mix once again.
Article Highlights:
Los Angeles Rams head coach Sean McVay said he "absolutely" wants the team to re-sign veteran receiver Odell Beckham Jr.
Beckham, who suffered a torn ACL during Super Bowl 56, is expected to sign a one-year deal in free agency and return to the field in November
Whether or not the former Pro Bowl wideout will be in Los Angeles for the long haul is another conversation
If Los Angeles Rams head coach Sean McVay gets his way, the defending Super Bowl champions will run it back with Odell Beckham Jr. in the mix.
Questions about Beckham's long-term LA future lingered long before the former Pro Bowl receiver tore his ACL during Super Bowl 56. Although the 29-year-old could still have a significant number of suitors when free agency begins later this month, McVay made it clear he wants the LSU product back in a Rams uniform for the long haul.
Sean McVay said the Rams 'definitely' want to bring Odell Beckham Jr. back in 2022
In the buildup to Super Bowl 56, it appeared Beckham had positioned himself to earn a moderate payday in unrestricted free agency. After an ugly midseason split with the Cleveland Browns, the three-time Pro Bowler seemingly reinvented his career with the Rams and put the widespread concerns about his maturity and post-knee surgery abilities to bed.
Then came a second ACL tear in 16 months.
Once Beckham fell to the SoFi Stadium turf on Feb. 13, his chances of securing a significant contract in unrestricted free agency likely went up in smoke. In the cruel world that is professional sports, one man's injury contributes to another team's happiness.
In this case, it's the Rams who stand to benefit from Beckham's injury. During a recent appearance on Sirius XM, McVay told Adam Schein he "definitely" wants the eccentric wideout to re-sign with the defending champions.
"I really love him, I cherish our relationship that we were able to establish and develop, and I'm hopeful that there will be many more years working together."

Sean McVay
As of publication, Spotrac projected the two-time second-team All-Pro selection would sign a two-year, $26.3 million contract in free agency. However, the reality that Beckham isn't currently expected to play in an NFL game until late October at the absolute earliest could force him to take a one-year, incentive-laden deal.
The Rams would be wise to bring Beckham back, especially if he needs to settle for another one-year deal
The Rams and Beckham bet on one another, and each cashed in. The 2014 first-round pick signed a $1.25 million contract and earned another $3 million in team-related incentives.
As for the Rams, they won the Super Bowl. Enough said.
Despite the baggage Beckham brought with him to Los Angeles, Rams fans should be overjoyed about the team's desire to re-sign him. The LSU product shined as a No. 2 receiver and played a pivotal role in the franchise's championship run. He and veteran quarterback Matthew Stafford, who'd previously only played together in the 2015 Pro Bowl, had an instant connection that opposing defenses couldn't stop.
Beckham also appeared motivated by McVay's constant faith in him. The Rams likely would not have signed the veteran wideout if the power players, primarily McVay and Stafford, didn't believe he'd accept a lesser role if it meant contributing to a winner.
Only months ago, some of us fools wrote Beckham off and suggested the Rams would be foolish to sign him. Now, we're publicly advocating for the defending champions to re-sign him. Life is strange, especially in Los Angeles.
Whether or not Beckham will be in Los Angeles for the long haul is another conversation
When the 2022 season ends next February, Beckham will be 30 years old and potentially in line for one final major contract. He almost certainly won't break the bank, especially if he doesn't play until November, but there will likely be at least one team willing to offer him a two-year, $30 million deal. 
Will that team be the Rams? The simple answer is it's too early to know. Stafford is entering his final year under contract and is expected to ink an extension this offseason. The Rams signed receivers Cooper Kupp and Robert Woods to new deals in 2020, and both are likely to remain in Los Angeles for the foreseeable future.
At some point within the next year, Beckham may have to decide if he wants to stay in Los Angeles for the long term, even if it means passing up more lucrative contracts along the way. Two knee surgeries and him turning 30 on Nov. 5 make it unlikely he'll sign a four-year, $40 million contract anytime soon.
But, if Beckham has everything he wants with the Rams, why leave? He already has a Super Bowl ring and a reported $82 million in career earnings. The next step should be a second ring, and maybe even a third. If McVay gets his wish, the explosive wideout will have an opportunity to secure those two extra rings in a Rams uniform.
Like Sportscasting on Facebook. Follow us on Twitter @sportscasting19.