Sean McVay Turned Down Massive Amazon Deal to Run It Back With the Rams
Sean McVay was riding high after leading the Los Angeles Rams to a victory in Super Bowl 56. With him getting over the hump, rumors emerged that he was contemplating retirement. Amazon aggressively pursued the 36-year-old head coach to join its broadcast team for Thursday Night Football in 2022.
The Fortune 500 company reportedly made McVay an offer that most people couldn't refuse. However, he did just that. The Dayton, Ohio native will be returning to LA to help his team defend its title. Whether or not the Rams get it done or not is one thing. But McVay is proving his loyalty to his players.
Amazon reportedly offered Sean McVay TV deal worth up to $100 million
Dallas Cowboys Hall of Fame quarterback Troy Aikman recently signed a five-year, $90 million deal with ESPN to become the lead broadcast analyst for Monday Night Football. Amazon hoped to land Aikman, but the news allowed the company to turn its attention to Sean McVay.
Amazon will stream Thursday Night Football exclusively on Prime Video during the 2022 season. It has been working tirelessly to secure legendary play-by-play announcer Al Michaels, who has most recently covered Sunday Night Football for NBC.
McVay has been one of the top targets to join Michaels in the broadcast booth. According to the New York Post's Andrew Marchand, the Rams head coach scheduled to meet with Amazon to discuss a potential deal. The company reportedly offered McVay a massive contract worth up to $100 million.
Unfortunately for Amazon, the fifth-year head coach respectfully declined. According to ESPN's Adam Schefter, Sean McVay is not pursuing any television opportunities at this time. His focus is on helping the Rams on their quest to repeat.
The 36-year-old head coach will run it back with the Rams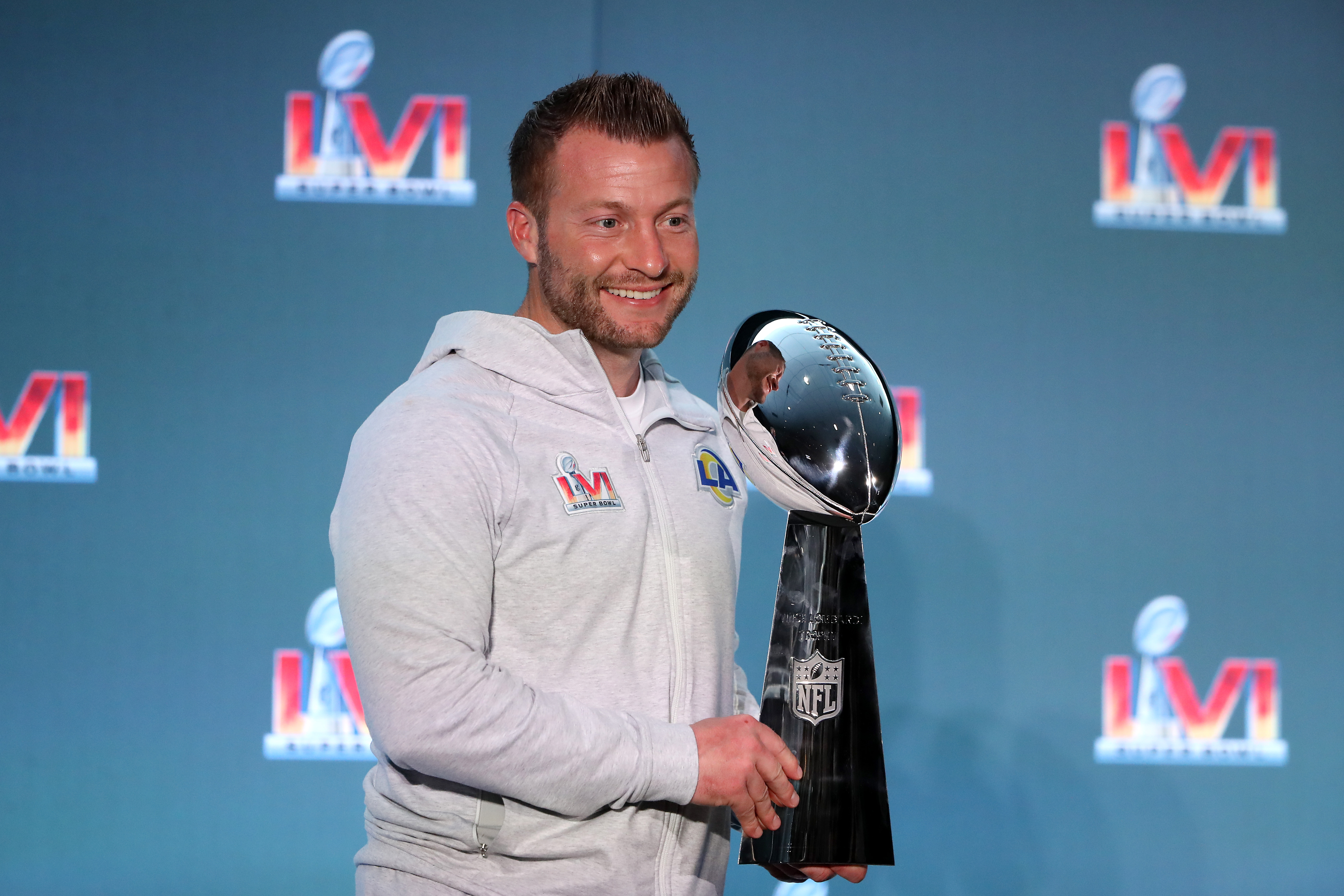 By knocking off the Cincinnati Bengals in Super Bowl 56, Sean McVay became the youngest head coach in NFL history to win the big game.
While committing to the LA Rams for at least the 2022 season, McVay has also made it clear that he's looking forward to life after football.
"I love this so much that it's such a passion," he said. "But I also know that what I've seen from some of my closest friends, whether it's coaches or even some of our players. I'm gonna be married this summer, I want to have a family, and I think being able to find that balance but also be able to give the time necessary."
Many players and coaches share those sentiments about their life outside of the game. It seems to be important to McVay and All-Pro defensive tackle Aaron Donald to run it back in 2022, though.
The Rams have the makeup of a team that can go back-to-back. However, retaining everybody won't be easy. LA enters the offseason over $13.1 million above the salary cap. Several key players will be unrestricted free agents, including Von Miller, Odell Beckham Jr., and Darious Williams. Most of the core should be back, though.
Repeating in the NFL is tough, but Sean McVay and company are certainly going to try.
What other options does Amazon have?
With Sean McVay turning down the lucrative offer to return to coaching, Amazon still has a void it needs to fill. Many coaches and players have traveled the path to sports media after retirement, including Drew Brees, Tony Dungy, and Tony Romo.
So, where does Amazon turn next?
Troy Aikman left Fox for ESPN's Monday Night Football. Cris Collinsworth inked a deal to team up with Mike Tirico on Sunday Night Football. Amazon negotiated with San Francisco 49ers general manager John Lynch, but nothing came of it.
Many believed the company would turn its attention to either Sean Payton or Tom Brady. The former New Orleans Saints head coach has been in talks with Fox Sports, per Front Office Sports' Michael McCarthy. Brady seems like a long shot, but he could consider stepping into the broadcast booth for the right price.
The Rams won the Sean McVay sweepstakes but expect Amazon to still swing for the fences.
Stats courtesy of Pro Football Reference; contract info courtesy of Spotrac
RELATED: Troy Aikman Will Make 12 Years of Dallas Cowboys' Salary in 3 With ESPN