Sean Payton and the Saints Face an Impossible Decision
New Orleans Saints head coach Sean Payton eventually has to name either Jameis Winston or Taysom Hill as the successor to Drew Brees. It's stacking up to be an impossible decision.
Hill and Winston are battling it out for the right to be the next starting quarterback in New Orleans. Both men face a tall order as the Saints transition from Brees. One of those two eventually has to win the job, but early indications are it will be a head-wracking choice for Payton to make.
Jameis WInston and Taysom Hill vying for the chance to be QB1
Payton and the Saints haven't given many hints as to whether Winston or Hill has a leg up on the other as of yet. It's truly an open competition.
New Orleans made a bit of a surprising move when it signed Hill to a two-year, $21 million extension in April 2020, a deal that the Saints later converted to a four-year, $140 million deal. The voidable years on the deal make it highly unlikely Hill sees anywhere close to a full $140 million. Still, the Saints felt strongly enough about Hill to provide a framework and get a deal done.
Yet, Hill's contract in no way made him the heir apparent to Brees when the longtime signal-caller officially announced his retirement earlier this spring. On the contrary, the Saints were equally enamored with Winston, signing the former Tampa Bay Buccaneers quarterback to a one-year deal in the spring.
Payton has familiarity with Hill and Winston. The simple reality, though, is that deciding which of those two will be the starting quarterback is a challenging task for the Saints head coach.
Sean Payton is in a difficult position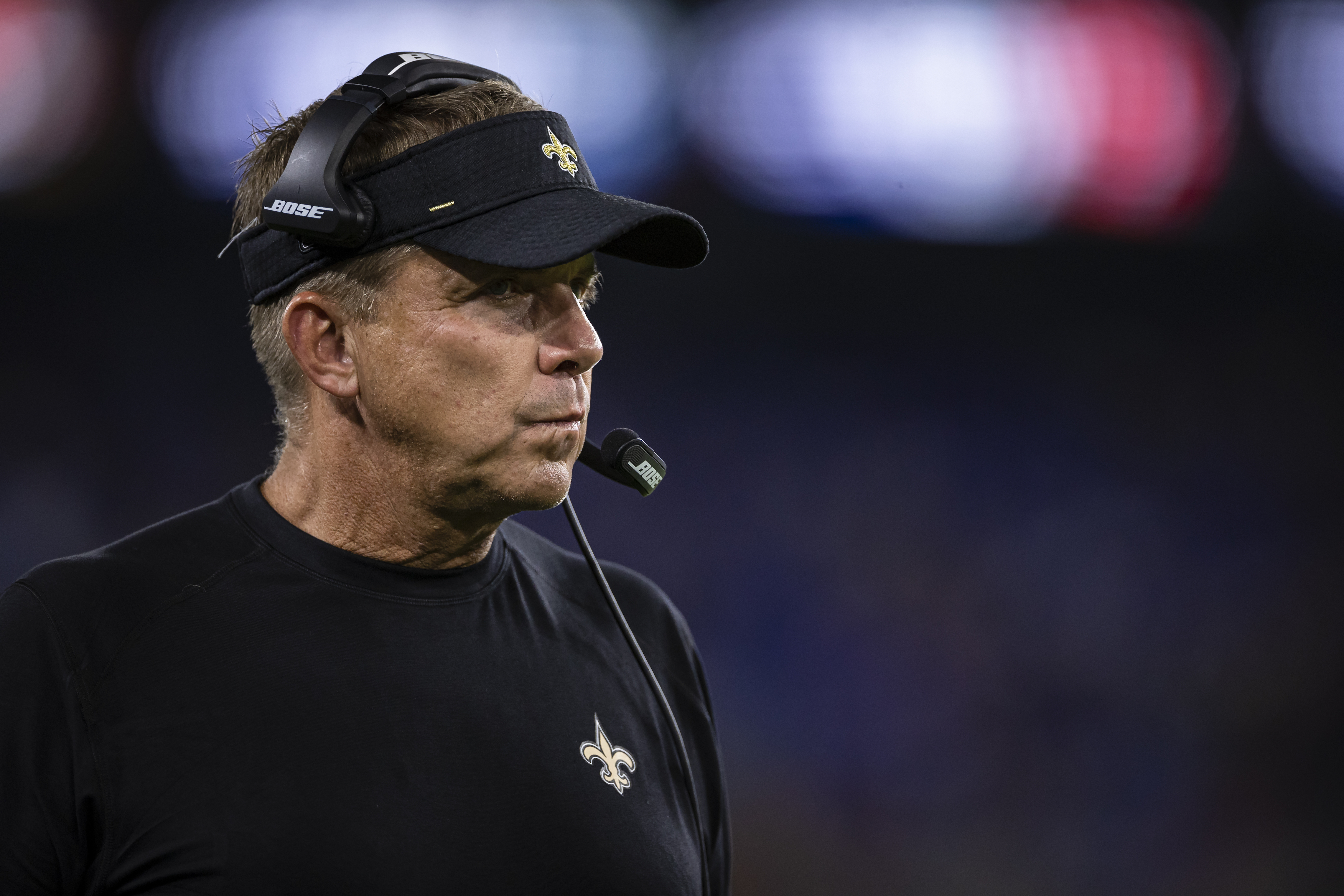 Replacing Drew Brees is an impossible task for the Saints. His efficiency and knowledge of the offense brought a certain steadiness and level of comfort.
Yet, Brees is gone, and the Saints don't have the greatest options to take his place as they try to maintain their status as an elite contender in the NFC.
Hill played quarterback at BYU, but he had been more of a tight end and hybrid early in his career and is still a bit of a wild card as an NFL quarterback. Winston has tremendous talent, but the former No. 1 overall pick's turnover tendencies have been a major concern.
Payton wasn't thrilled with the performance of either quarterback during the Saints' preseason opener against the Baltimore Ravens on Saturday. He had no interest in discussing the status of the quarterback competition, instead choosing to stew over the turnovers his team committed.
"I'm not making comparisons with the quarterbacks right now," Payton said, via ESPN's Mike Triplett. "It doesn't matter who [played better], really, with six turnovers, right?"
Hill and Winston didn't account for all of the team's turnovers. However, they did each throw interceptions, and that turnover-happy style isn't something Payton and the Saints are accustomed to.
The two quarterbacks probably prefer to keep the focus on the field. Yet, the intrigue with respect to the competition is evident, and it's also likely to cause Payton a good deal of stress.
Hill and Winston offer different skill sets
In terms of pure quarterbacking upside, Jameis Winston might be New Orleans' best option.
Winston has tremendous arm talent. He is an explosive passer who can make throws in the seams or go deep down the field. Plus, he's only on a one-year contract, which might incentivize the Saints to see what he's got. Simultaneously, the former Florida State star isn't efficient with the football and is prone to questionable decision-making in the pocket.
Taysom Hill is a very intriguing quarterback prospect. He has a big and physical build, often making plays with his feet. Hill rushed for 457 yards and eight touchdowns on 5.3 yards per carry.
The 30-year-old was also pretty efficient as a passer last season. Hill completed close to 73% of his attempts. However, he lacks Winston's game-breaking ability as a passer, averaging 6.23 net yards gained per pass attempt last season. He also threw just four touchdown passes against two interceptions.
New Orleans faces a good deal of uncertainty regardless of who wins the starting job. The dichotomous nature of the two quarterbacks and the fact they have to follow Brees makes picking a new signal-caller a brutal choice for Sean Payton.
Stats courtesy of Pro Football Reference. Contract information courtesy of Spotrac.