NFL: Seattle Seahawks Draft Pick D.K. Metcalf is Already Panning Out
Even before the 2019 NFL draft, Ole Miss wide receiver D.K. Metcalf showed up dressed for success delivering some noteworthy performances at the combine. In the popular 40-yard dash, Metcalf ran one of the fastest times or any player at 4.33 seconds.

Despite the fast time and impressive physique, D.K. Metcalf slid into the second round. He was Seattle's steal as their second selection at No. 64 overall, but that pick wasn't without question, controversy and criticism. There were concerns over hiring such a high-ceiling prospect without any proof of potential success, but that is the case for every draft choice. However, there isn't much of a risk for the Seahawks in taking a chance on this rising, highly-recognized, young receiver.

Combine and challenges
Along with his dynamic 40-yard-dash delivery time, M.K. pumped out an impressive 27 reps of 225 pounds on the bench press. The 228-pound, 6-foot-3-inch wide receiver, who claims he only carries 3% body fat, saw his broad jump come in at over 11 feet along with a 40.5-inch vertical leap.

However, everything wasn't sunshine and rainbows for Metcalf at the combine and previously playing at the University of Mississippi:
Posted poor times of 4.5 seconds in the 20-yard shuttle drill,
7.38 seconds in the 3-cone drill and
There may be medical issues stemming from a neck injury he suffered in 2018 that required surgery
Absence from the injury and time spent recovering after going under the knife caused the University of Mississippi player to sit out the five final games of his college career. The Seahawks seem to be confident the injury is completely healed, and he's been cleared to play professionally.

Russell Wilson responds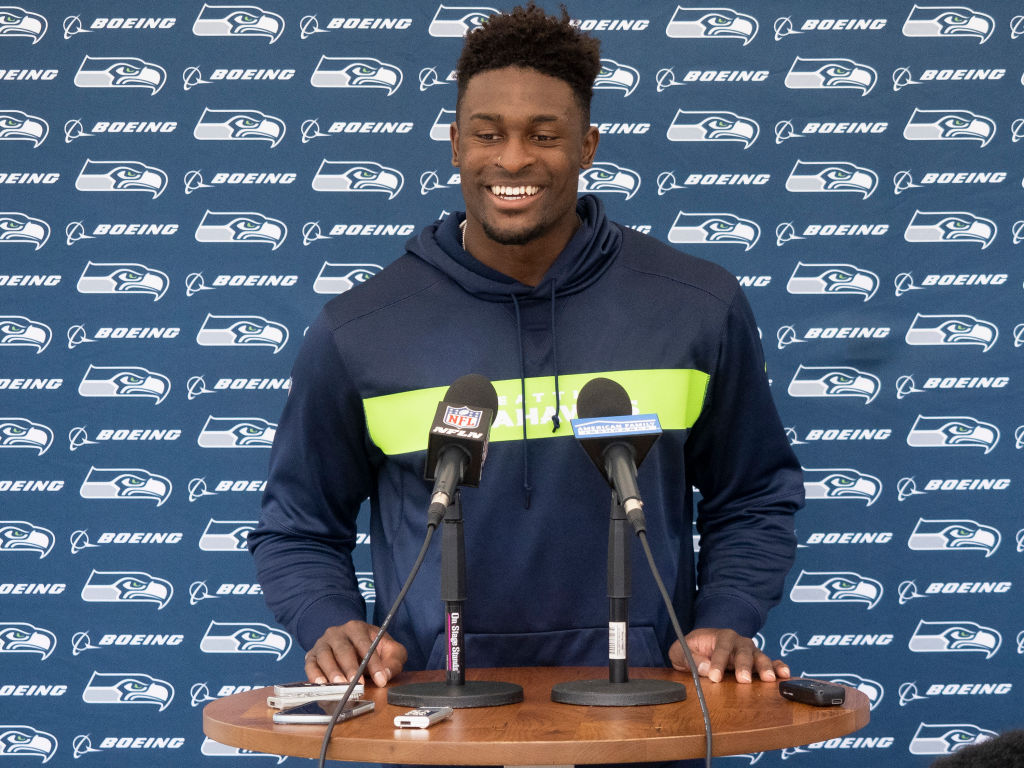 Early reports from minicamp are coming up roses for D.K. Metcalf. At least that's what franchise quarterback Russell Wilson believes. Wilson has shared the field with some talented wideouts, and Metcalf is shaping up to be one of them. Wilson gushed over Metcalf during Seattle's OTAs when he said in part:

"I think DK is looking really, really special. He can do anything and everything, and he's tremendous. He really understands the game really well. He takes coaching well. He's a legit pro wide receiver. He's everything that everybody was talking about in terms of what he's capable of and more."

According to Russell's remarks, the future of D.K. Metcalf in the NFL is looking bright, and fans from Seattle to Mississippi will be cheering on the rookie in August 2019 and beyond. As long as Metcalf remains healthy and continues to play as described by Wilson, the duo could be making some noteworthy connections later this season.

More Seahawks staffers love Metcalf's potential
More praise for Metcalf's performance came from other Seahawks' staff members after minicamp wrapped up on June 14. The rookie receiver seems to have made a good impression with coach Pete Carroll, who called him a "very natural player."

Taking into consideration his size and stature, Carroll also commented D.K. is unusually big, fast and strong at his position of wide receiver. And let's not forget the shirtless greeting shared by Pete and M.K. in a moment captured on video.

More than Metcalf's moments
For argument's sake, Metcalf wasn't the only rookie on the Seattle roster to have some memorable moments and make an impression with Seahawks' coaches.

Seventh-round wide receiver John Ursua is another wide receiver showing signs of playing strong following a hamstring injury. Gary Jennings, picked up in round four, is showing prowess playing at this position. All of them could bode well for Seattle as it blazes a trail towards a possible playoff berth in 2019.

For those wagering on the outcome of Super Bowl LIV, current odds put the Seahawks in the middle of the pack with 25-1 odds of taking home the title in 2020. Along with keeping our eyes on the rest of the rookies coming onto the field for the first time in their professional careers, the 2019 season is shaping up to be one worthy of watching.