Seattle Seahawks Fans Just Got A Reassuring Message From Linebacker K.J. Wright Regarding Russell Wilson Rumors
With each passing day, it seems more and more possible that Russell Wilson could leave the Seattle Seahawks. Earlier this month, Wilson first made it clear that he was unsatisfied with the protection that he had received during the 2020 season. That was enough for multiple teams to send in trade offers for the one-time Super Bowl winner. Despite this, one of his teammates is confident that Wilson will play the 2021 season in a Seahawks uniform.
Growing tension between Russell Wilson and the Seahawks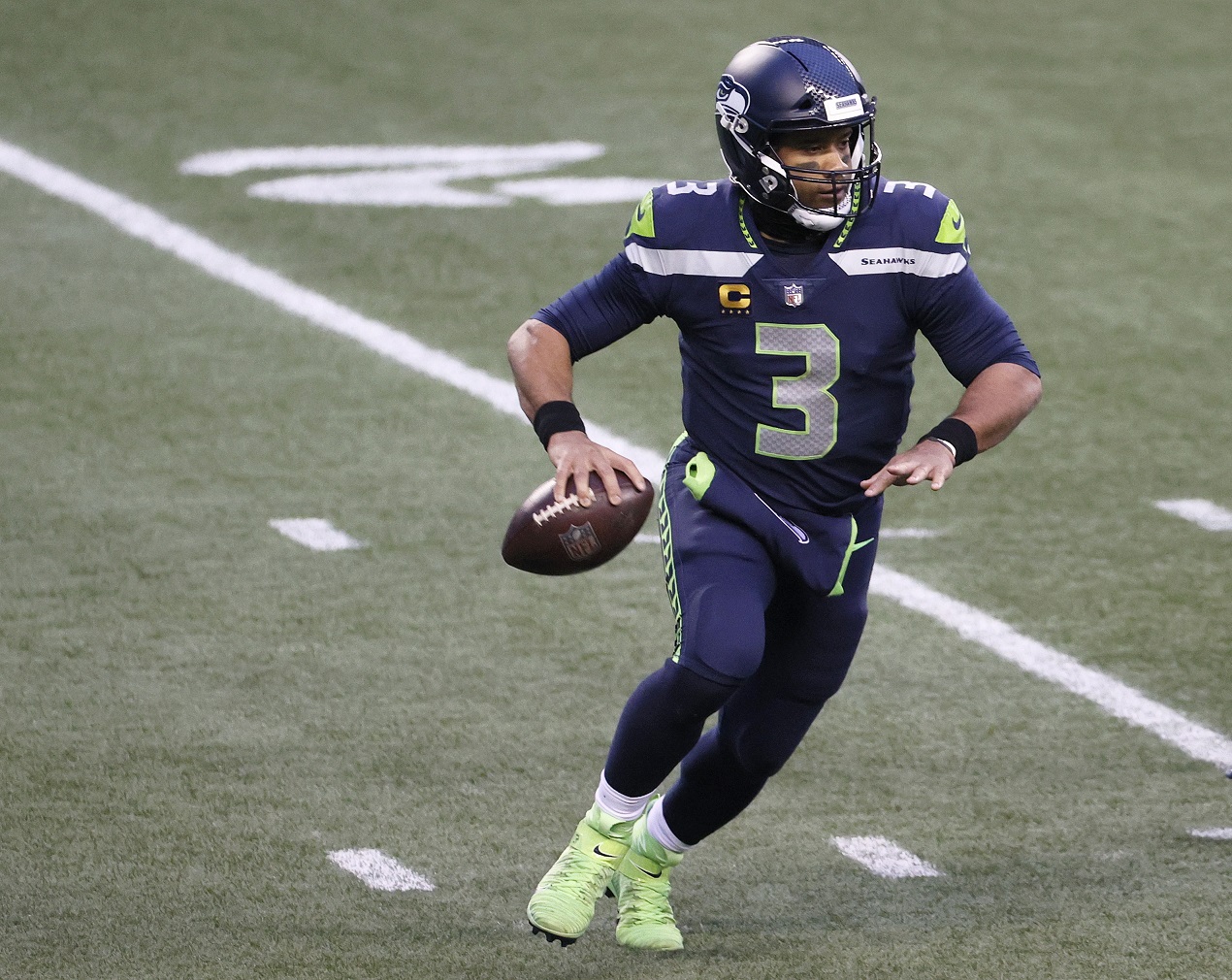 The first signs of a rift between Wilson and the Seahawks came on February 9. During a Zoom conference with reporters, Wilson expressed his frustration with how little protection he received in recent years.
"I think that the reality is that I've definitely been hit. I've been sacked almost 400 times, so we've got to get better. I've got to find ways to get better too," said Wilson, per ESPN. "I'm frustrated [about] getting hit too much. I'm frustrated with that part of it. At the end of the day, you want to win."
Other signs of a fractured player-team relationship have come to light, thanks to an expose by The Athletic. Just before an important Thursday Night game against the Arizona Cardinals, Wilson met with Seahawks coaches to outline his ideas for improving the offense, which had sputtered in recent weeks. Apparently, those ideas were not taken seriously.
…the Seahawks did not see him the same way he saw himself, as a player who had earned greater control over his situation, his future, his legacy. He stormed out of the room.

Michael-Shawn Dugar, Mike Sando and Jayson Jenks – The Athletic
K.J. Wright: 'He's not going anywhere'
Despite the growing soap opera, one of Wilson's Seahawk teammates isn't overly concerned. During an interview on NFL Network's Good Morning Football on Friday, linebacker K.J. Wright calmed the nerves of Seahawks fans.
I was kind of caught off guard myself. But looking back at it, Russ isn't going anywhere.  "As long as I'm going to be in Seattle, Russ is going to be the quarterback. He means too much to us….he means way too much to this organization…he means way too much to the city. Usually, people want to come to Seattle, not leave Seattle. And so I'm sure that he and the organization will get things figured out. He's somebody that I admire and love playing with. So I expect Russ to be a Seahawk for a very long time.

K.J. Wright — LB, Seattle Seahawks
If anybody on the Seahawks has earned the right to speak on the matter, it's Wright. He's played with Seattle for his entire ten-year career, meaning he's played alongside Wilson for all of his nine seasons in the NFL. Both Wright and Wilson were on the 2013 Seahawks team that won Super Bowl 48.
What would it take to move Wilson?
There is still the possibility that Wilson does go the route of his Texans counterpart, Deshaun Watson, by demanding a trade out of Seattle. Even if he does, there is no guarantee he will receive one.
Even before Wilson first went public about his dissatisfaction, multiple teams already inquired about a trade for the 32-year-old quarterback. Predictably, the Seahawks did not take any of these offers seriously. According to NFL reporter Michael Silver, a team would have to offer three first-round picks for the Seahawks to even consider moving him.
It doesn't help that Wilson still has three years remaining on his contract. If the Seahawks trade him before June 1, they will absorb a $39 million dead cap hit, which would be the largest in NFL history. It would be even larger than the $33.8 million hit the Philadelphia Eagles took for trading Carson Wentz to the Indianapolis Colts last week.
Financial data courtesy of Spotrac.