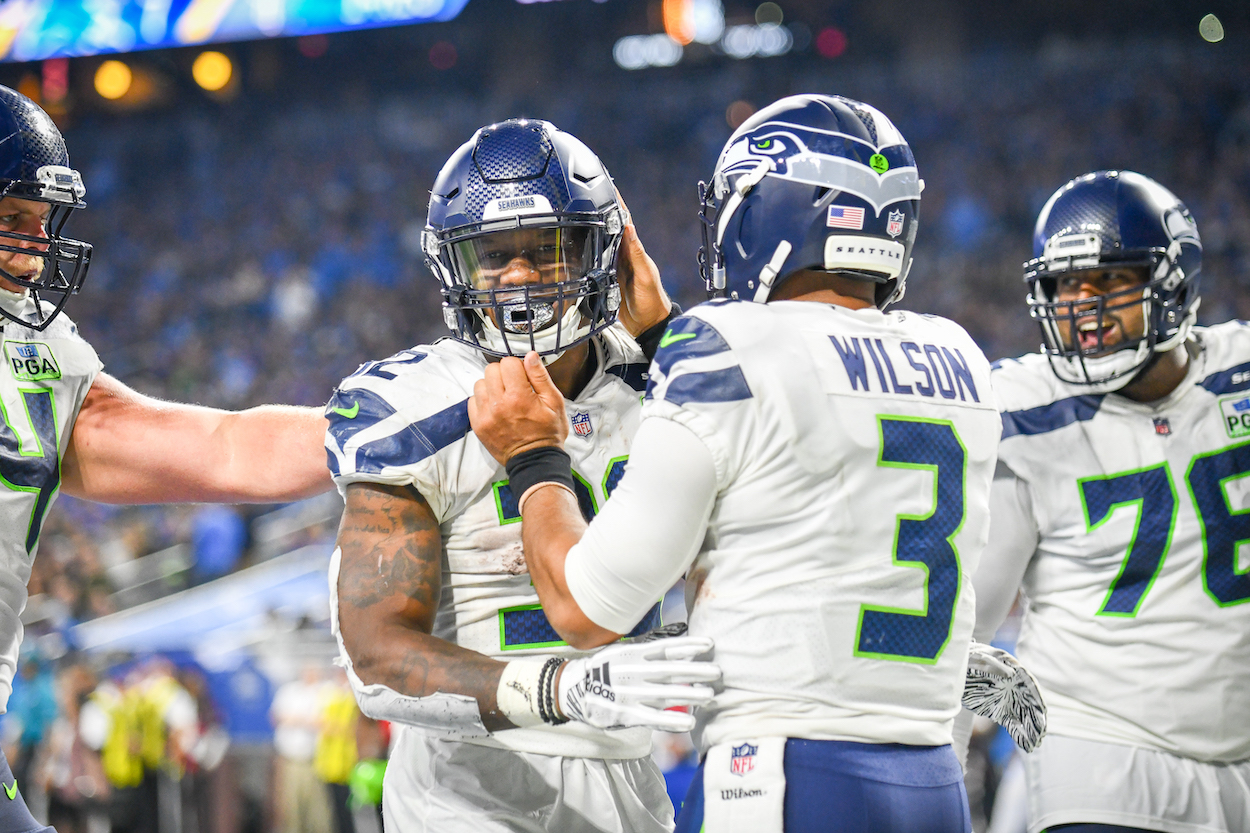 The Seattle Seahawks Just Gave Russell Wilson a Slap in the Face by Stripping Him of His Most Trusted Backfield Weapon
As the Seahawks work to repair their relationship with Russell Wilson, they didn't do themselves any favors by letting Chris Carson go.
The Seattle Seahawks probably didn't expect their 2021 offseason to be very eventful, but it's become the talk of the NFL thus far. Russell Wilson has surprisingly expressed hesitancy about whether he wants to return to the team next season, and now the Seahawks must cater every offseason decision to pleasing their star quarterback.
But Wilson isn't going to be happy about Seattle's latest move. On Tuesday afternoon, the Seahawks effectively said goodbye to Wilson's most trusted backfield weapon, Chris Carson.
Chris Carson has been Russell Wilson's backfield mate for four years
From 2010-14, the Seahawks had one of the most lethal running games in the NFL led by five-time Pro Bowler Marshawn Lynch. Lynch rushed for over 1,200 yards and 11 touchdowns in four straight seasons with Seattle, giving Russell Wilson a much-needed threat to pair with his passing prowess.
But when Lynch left Seattle after the 2015 season, the Seahawks' rushing game left with him. In 2016, Christine Michael led the team with just 469 rushing yards. The next season, Wilson actually paced the Seahawks with a team-high 586 rushing yards.
Seattle found itself in desperate need of a capable running back heading into the 2018 season, and that's exactly what they found in Chris Carson. In his first season as the main starter, Carson rushed for 1,151 yards and nine touchdowns in 14 games. He followed that up with 1,230 rushing yards and seven touchdowns the following season.
Last year, Carson led the team in rushing for a third straight season with 681 yards on just 141 carries. He also had his best year as a pass-catcher, proving he can be a trusted weapon for Wilson out of the backfield.
Wilson and Carson were just turning into one of the best one-two punches in the NFL, but it looks as if they've played their final snap together.
The Seahawks allow Chris Carson to become a free agent
Heading into the start of the league year on March 17, the Seahawks had a decision to make regarding their star running back. They could place the franchise tag on Carson and ensure he stays in Seattle for at least another year, or they could decline and allow him to become a free agent.
On Tuesday afternoon, they made their decision.
Adam Schefter of ESPN reported the Seahawks won't be placing the franchise tag on Carson for the 2021 season. He will become a free agent and is free to explore the market come March 17.
The Seahawks continue to slap Russell Wilson in the face
Russell Wilson is fed up. He's been carrying the Seahawks to immense success in recent years despite scrambling around behind a makeshift offensive line and having little to no running game to help balance the offense. Chris Carson was the only running back who provided a spark to the offense without Wilson's help, but he's most likely on his way out of town.
By refusing to slap the franchise tag on Carson this season, the Seahawks are giving him an open invite to sign with whichever team he wishes. Seattle has shown no interest in paying Carson top-tier running back money, but he'll be able to find it somewhere else.
With Carson off the roster, Wilson will be left with Alex Collins, Rashaad Penny, DeeJay Dallas, Travis Homer, and possibly Carlos Hyde alongside him in the backfield. Put all of those backs together and they still might not be as good as Carson.
The sky is falling for Wilson in Seattle, and the Seahawks' latest move won't help repair the relationship with their superstar quarterback.
All stats courtesy of Pro Football Reference