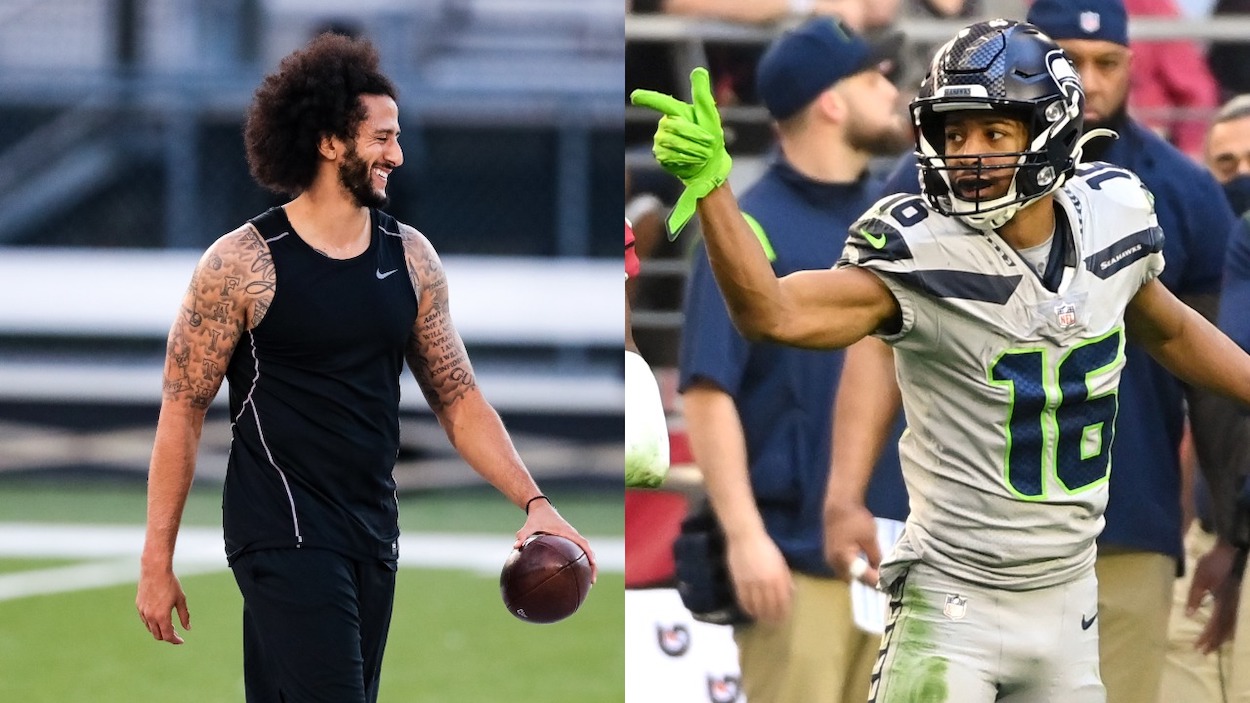 Seattle Seahawks WR Tyler Lockett Does His Part to Get Colin Kaepernick Back in the NFL
Seattle Seahawks WR Tyler Lockett is playing a role in Colin Kaepernick's latest attempt to make an NFL comeback.
Since the conclusion of the 2016 NFL season, quarterback Colin Kaepernick's return to the NFL has become an annual offseason story. Despite the long layoff, the controversial QB is still trying to get back into pro football, and Seattle Seahawks wide receiver Tyler Lockett is helping him do that.
The fascinating part about this recent Lockett/Kaepernick news is that there is an organization right now that needs a QB for the 2022 season, and Kaepernick could be a fit. That team is Lockett's Seahawks.
Colin Kaepernick still wants back in the NFL at 34
There have been five NFL seasons since Colin Kaepernick last took an NFL snap. All NFL fans are familiar with the controversy surrounding the former San Francisco 49ers QB, and many understand his talent level.
At his best, Kaepernick is a Super Bowl-level quarterback.
That's undisputable since he played in a Super Bowl at the end of the 2012 season. That year, he went 5-2 in his regular-season starts and won three playoff games. As the full-time starter in 2013, the former Nevada QB led his team to a 12-4 record.
Kaepernick's stats under head coach Jim Harbaugh and offensive coordinator Greg Roman are the numbers of a legit starting NFL signal-caller:
2012: 7 starts, 5-2 record, 62.4% completion rate, 1,814 passing yards, 10 passing TDs, 3 INTs, 415 rushing yards, 5 rushing TDs
2013: 16 starts, 12-4 record, 58.4% completion rate, 3,197 passing yards, 21 passing TDs, 10 INTs, 524 rushing yards, 4 rushing TDs
2014: 16 starts, 8-8 record, 60.5% completion rate, 3,369 passing yards, 19 passing TDs, 10 INTs, 639 rushing yards, 1 rushing TD
After Harbaugh and Roman left, though, Kaepernick's development stalled, and his statistics show a below-average QB:
2015: 8 starts, 2-6 record, 59% completion rate, 1,615 passing yards, 6 passing TDs, 5 INTs, 256 rushing yards, 1 rushing TD
2016: 11 starts, 1-10 record, 59.2% completion rate, 2,241 passing yards, 16 passing TDs, 4 INTs, 468 rushing yards, 2 rushing TDs
Because of Kaepernick's poor record, inability to get over 60% completing passes, and propensity for interceptions in his last few seasons, teams no longer viewed him as a starting QB. Thanks to his kneeling and activism, NFL teams believed (at best) he was too much of a distraction and refused to give him a job at all.
Now, at 34, without any stats (good or bad) to point at in the last half-decade, Kaepernick is still pursuing his pro football dream.
Could 2022 be the year he finally gets back in?  
Seattle Seahawks WR Tyler Lockett worked out with the controversial QB
Quarterback is the most important position on the field in pro football. However, there aren't 32 Super Bowl-level signal-callers (let alone 64) in the league. That's why it's hard to imagine that Colin Kaepernick still can't find any takers on ability alone.
Despite his unemployed status, Kaepernick is still working out on his own in preparation for an opportunity, and now, Seattle Seahawks WR Tyler Lockett is trying to help the out-of-work QB get that chance.
On the first day of NFL free agency, Kaepernick tweeted out a thank you to the veteran wideout for working out with him. Lockett responded by retweeting Kaepernick's thank you and writing, "Yessir!! That man Kap is ready!!"
After so long away from the game, it's impossible to know if Kaepernick is truly ready for a comeback or not.
However, if a team does give him a shot this year, there's one team that makes sense for him above all others, and that's Lockett's Seattle Seahawks.
Why Colin Kaepernick makes sense for the Seahawks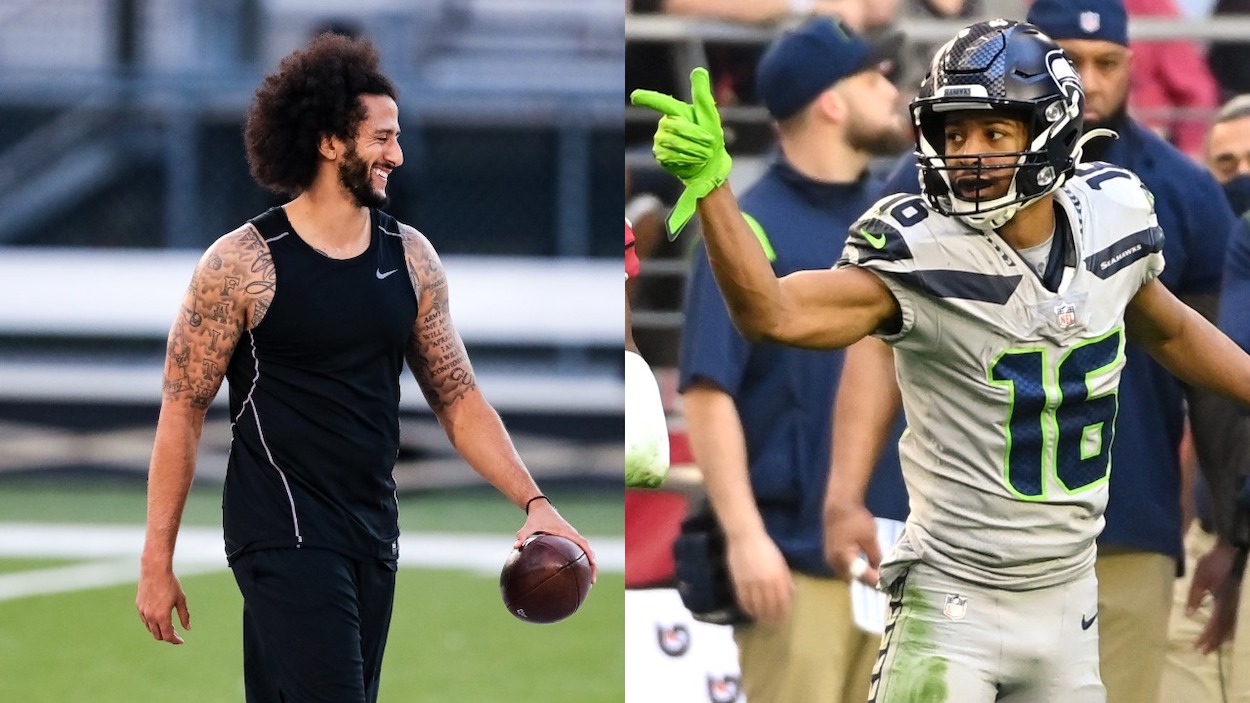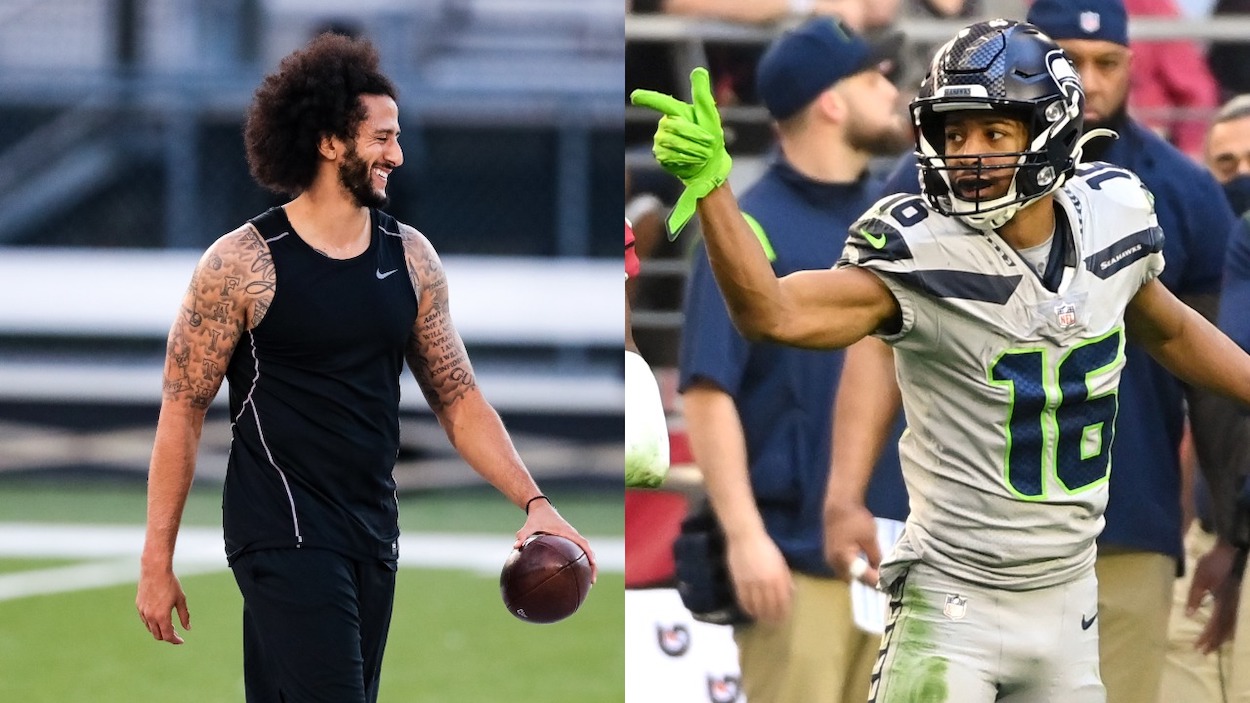 In the biggest trade of the NFL offseason thus far — an offseason that's already featured a stunning amount of player movement — the Seattle Seahawks traded longtime quarterback Russell Wilson to the Denver Broncos.
That leaves Seattle without a real starting signal-caller on the roster, with apologies to Drew Lock and Jacob Eason.
The Seahawks got a nice haul of draft picks. But after years of trading picks away, the Wilson trade only gets the franchise more or less back to even. It didn't give them a massive stockpile to rebuild.
Also, head coach Pete Carroll is the oldest person to hold that position in the league. He'll turn 71 between Weeks 1 and 2 of the upcoming season. He's not a coach eager to start from scratch with a rookie QB.
Additionally, the 2022 QB Carousel is spinning, and the Seahawks haven't hopped on yet. That means they've missed out on players like Carson Wentz, Mitchell Trubisky, and Teddy Bridgewater.
Considering all these factors, along with the run-based offense that Carroll likes to use and his success with a mobile QB in Wilson, giving Kaepernick a shot would make a lot of sense.
The Seahawks could keep their draft capital and even draft a developmental QB. Kaepernick will not cost much money to sign. And, from a political perspective, signing with a Blue State-based team like Seattle makes sense and is a lot more realistic than a Red State team taking a chance on the polarizing passer.  
Taking a chance on Colin Kaepernick, even at 34, makes sense for the Seattle Seahawks. Worst case, you cut him in training camp. Best case, the team gets a former Super Bowl QB on the cheap. In either case, Tyler Lockett may have just paved the way for this to happen.
All stats courtesy of Pro Football Reference