Sebastian Janikowski Turned a Surprising First-Round Selection Into $50 Million
Sebastian Janikowski resembled a tight end playing kicker. Fans were free to believe the 6-foot-1, 260-pound man running around during pregame warmups was going to be catching touchdowns that day instead of kicking the point-afters.
Sebastian Janikowski was the rare kicker or punter selected before the NFL draft's middle or late rounds. In fact, Al Davis and the Oakland Raiders invested a first-round pick on Janikowski in 2000.
Not only did Sebastian Janikowski live up to expectations, but he ended his career with millions to his name.
The Oakland Raiders took a risk drafting Sebastian Janikowski
If a team drafts a kicker or punter, it usually happens on what is now the draft's third day. Between the financial obligations and how short the leash for a bad kicker or punter is, it doesn't make sense for teams to invest such a high pick in a specialist.
The Tampa Bay Buccaneers learned that first hand a few years ago when they selected Florida State kicker Roberto Aguayo in the second round of the 2016 NFL draft.
Although Aguayo was a record-setting kicker at Florida State, his success there never translated to the NFL. Aguayo missed nine field goals as a rookie and was cut in August 2017. He hasn't appeared in a regular-season game since.
The pressure was much higher on Sebastian Janikowski, another Florida State kicker, in 2000. The Oakland Raiders had struggled with effective kickers for years and owner Al Davis wanted to take a chance on Janikowski, a 6-foot-1, 260-pound kicker from Poland.
Janikowski won the Lou Groza Award, given to college football's best kicker, in 1998 and 1999. Drafting a kicker in the first round wasn't Oakland's biggest problem.
Janikowski had various legal issues at Florida State and was facing deportation for attempting to bribe a police officer. Oakland nonetheless selected Janikowski with the 17th overall pick in 2000.
Janikowski became one of the NFL's top kickers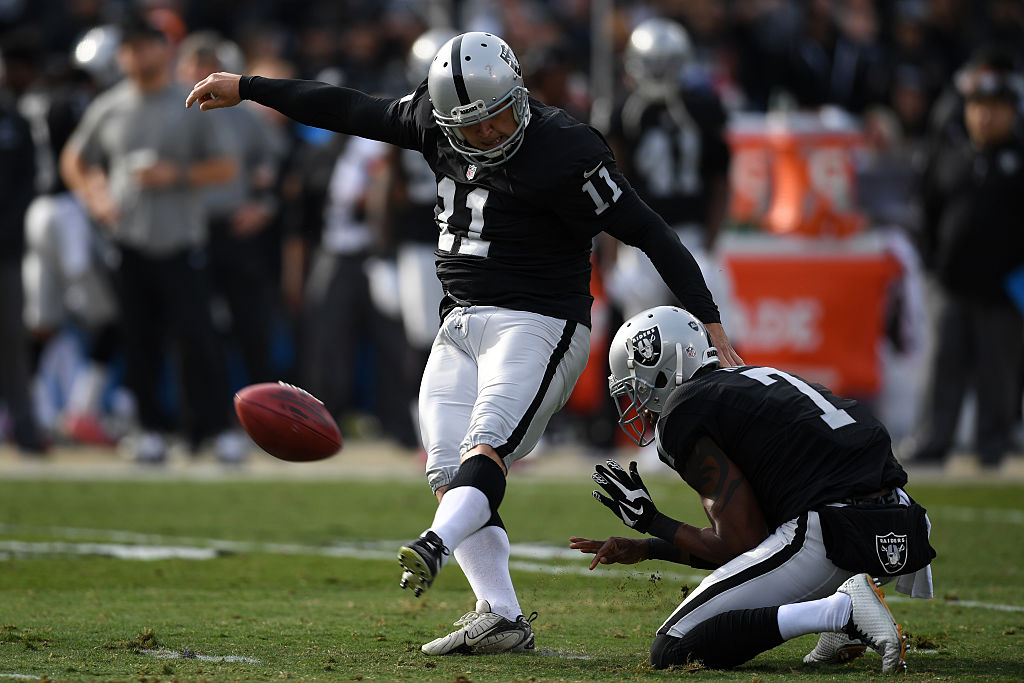 Sebastian Janikowski was never the consistent, reliable threat that Adam Vinatieri or Mike Vanderjagt was. Janikowski retired in 2018 with only an 80.4% field goal percentage, good enough for 51st all-time. However, what Janikowski lacked in regular accuracy, he more than made up for in power.
Sebastian Janikowski made 58 career field goals of at least 50 yards. That included a 63-yard field goal against the Denver Broncos in 2011, a record Denver's Matt Prater broke in 2013.
Janikowski also regularly had one of the highest kick power ratings in Madden NFL games.
Janikowski's kicking prowess was so revered, however, that former Raiders coach Lane Kiffin set Janikowski up for the impossible. Kiffin sent Janikowski out to attempt a 76-yard field goal on Sept. 28, 2008. Janikowski missed the kick and Kiffin was fired two days later.
Over a decade later, Kiffin still had fun poking fun at the moment. When a Twitter account posted the video last September, Kiffin retweeted it with the comment, "Happy anniversary Seabass."
Is Sebastian Janikowski a Hall of Famer?
Sebastian Janikowski retired after the 2018 season having made $48.7 million, according to Over the Cap. Spotrac has Janikowski's career earnings a bit higher at $53.2 million. Both are extremely impressive totals for a kicker, especially one who entered the league with such high expectations.
There are only four kickers in the Pro Football Hall of Fame and one, George Blanda, also played quarterback. Adam Vinatieri will almost certainly join those ranks when he retires. Baltimore's Justin Tucker is a record-setting kicker and has already developed a strong resume at 30 years old.
Where does that leave Sebastian Janikowski? His career field goal percentage isn't the best and there were more average and slightly above-average years than elite seasons. Janikowski was 16-of-19 on playoff field goals and made all 17 extra-point tries in the postseason.
It seems extremely unlikely that Janikowski is inducted into the Pro Football Hall of Fame anytime soon. The overall standards for kickers may change when Tucker and Vinetari earn their bronze bust, although that is a long way off for both players.