Serena Williams' Coach Is Realistic About What's Left In Her Career
Despite being more than 20 years into her career, Serena Williams remains a perennial contender and the biggest name in women's tennis. At 38, however, Serena is struggling to find that elusive 24th title that she's been seeking for over three years. With coach Patrick Mouratoglou by her side, the decorated veteran is looking to adjust her game and ensure that this drought is not the beginning of the end of an illustrious career.

The Serena Williams story
Serena's father Richard famously instilled a love of tennis into his daughters at an early age. However, it was not until his youngest girls, Venus and Serena, that those dreams reached the place that Richard wanted all along. Venus, the oldest of the two, broke into professional tennis first with Serena not too far behind.

In 1999, Serena won her first Grand Slam at the U.S. Open in a thrilling match against Martina Hingis. It was her win over Venus three years later that kicked off the two-decade reign that has defined her. Starting with the U.S. Open in 2001, Serena matched up against her sister six times over the next two years, winning the last five in succession.

The three-year gap between Serena's last Grand Slam victory, which she had over Venus in 2017, and today is the longest since her gap between her first and second titles. Serena's problem hasn't been early exits, although there have been several. It has had more to do with the ability to stay fresh and healthy throughout the long tournaments. Serena has had four finals appearances in Grand Slam events since her last win but struggled to compete when there.

With Mouratoglou working by her side, however, she is looking to reverse that fortune.

Time for Serena to turn it around
Serena Williams' age is not a death knell, especially when she has shown an ability to compete with the biggest names in the sport. Still, there are some troubling performances mixed in with the deep runs. Her most recent Grand Slam tournament, the 2020 Australian Open, saw her ousted in the third round by Wang Qiang.

Serena is not taking these losses lightly, however. Despite some questions about her durability, she is working as hard, if not harder, to get back to the form that defines her. Mouratoglou has been by her side for eight years and overseen 10 of her 23 Grand Slam titles. Mouratoglou knows very well that working with even the hardest workers in the twilight of their careers yields no guarantees.

Speaking about Serena's decision to come back after the birth of daughter Olympia, Mouratoglou had a measured outlook for the rest of Serena's career.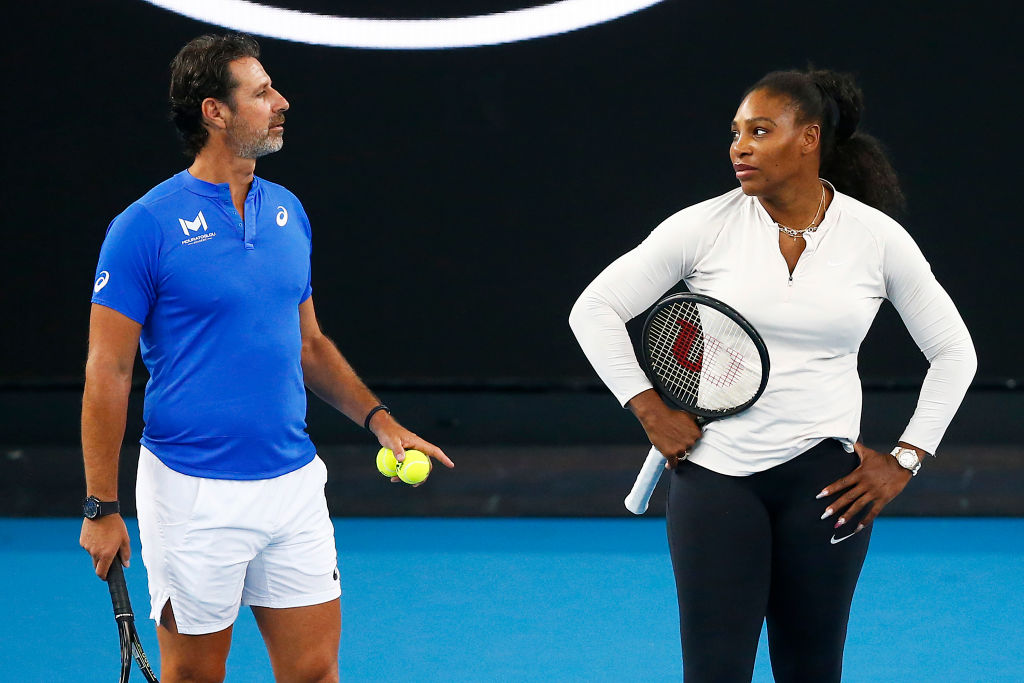 "She had everything to retire, 23 Grand Slam titles," Mouratoglou said (per BBC). "But she decided to come back, she decided to make all the efforts, the physical efforts, the mental efforts, to come back to the game, with the goal to score more Grand Slams and beat the all-time record."

No one doubts Serena Williams' talent and desire. The only question is, at her age and with the length of her career, does she have another Grand Slam win left in her?

What does Serena Williams have left in the tank?
It is not like Serena isn't struggling to make the cut in these tournaments, nor is she ending everything empty-handed (except when fines eat into her payday). Her victory in Auckland before the Australian Open showed that she can still win, even if it wasn't in the Grand Slam environment she's most known for. However long she fights, however, Mouratoglou knows that she will try her best to get over this slump.

"It's difficult to know how many chances she will have," Mouratoglou said (per BBC). "I don't know how long she is going to be able to play, but being able to reach four Grand Slam finals says a lot about her level, and she's not that far. Her level is good enough, but we have to understand what is going on and why she is not able to win one. There is a big difference between reaching a final and winning one."

Like so many legends before her, Serena is fighting age with everything she has. While her best tennis is most likely behind her, history shows that the world hasn't seen the last of her. Whether she gets her 24th, 25th, 26th, or several more Grand Slam titles, Serena Williams is already the greatest to play the game and can only make this more obvious with every win.