Serena Williams' Coach Makes Her Face 3 Things Every Time She Loses a Match: 'You Can't Afford to Lose for Bad Reasons'
Throughout the first three decades of her life, Serena Williams' relationship with her father was a story told each time she took to the court. However, someone else has coached the tennis superstar over the last decade. Her trainer, Patrick Mouratoglou, has elevated a 30-year brand and changed the game forever thanks to his unique methodology that aims for the ultimate goal of greatness.
Serena Williams and Patrick Mouratoglou's long relationship
Mouratoglou's career was, by all means, a success before Serena employed his services. According to Tennis World Live, he wasn't even 30 when he founded the Mouratoglou Tennis Academy. This propelled him to the top of the coaching ranks thanks to his approach that was less concerned with the pageantry attached to tennis and more about the results on his players.
Mouratoglou works hard to move tennis away from its devotion to tradition and move toward the 2021 sentiments surrounding the sport. From a tournament that allows players to speak to their coaches during the match. This is why he's made a name not just with Williams but with recent French Open runner-up Stefanos Tsitsipas and young sensation Coco Gauff.
Despite so many high-quality players under his tutelage, however, Serena will always be his biggest client. However, Mouratoglou doesn't believe in special treatment, nor does he think universal methods can fix everyone. Williams has won 10 of her 22 grand slams under his decade of guidance. Despite entering the home stretch of her career, she's still one of the best in the world.
Mouratoglou challenges his tennis clients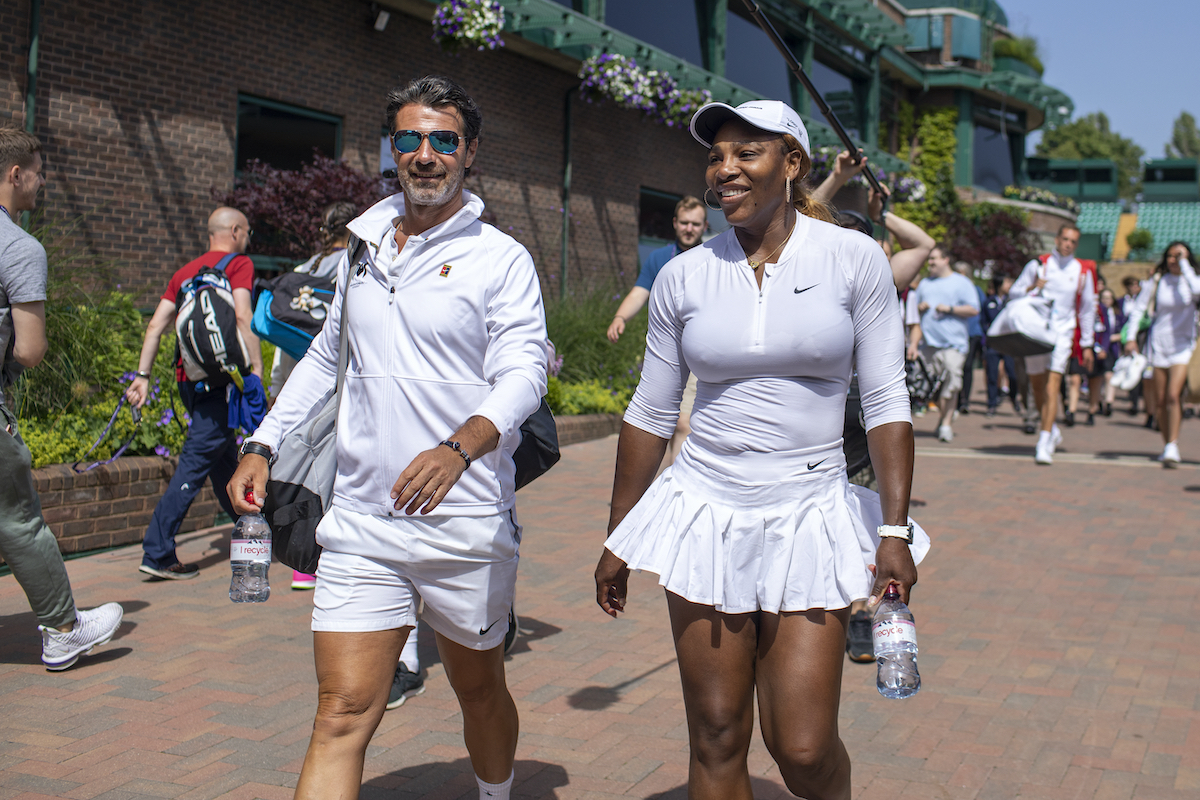 Mouratoglou told GQ about his approach to coaching Williams. First, he considers his job not to prescribe his methods but to work with her to get the best results. He explained:
"Everybody has completely different needs. Everyone needs a different relationship with the coach because you don't speak to everyone the same way. Words are important. You don't communicate with people the same way. Of course, their needs in tennis are completely different, too. I start with a white page, and I kind of write the methodology that I will have to use for that player, which I don't know when I start because I'm going to discover it."
Mouratoglou embraces Serena's status as the greatest in the world. But her biggest sell is her willingness to work as hard as the last person in the rankings. Anyone who has seen their interactions knows that Serena and her coach aren't there to exchanged pleasantries. Instead, they will fight and bicker and speak to each other harshly, but their end goal is all the same. As such, Mouratoglou ran down three things she must consider after every loss. 
"Every loss takes confidence out of you, and it hurts you. You can't afford to lose for bad reasons. You can't win everything, but every time you lose a match, you have to be sure of three things," he told the 22-time Grand Slam winner. . "First of all, I'm 100% prepared. Second of all, I have a plan A before I come on the court to beat this player, and I have a plan B. Third, I give 120% during the match to win."
It's part of the key to her success. After all, no athlete loses without reason. Even if they're overmatched, they can work on things for the next match or stage in her career.
Mouratoglou's adaptive coaching
Mouratoglou is a coach for the 21st-century. From acknowledging the mental health of his players to adapting to their unique skillsets, Mouratoglou may be the modern face of tennis coaching.
Tennis might not be the first sport that people think of when it comes to player-coach dynamics. However, that doesn't mean coaches are mere bystanders. They might not speak during the game, but everything between them runs through them as they act as coaches, life advisors, friends, and confidantes. Mouratoglou's effect on the sport has been a net positive. Now, he has a younger generation to build up from the get-go. The sport may be due for its biggest moment yet because of it.
RELATED: Serena Williams Will Get the Michael Jordan Treatment Via Her Amazon Deal: 'I Have a Lot of Stories I'm Eager to Tell'