Serena Williams' GOAT Status Challenged By Martina Navratilova
Michael Jordan is universally considered the greatest NBA player of all time. Or is he? Some would say that players such as Oscar Robertson and Bill Russell are better given the era in which they played. Travel was more difficult, training regiments and specialty diets didn't exist, and Black athletes were forced to stay in lower-quality hotels than their white teammates. Comparing greatness between players in different eras is, at best, challenging. Still, fans and pundits love to spend hours challenging one another about the Greatest Of All Time in pretty much every sport. With the U.S. Open on the horizon, the latest debate involved Serena Williams, who many consider the greatest women's tennis player and women's athlete of all time.
Some say Serena Williams' record speaks for itself
For Serena Williams, tennis stars such as John McEnroe and Chris Evert have gone on the record saying Williams is the greatest women's tennis player of all time. Evert, however, is quick to add an asterisk to her comment.
"Of course Serena is the best," Evert told CBS in 2018. "A case can be made, but it's really ridiculous. We were the best in our era. Serena is the best in her era."
Since 1995, Williams has been in 233 tournaments, making it to the finals 98 times. She has won 73 times, winning 85% of the time in her career. She has finished as the No. 1 women's player five times, second twice, and third three times. Add to that a Gold Medal in the Olympics for singles play and three Golds for doubles play with her sister Venus.
Martina Navratilova says not so fast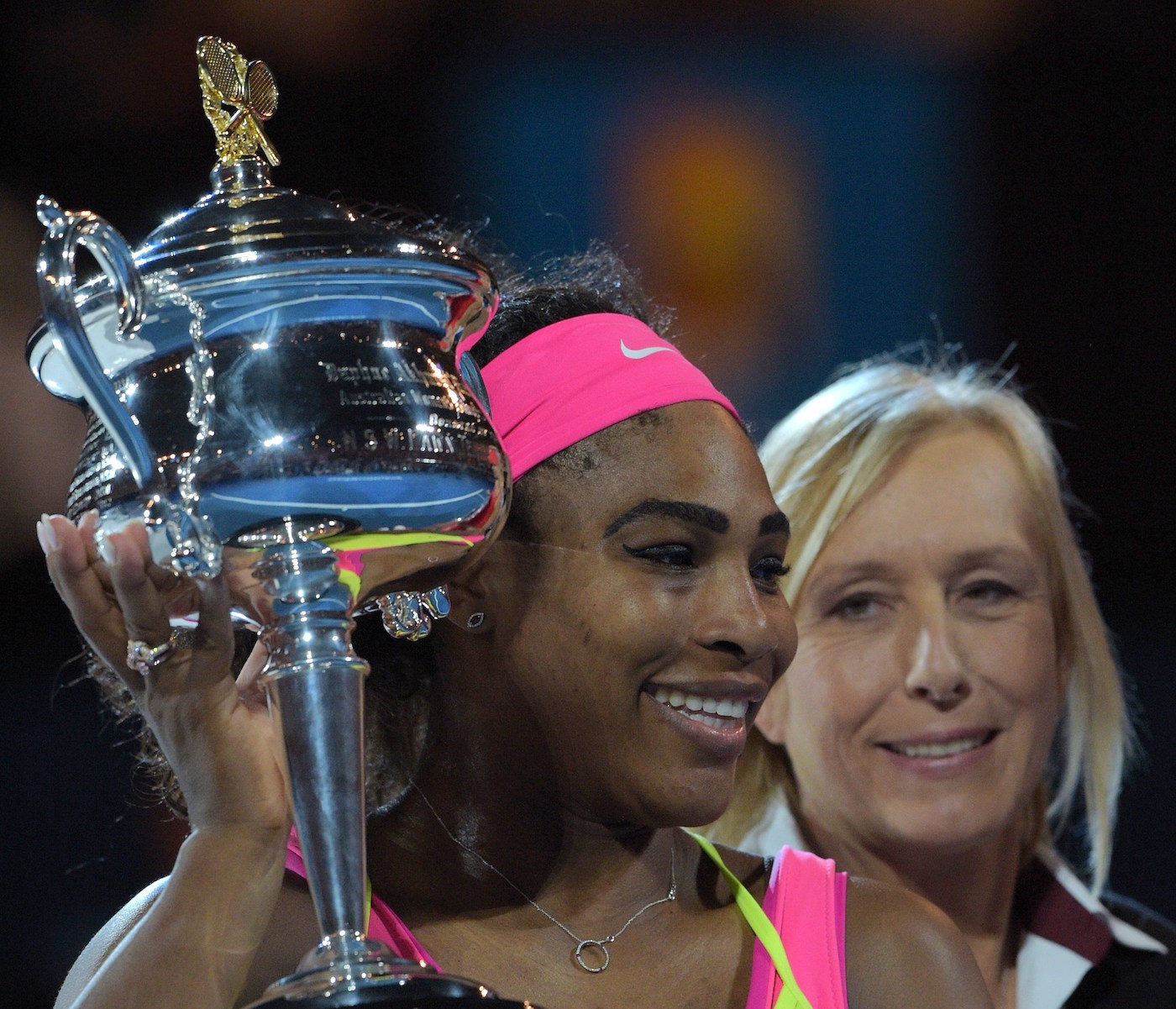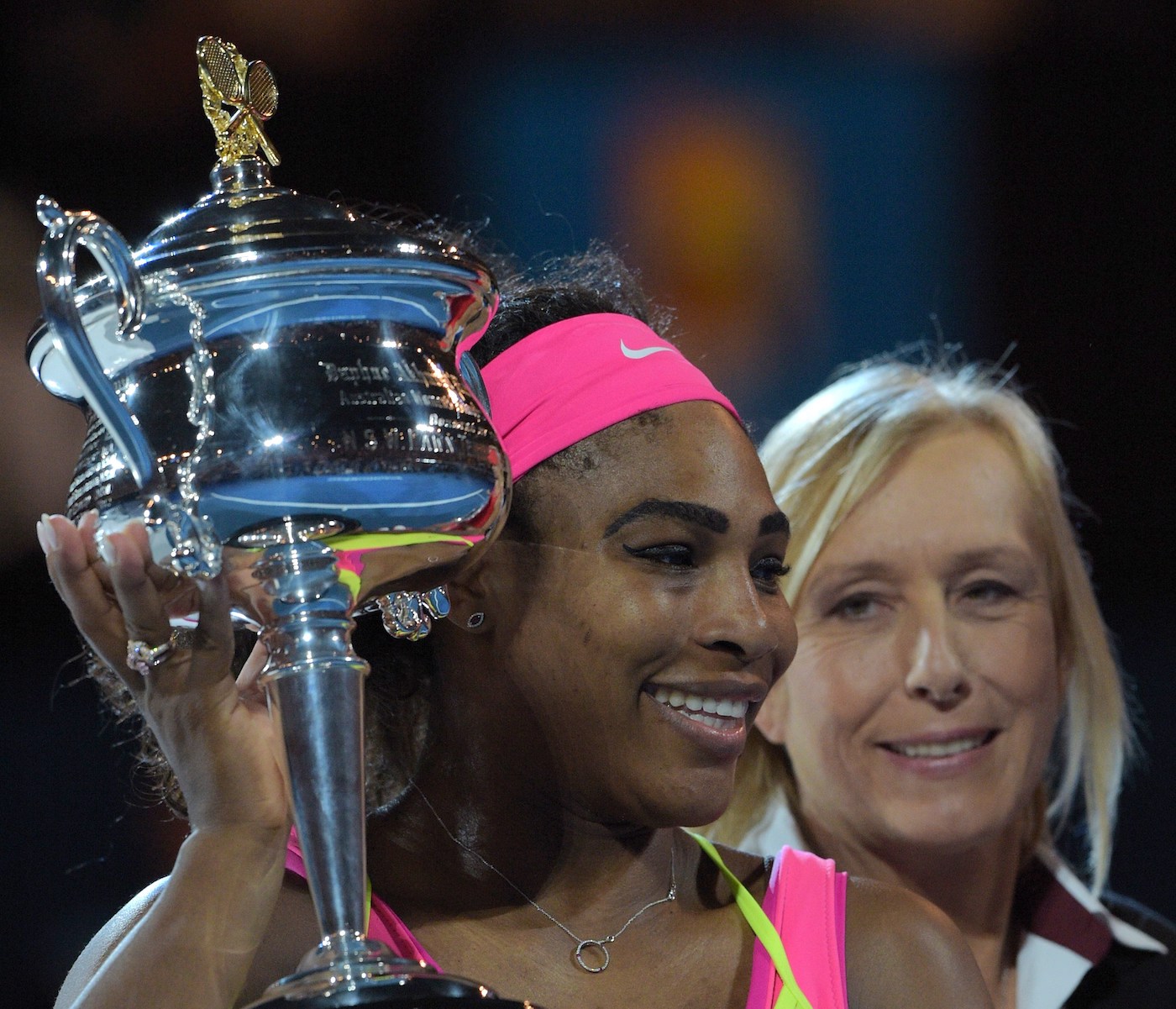 A superstar women's player in her own right, Martina Navratilova is quick to cast an undecided vote as to whether Serena Williams is the GOAT.
"If you just go on majors, then you have Serena," Navratilova said recently, according to Forbes. "If you go a different way, then it would be me or Steffi Graf, perhaps Margaret Court. It just depends how you want to measure that."
The 63-year old Czech-born star raises the issue of how difficult it is to measure tennis players from different eras.
"There is a lot of different measuring sticks," Navratilova said. "It's hard for me to talk about it completely objectively because we were playing under a different measuring stick, so to speak, during my time with Chris and myself. Not even playing the French Open or the Australian Open because we were playing World Team Tennis. The Australian Open wasn't even important enough, and the money was so bad, we would make more money playing regular tournaments than going down to Australia. The majors became a huge measuring stick in the 90s forward."
Can Serena tie Margaret Court in the Open?
The U.S. Open, held from Aug. 31-Sept. 13 in 2020, looms as a big stretch for Serena Williams. Australian Margaret Court holds the record for Grand Slam wins, with 24. Williams trails with 23 followed by Steffi Graf with 22. Soon to turn 39, time is not on Williams' side especially since she has not been playing her best tennis lately.
At the Western & Southern Open, Williams lost to Maria Sakkari, 5-7, 7-6(5), 6-1. After the match, Williams spoke about the frustration she feels with her game.
"I put myself in a bad situation," Williams said, according to the Washington Post. " You know, it's like dating a guy that you know sucks. That's literally what I keep doing out here. It's like I have got to get rid of this guy. It just makes no sense. It's frustrating."
Williams has one important factor on her side for the U.S. Open, and that is the level of competition. Six of the top 10 women players in the world will not compete due to the pandemic. On the downside, the matches will be played without fans in attendance. Some believe Williams is at her best when she can feed off the energy of the crowd.
"She likes to feed off the energy from the crowd," Navratilova told Forbes. "That won't be there. I think that's more of a handicap for the top players than the lower-ranked players, the crowd not being there. Bit of an equalizer."
Even if she loses the U.S. Open, Williams may have another shot to tie Margaret Court's Grand Slam record before the end of the year. The French Open, normally played in the May-June time frame, was delayed until Sept. 26 due to the pandemic.