Serena Williams, Lewis Hamilton, Simone Biles and Emma Raducanu Were Among the Slew of Sports Stars to Grace the 2021 Met Gala
After its 2020 cancellation, the Met Gala returned to its full star power this year. Held annually at the New York Metropolitan Museum of Art, the event is a fundraiser to benefit the Costume Institute at the Met, and fittingly, it becomes a bit of a costume party, where attendees are given a theme to work around for their attire. This year's theme was "In America: A Lexicon of Fashion," and quite a few athletes came out to share their interpretations. Keep reading to see the glamorous looks of the sports stars — including Serena Williams, Lewis Hamilton, Simone Biles, Emma Raducanu, and more — at the 2021 Met Gala.
Steph Curry was among the sports stars at the 2021 Met Gala
Next to wife Ayesha, Stephen Curry's look was rather understated. Wearing a black blazer with gold embroidery featuring his jersey number on the sleeve, the Golden State Warriors star offset his wife's shimmering gold Atelier Versace gown well.
Russell Westbrook showed off his star status
The soon-to-be Laker Guard put his focus on the "America" part of the theme by sporting blue hair with white stars patterned in. His matching blue suit was a comparatively quiet, traditional cut. GQ shared that Westbrook was a guest of Ralph Lauren, expressing that it was an "honor" to wear the designer's work to his first Met Gala.
Serena Williams was ready to fly up, up, and away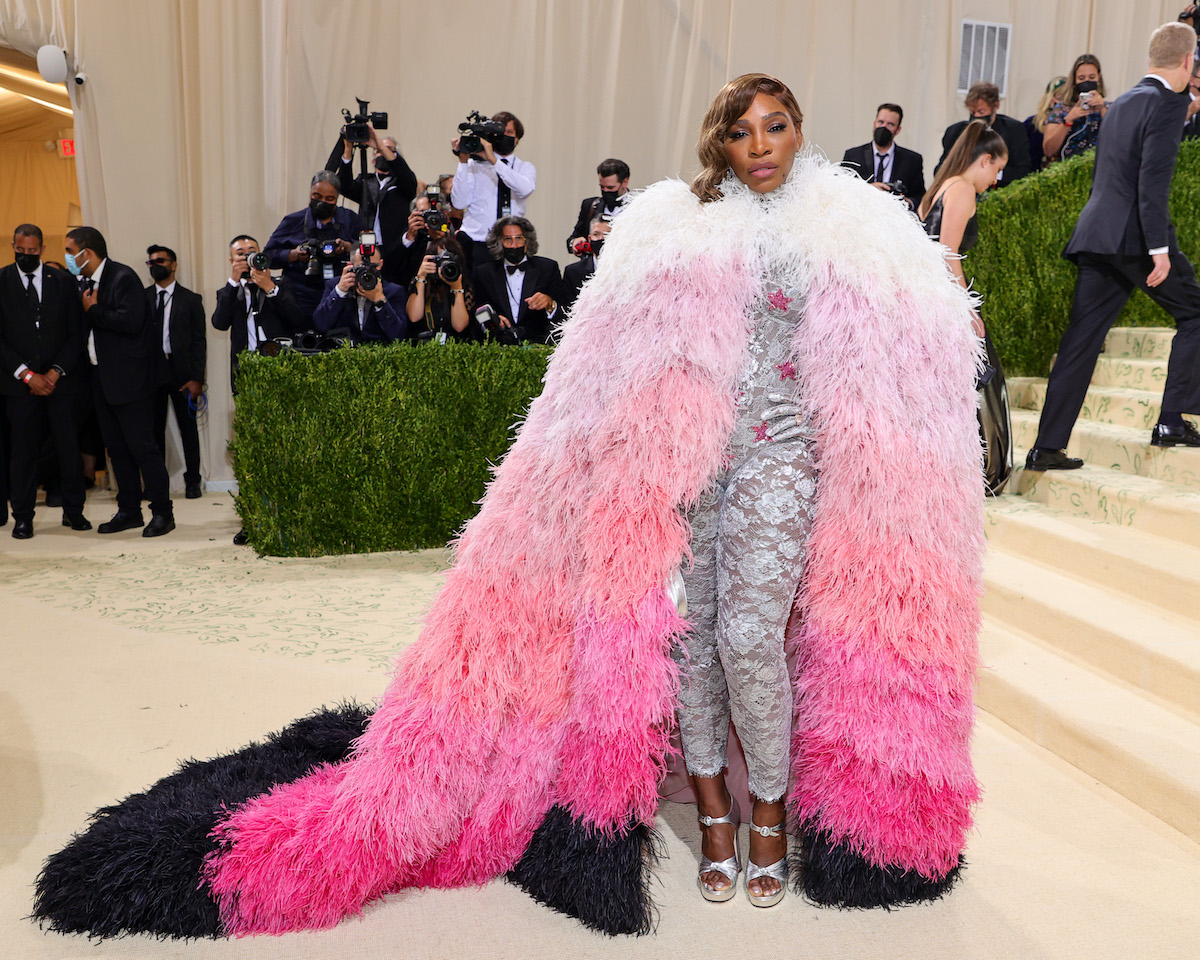 The tennis powerhouse wore a silver Gucci bodysuit accented with pink stars under a voluminous pink ombré feather cape, telling Marie Claire her look was "superhero inspired." She was accompanied by husband Alexis Ohanian of Reddit fame, who sported a silver bow tie with a simple black suit to match his wife.
Naomi Osaka didn't play koi
With a nod to her Japanese heritage, Osaka donned a dress in a koi fish print designed by her sister. The pair worked with Nicolas Ghesquière at Louis Vuitton to craft the look. Vogue reports that Osaka was actually a co-chair of the event this year.
Emma Raducanu served suave
Riding the high of an unpredictable win earlier that day, Raducanu exuded quiet confidence on the red carpet. The US Open shared that her final was the first to feature two teenagers since 1999, when fellow attendee Serena Williams faced Martina Hingis. The newly minted champion wore a boldly-patterned black and white oversized jacket and skirt combo from Chanel with matching crop top underneath.
Lewis Hamilton highlighted the work of an up-and-coming Black designer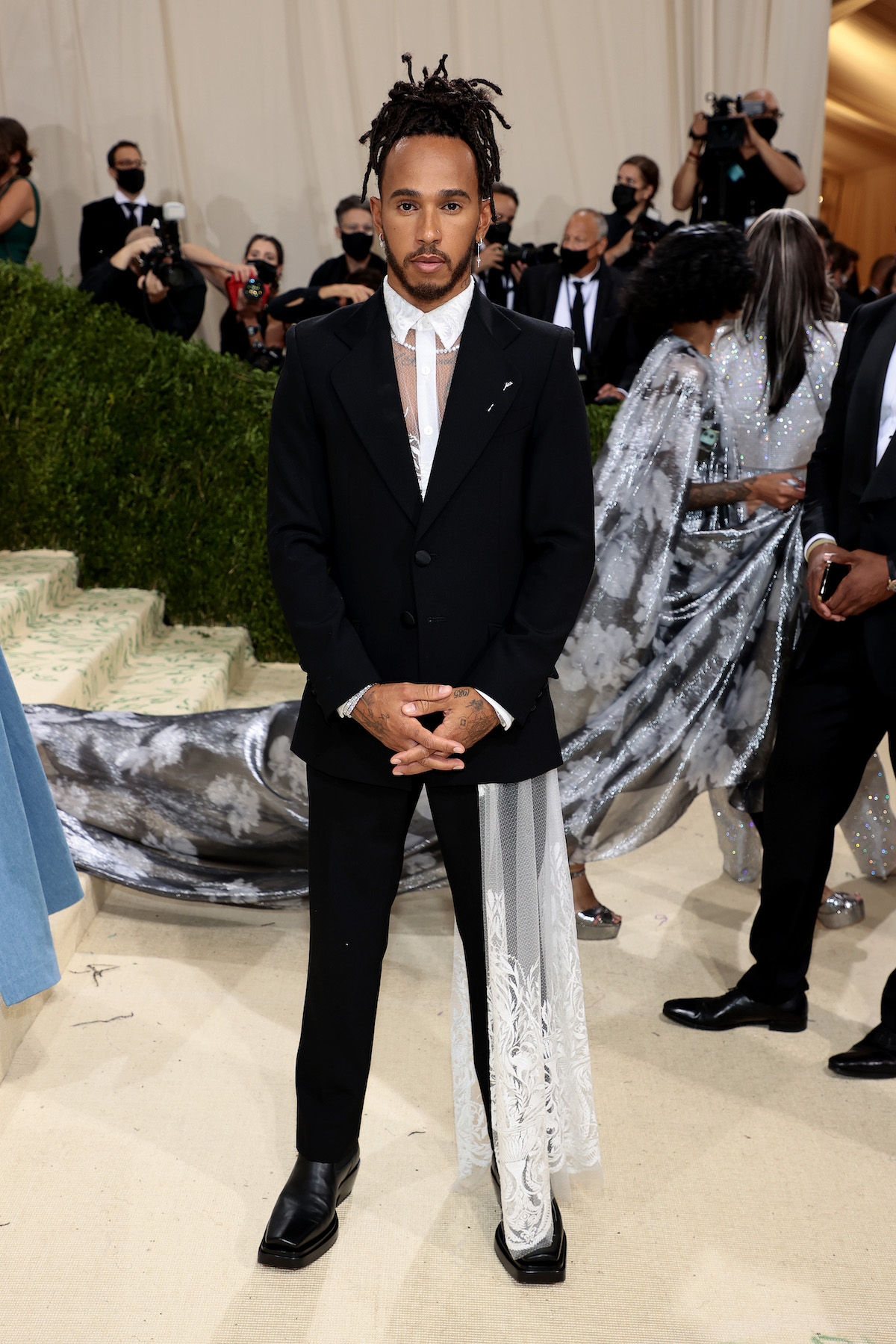 Less than 48 hours after his crash at the Italian Grand Prix, the English Formula One driver got to sport a different look for the cameras. Wearing a black suit accessorized with a white mesh shirt and floor-length lace skirt by Kenneth Nicholson, The Sun reports that he purchased a table at the event, aiming to highlight the work of up-and-coming Black designers, including Nicholson. Vogue Editor-in-Chief Anna Wintour hosted the table, so Hamilton seems to have achieved his objective.
Simone Biles wore an 88-pound dress
Coming back from a tumultuous Olympic experience, the highly decorated gymnast shocked watchers with an 88-pound dress. People reported that it took six men to carry the gown. Biles, dressed by AREA x Athleta, wore a starry bodysuit underneath. She acknowledged that the dress was heavy, but said it made her feel "beautiful, strong, and empowered."
Nia Dennis has another sports star at the 2021 Met Gala — and she showed off her skills
Former U.S. national team gymnast Nia Dennis arrived in an all-blue jumpsuit from adidas by Stella McCartney, with detailing that resembled a leotard around her torso. That was Dennis' only hint to the surprise she would give any watchers that night. Vogue captured footage of the floor routine she performed with accompaniment from the Brooklyn United Marching Band. After showing off her skills, she had a bit of a costume change, adding a skirt to her look.
Megan Rapinoe sported star-spangled attire
The soccer star arrived in a red silk pantsuit by Sergio Hudson. She completed her tribute to the flag with a blue star-spangled shirt under the suit jacket. AP News reports that while the majority of attendees tend to be film, music, and fashion stars, Rapinoe noticed the number of athletes at the event, joking, "We've infiltrated."
RELATED: Lewis Hamilton's Met Gala Fashion Statement Was a Huge Departure From Formula 1 Race Suits