Seth Curry Admits It 'Gets Nasty' Whenever He and Stephen Curry Play Against Each Other: 'I'm Going out There, Trying to Shut Him Down'
Almost all brothers and sisters have sibling rivalries. From playing games as kids to arguing about which one of you your parents like better, navigating a relationship with arguably your closest relative can be difficult.
However, not many siblings take that rivalry into the workplace, but that's exactly what NBA stars Seth and Stephen Curry have to do.
As kids, Seth and Steph were just like any other brothers. They fought and competed at whatever activity they participated in together. But as adults, they are their biggest fans. That is, of course, unless they are playing against each other. In that case, things between the two of them can get "nasty."
Seth and Stephen Curry grew up competing with each other and following their NBA father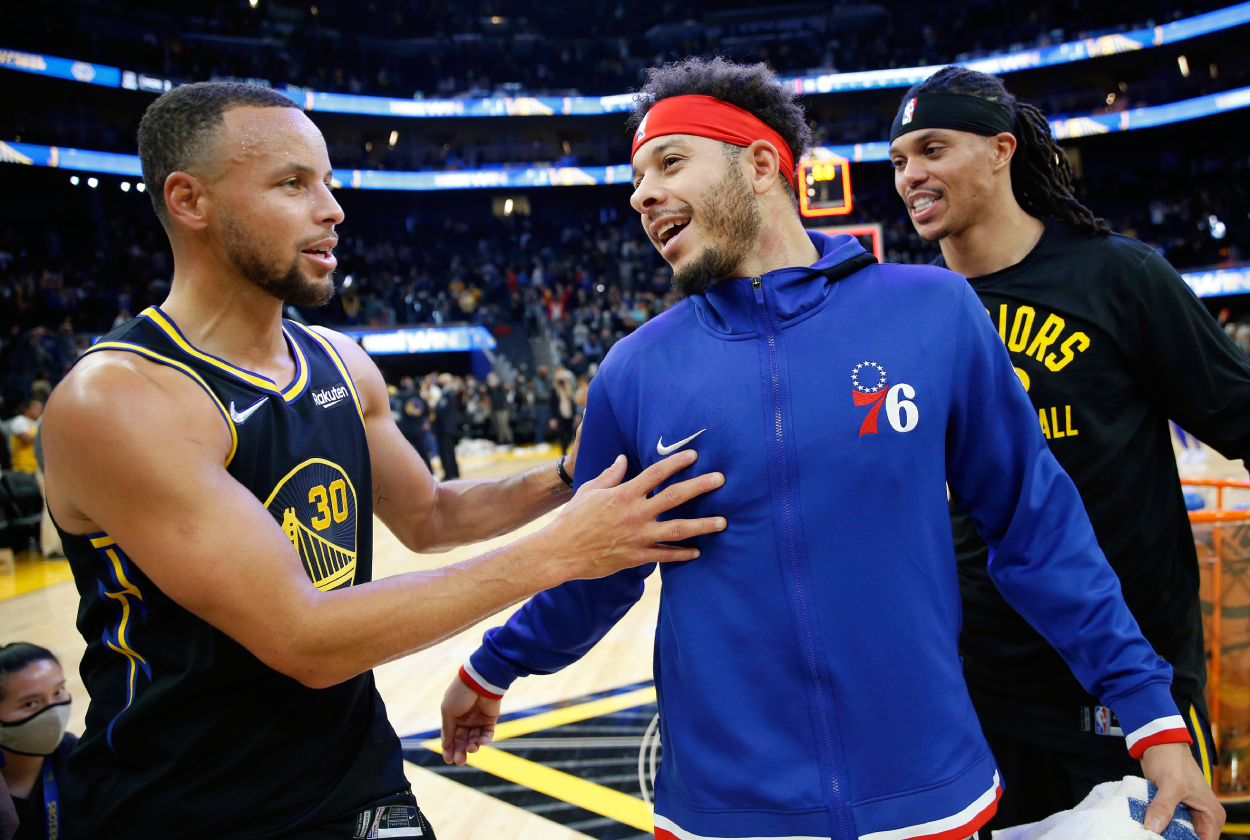 Seth and Stephen Curry are a little over two years apart as the latter is 33 years old and the former is 31. And while their childhood may have been normal in some aspects, it was also very unique in others.
Their father, Dell Curry, played in the NBA for 16 seasons, and he earned the Sixth Man of the Year Award in 1993-94.
But during the years they followed their dad around, the two were competing in whatever they could.
"I was always close enough to where I felt like I could beat him, I felt like I was better than him, but I was never really there," Seth recently said on the Jan. 6 episode of All The Smoke. "That competitiveness was in any and everything growing up. It was heated; we were fighting. Mom had to come out in the backyard, break up a lot of fights."
Seth said when they went off to college, their rivalry "died down," and they became "better friends." But now, that competitiveness still shows a few times a year.
Games between the Curry brothers can get 'nasty'
The Curry brothers have since had significant success in the NBA. Stephen is one of the greatest players to ever play, and Seth, like his bro, has become one of the best shooters in the league.
And while Seth says he roots for Steph throughout the season, he says it's completely different whenever they play against each other. The former is currently on the Philadelphia 76ers, so Philly only plays the Golden State Warriors twice a year. But he played on multiple Western Conference teams in the past, and the two faced each other in the conference finals when Seth played on the Portland Trail Blazers in 2018-19.
"That (the Western Conference Finals) was fun, man," Seth said on All The Smoke. "…Playing against my brother; playing against the best team in the league for the past few years. And just going at it and competing. We were matching up against each other, guarding each other. It's stuff you dream about."
However, Seth admitted that it's "always weird" whenever he plays Steph and the Warriors.
"For [most of] the year, I want him to play well; I want to see them win," he said. "But when we strap them up and play against each other, it's the opposite. I'm going out there, trying to shut him down. Want to see them lose. We're competing; it gets nasty. So, it's a weird dynamic."
Trying to shut down one of the greatest players of all time has to be challenging, but the Sixers guard is no longer in Steph and his dad's shadows. He's Seth Curry, and he's a solid player himself.
Seth Curry has become a successful NBA player
You likely know Stephen Curry's resume by heart: two-time NBA MVP, seven-time All-Star, three-time champion, and the league's all-time 3-point field goal leader. But Seth has become a successful player as well.
After playing for six different teams and spending time in the G League from 2013-14 through 2018-19, Seth was a nice role player for the Dallas Mavericks in 2019-20, averaging 12.4 points in 64 games. He then recorded 12.5 points per game for the 76ers last season, but he was one of the team's best players during its playoff run. In 12 postseason games last year, Seth averaged 18.8 points and shot a remarkable 50.6% from 3-point range.
He has since built off that success this season and is a big reason why the 76ers are 23-16 without Ben Simmons. The Duke product is recording a career-high 16.3 points on 51.4% shooting from the field. He's also making 41.1% of his 3-point shots.
Seth and Stephen Curry have had plenty of battles over the years. But their success could possibly lead to a matchup on the biggest stage one day: the NBA Finals.
Stats courtesy of Basketball Reference