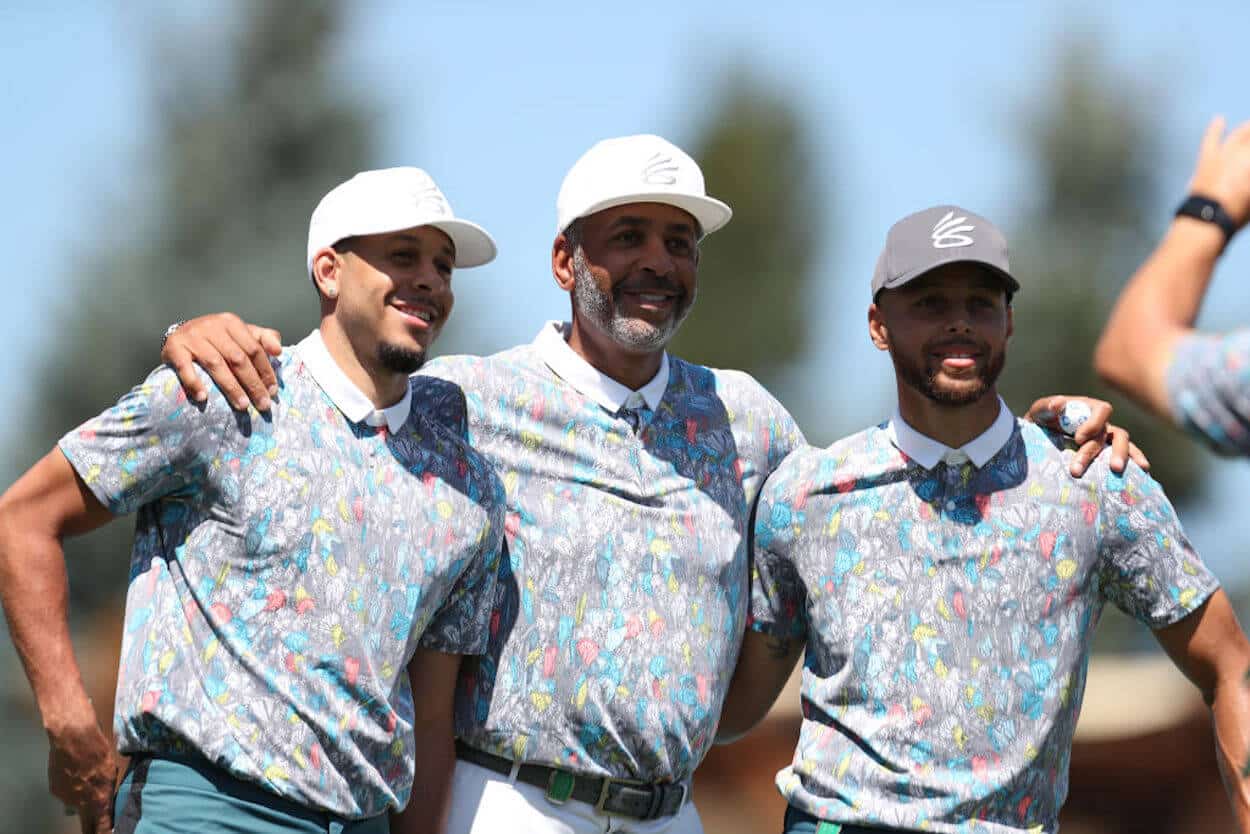 Seth Curry Admits It 'Gets Nasty' Whenever He and Stephen Curry Play Against Each Other: 'I'm Going out There, Trying to Shut Him Down'
Seth Curry and Stephen Curry may root for each other most of the time, but things can get "nasty" between the two NBA guards whenever they're on the same court.
Almost all brothers and sisters have sibling rivalries. From playing games as kids to arguing about which one of you your parents like better, navigating a relationship with arguably your closest relative can be tricky.
Most siblings leave that rivalry at home, but that's not what NBA players — and brothers — Seth and Stephen Curry did. As two of the Association's top sharpshooters, the siblings are pitted against one another.
And while you might think they've outgrown sibling rivalry, that's not always the case. While the Curry brothers are happy to support one another, things change when they go head-to-head. On those occasions, it can apparently get a bit "nasty."
Seth and Stephen Curry grew up competing with each other and following their NBA father
These days, Stephen Curry and Seth Curry are known as two elite NBA marksmen. There was a time, however, when they weren't star athletes; the two boys were simply Dell Curry's sons.
Dell, of course, was a capable shooter in his own right and played 16 seasons, seasons of NBA ball. As you might expect, Steph and Seth spent plenty of time around him and, in turn, the game of basketball. That planted the seeds of an early sibling rivalry.
"I was always close enough to where I felt like I could beat him, I felt like I was better than him, but I was never really there," Seth explained during an appearance on All The Smoke. "That competitiveness was in any and everything growing up. It was heated; we were fighting. Mom had to come out in the backyard, break up a lot of fights."
As the cliche says, though, time (largely)healed all wounds.
Seth went on to explain that when they went off to college, their rivalry "died down," and they became "better friends." That doesn't mean they've completely buried the hatchet, however.
Games between the Curry brothers can get 'nasty'
Due to the realities of the NBA schedule, teams only face each other a handful of times per season. If the two clubs play in opposite conferences, those meetings are even fewer and farther between.
That has meant that, despite Seth Curry bouncing around the Association, he has only faced his brother on the NBA hardwood a handful of times. One of those notable meetings, however, came at the tail end of the 2018-19 campaign, when Seth's Portland Trail Blazers met Steph's Golden State Warriors in the postseason.
"That [ Western Conference Finals] was fun, man," the younger Curry brother said on All The Smoke. "…Playing against my brother; playing against the best team in the league for the past few years. And just going at it and competing. We were matching up against each other, guarding each other. It's stuff you dream about."
Even when the meetings have lower stakes, though, Seth admitted that it's "always weird" whenever he plays Steph and the Warriors. The two brothers may be years removed from their childhood battles, but the old sibling rivalry still flares up.
"For [most of] the year, I want him to play well; I want to see them win," Seth continued. "But when we strap them up and play against each other, it's the opposite. I'm going out there, trying to shut him down. Want to see them lose. We're competing; it gets nasty. So, it's a weird dynamic."
Seth Curry has become a successful NBA player, but Steph Curry still holds the edge in their rivalry
You likely know Stephen Curry's resume by heart: two-time NBA MVP, nine-time All-Star, and four-time champion. Seth might not have achieved the same level of success, but he's also established himself as a legitimate NBA talent, which is nothing to sneeze at, especially when you consider that the guard started out as an undrafted free agent.
Returning to the theme of sibling rivalry, Steph also has his brother beaten on an individual statical level. The Golden State Warriors guard has spent 14 seasons in the Association, averaging an 24.6 points, 4.7 rebounds, and 6.5 assists per contest across that span. Seth has suited up for nine NBA seasons and posted an average of 11.0 points, 2.2 rebounds, and 2.1 assists per outing.
Beyond that, the elder Curry brother holds an advantage in those head-to-head matchups that Seth described as competitive affairs.
If we only go by regular-season meetings, Steph is 9-4 against Seth. To add insult to injury, the Golden State Warriors star has averaged 26.1 points in those contests; on one occasion, he even dropped 49 in a victory over the Philadelphia 76ers. In those same contests, Seth has averaged 10.2 points.
And, taking it back to the aforementioned playoff series, Steph's Warriors swept Seth's Blazers.
There is one place where Seth Curry has landed a blow, though. He does have his brother beat when it comes to all-time three-point accuracy, even if there is a caveat of sample size.