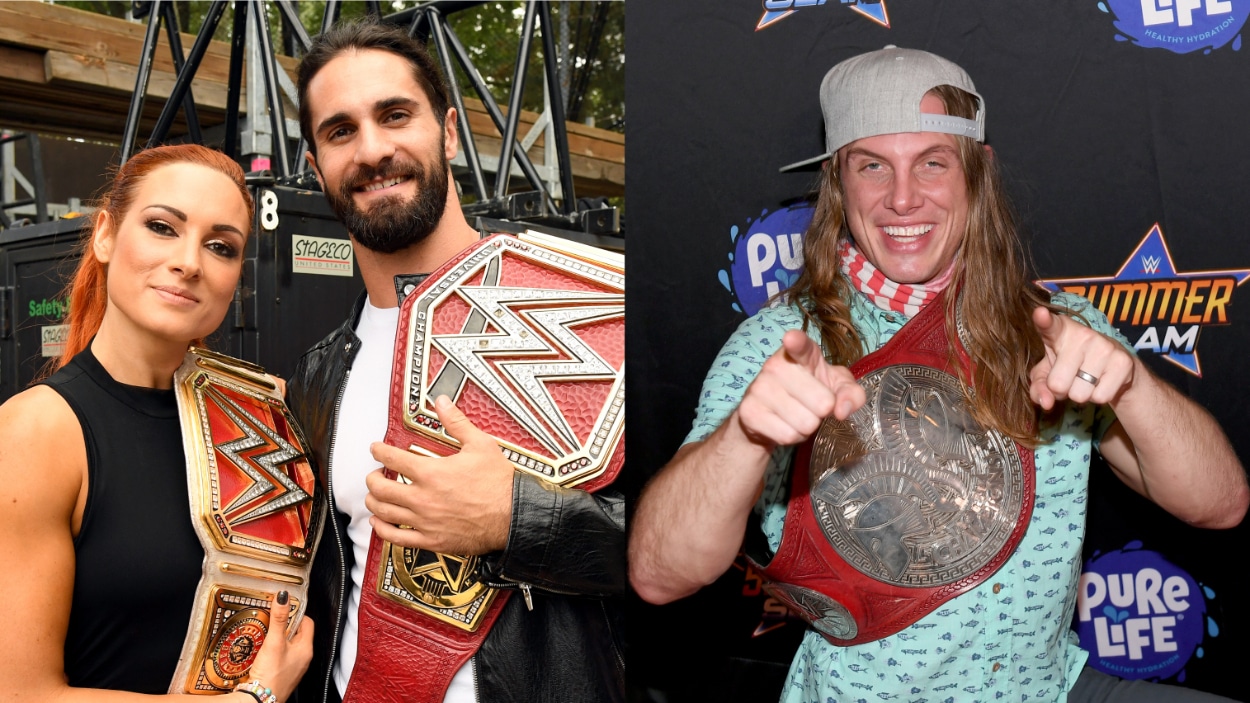 Seth Rollins and Matt Riddle Still Have Real Heat Years After Becky Lynch Controversy
As Seth Rollins and Matt Riddle get ready to square off at Extreme Rules, Rollins shared the genesis of the pair's real-life beef.
Seth Rollins and Matt Riddle will go head-to-head at WWE's Extreme Rules Premium Live Event in Philadelphia on Saturday night. The pair will go at it in an MMA-style "Fight Pit," with MMA legend Daniel Cormier looking on as the special guest referee. Usually, the celebrity ref doesn't have much to do other than count to three or interfere on one side or the other at the end of the match. This time, though, Cormier may have his work cut out for him as Seth Rollins and Riddle have real heat, going back several years to when Riddle's now ex-wife body shamed Rollins' now-wife, WWE superstar Becky Lynch, on social media.
Seth Rollins, Matt Riddle have real-life heat
As the kayfabe Seth Rollins-Matt Riddle built on-screen in September, Rollins sat down with pro wrestling and MMA pundit Ariel Helwani on his BT Sports show, Ariel Helwani Meets.
While discussing his feud with Riddle and how they took a page from Daniel Cormier and Jon Jones' real-life feud for a segment on Monday Night Raw, Rollins admitted he and Riddle have "legitimate beef" with each other.
Helwani then asked what made the Seth Rollins-Matt Riddle feud personal like Cormier-Jones.
As long as I've known the guy, I've never really liked his attitude. I never liked the way he goes about his business," Rollins explained. "A lot of the ways he kind of sort of disrespected guys that were like way above his pay grade when he was down in NXT. The Booker T.'s, the Goldberg's, the Brock Lesnar's. I'm just like, 'dude, pay your dues.'"
Rollins did admit that he thinks Riddle is "ultra-talented" in the ring, but "his head" has been his issue in his career.
After noting that, Seth Rollins got to the crux of the feud. It all started in 2019 with Matt Riddle's then-wife (now ex) taking potshots on social media at Rollins' then-fiancée (now wife) Becky Lynch. In a now-deleted Instagram post, Riddle's wife called out "multiple Main Roster Divas" for being "straight skinny jiggly fat," alongside a video of Lynch.
Rollins explained the fallout from the incident to Helwani:
It really kind of kicked off — there was an incident with his now ex-wife where he was kind of taking her side when she was, for better or worse, body shaming — that's the only way I can put it — my wife, my current wife, at the time was my girlfriend, and some of the other girls in the locker room, completely unprovoked. And I understand, as a husband, you've got to take your wife's side, but you also can zip your trap sometimes.

Seth Rollins on Matt Riddle
When Helwani asked if Rollins ever confronted Riddle about the incident, the wrestler told the host that he didn't, he just never talks to him. And when Riddle came up from NXT to the main roster, Rollins tried his best not to work with him.
How will The Architect and The Original Bro work together at Extreme Rules?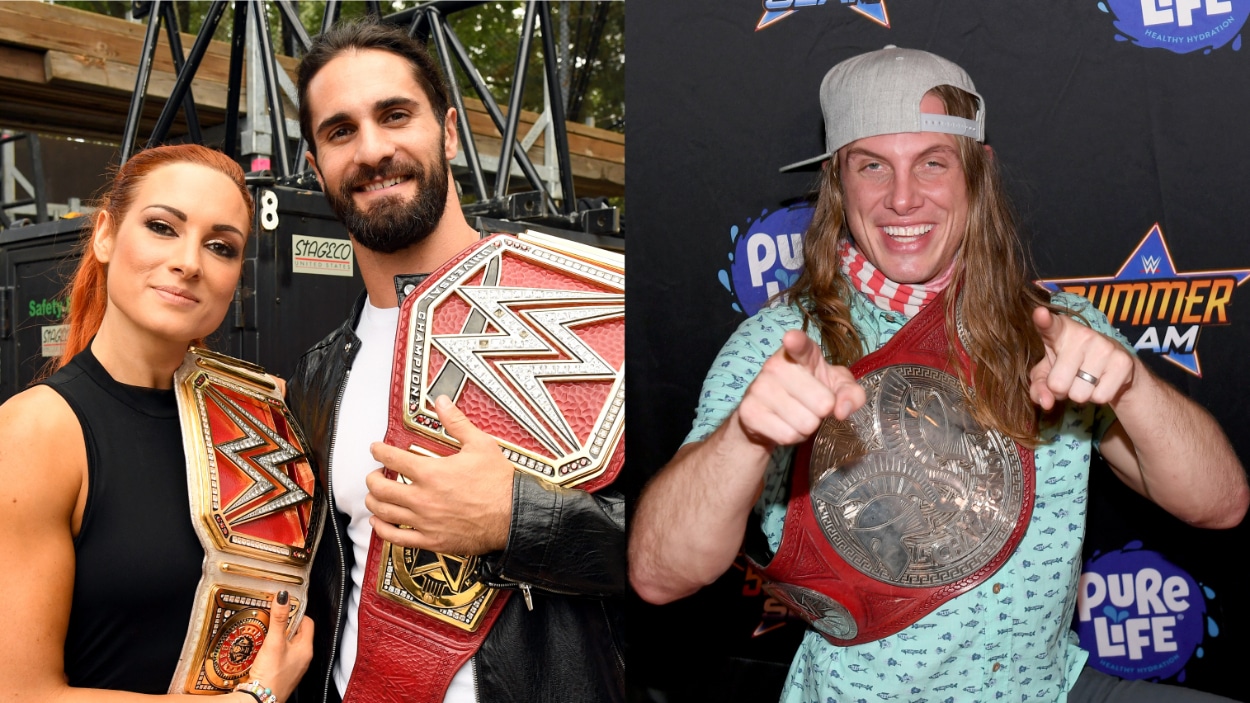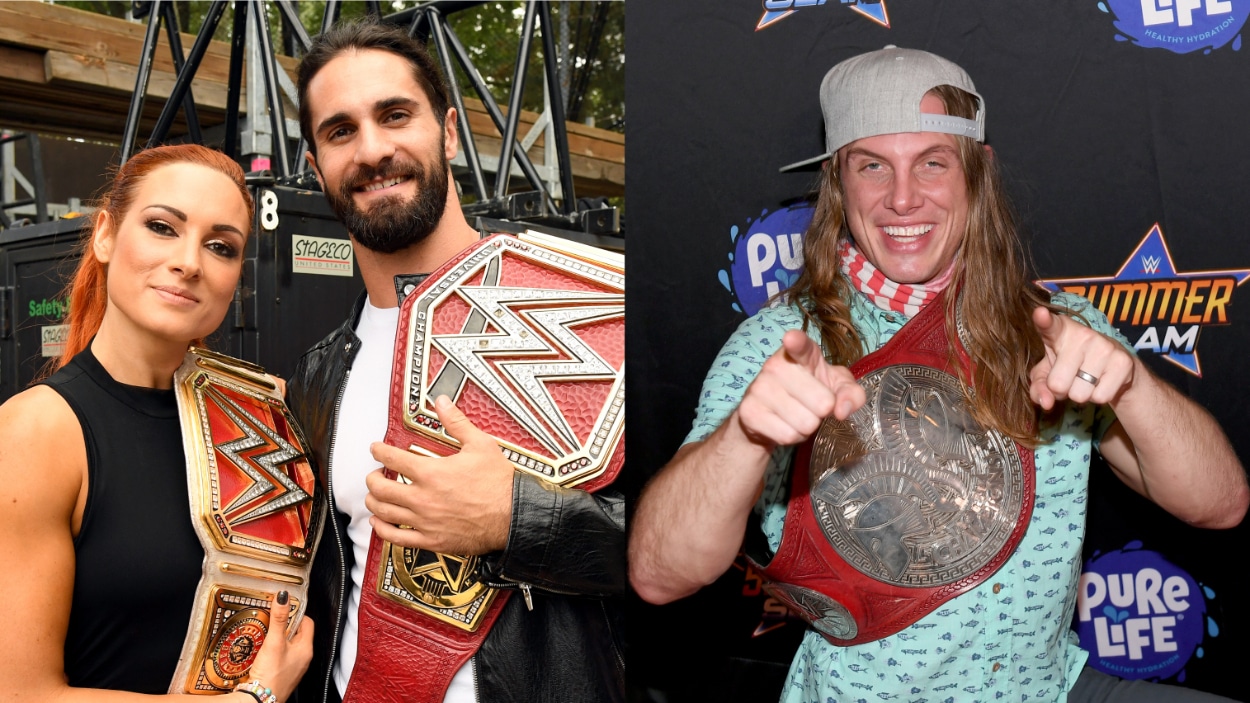 As Seth Rollins and Matt Riddle are now engaged in a relatively long-running on-scree feud these last few months — despite Rollins asking not to work with Riddle —Ariel Helwani posited the most obvious question next, asking, "do you have issues working with him now?"
After a long, thoughtful pause, Rollins responded, "Ya know, I'm a professional. And so, I get the job done," Rollins explained. "When the red light's on, and we're out there in front of the crowd, it's a different person."
Rollins also got specific about how he and Riddle work together now, saying, "There's Seth Rollins and Matt Riddle backstage. We're never going out, hanging out, going to bars, partying, doing anything like that. Probably not even sharing a slice of pizza. And there's Seth Rollins and Matt Riddle in the ring. And like I said, I'm a professional."
Despite the bad feelings, the Seth Rollins-Matt Riddle feud has been professionally good for both wrestlers.
After Rollins' feud with Cody Rhodes ended prematurely with the latter's injury before Hell in a Cell and Riddle's RKBro leaving the tag-team title picture after Randy Orton's injury, the feud between Riddle and Rollins leading up to Clash at the Castle (and now Extreme Rules) has kept both wrestlers involved in the weekly WWE TV shows.
Now, the two will presumably end their feud once and for all in the Fight Pit at Extreme Rules with the great Daniel Cormier looking on.
If this is the pair's last chance to get at each other (at least for a while), look for some stiff shots in the pit between the two unfriendly opponents.
Like Sportscasting on Facebook. Follow us on Twitter @sportscasting19 and subscribe to our YouTube channel.