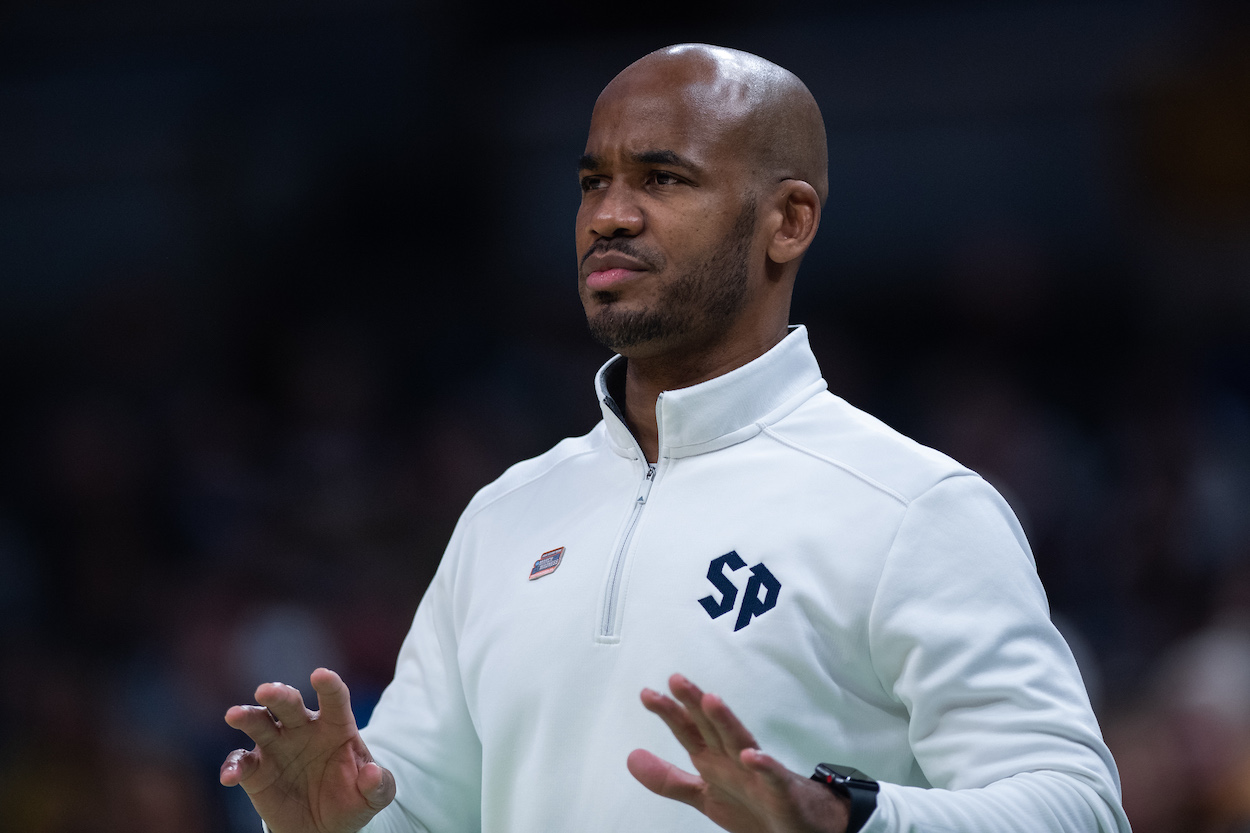 Shaheen Holloway and St. Peter's Nearly Had Their Cinderella Run Thwarted by McDonald's
St. Peter's head coach Shaheen Holloway nearly missed the Kentucky game after a bad batch of McDonald's.
We're on to the Sweet 16 in the 2022 NCAA Men's Basketball Tournament, and the fighting Peacocks of St. Peter's University are somehow still dancing. It's just the third time in tournament history a No. 15 seed has made it to the Sweet 16, and St. Peter's could become the first ever to reach the Elite Eight with a win against No. 3 seed Purdue on Friday.
Head coach Shaheen Holloway has done an exceptional job with his Peacocks through two rounds, but his Cinderella run was almost cut short before it even started thanks to a bad batch of McDonald's.
St. Peter's is on the verge of NCAA tournament history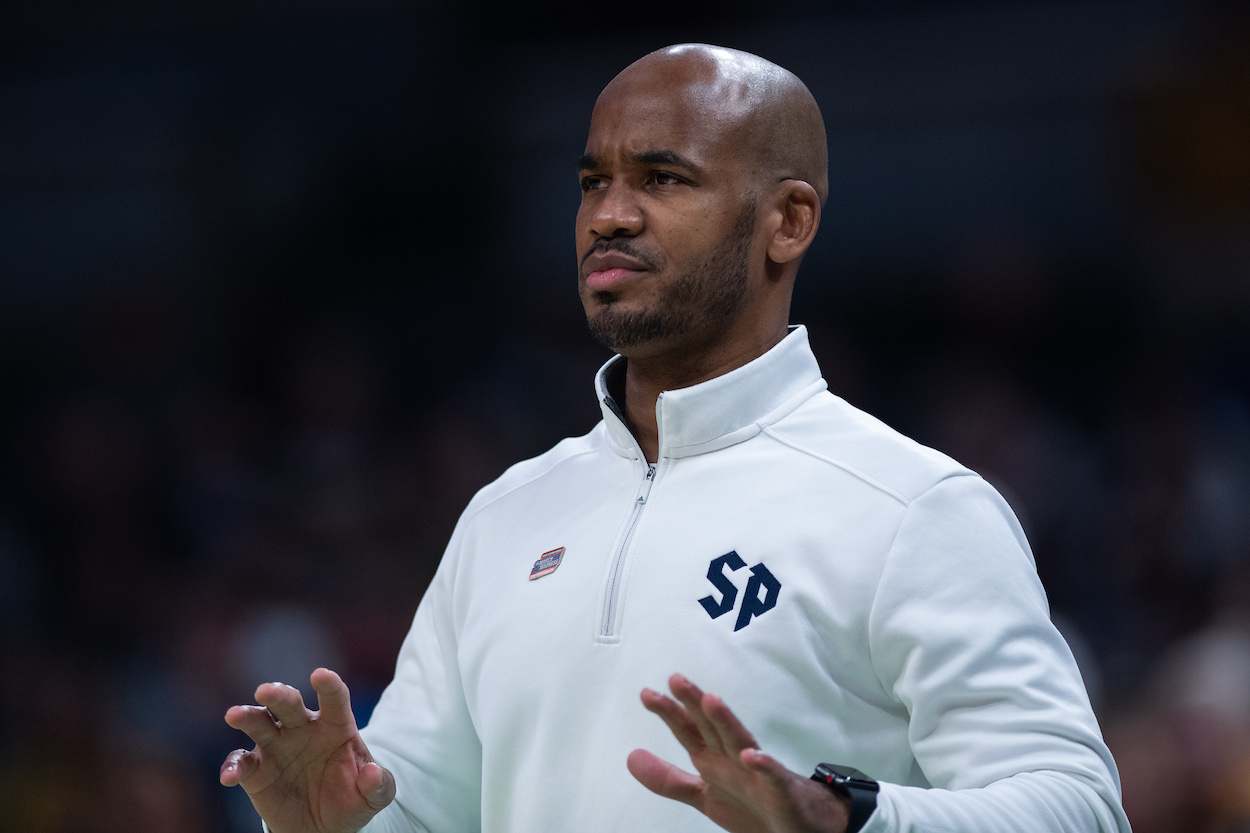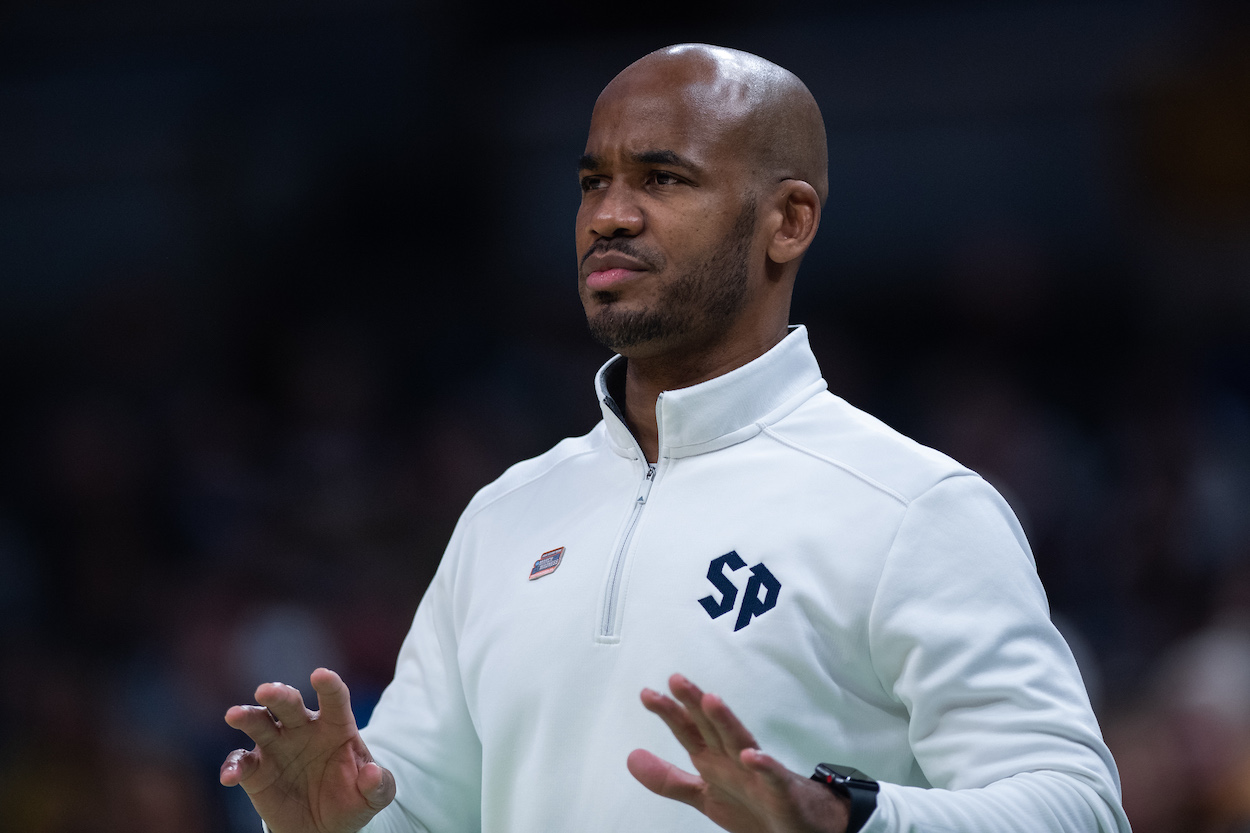 Since 1985, when the NCAA tournament expanded to 64 teams, the bracket hasn't been kind to 15 seeds. Only 10 15 seeds have ever advanced past the first round, and only two have continued the magic onto the Sweet 16.
Florida Gulf Coast, the athletic squad that became known as "Dunk City," accomplished the feat in 2013 by defeating Georgetown and San Diego State in the first two rounds. The Eagles lost by 12 to Florida in the Sweet 16. And just last year, Oral Roberts beat Ohio State and Florida before losing (also by 12) to Arkansas in the same round.
St. Peter's recently became the third 15 seed ever to make the Sweet 16, and it can become the first one to reach the Elite Eight with a win against Purdue on Friday night. It's a tall task — literally, Purdue's starting center is 7-foot-4 — but these Peacocks might just have a little more magic left in them.
McDonald's nearly cost Shaheen Holloway and St. Peter's their Cinderella run
Holloway has gone from little-known head coach to March Madness icon over the past few weeks, but his miraculous run with St. Peter's was nearly cut short by an untimely case of food poisoning.
In a press conference last Friday, Holloway told reporters he got sick after an innocent trip to McDonald's a few days before the Peacocks' first-round game against Kentucky.
"No, it was a challenge," Holloway said. "If I tell you guys where it was from, everybody will probably laugh at me. Monday night my son, Xavier, wanted McDonald's, so I had to go out and get McDonald's, and when you get McDonald's you have to get French fries. I got fries and a shake, and it didn't go well for me."
Holloway said he hadn't slept in nine days due to the food poisoning and the chaos March brings, but that wasn't going to stop him from coaching in the NCAA tournament.
"There was no way I was missing the game," he said. "I didn't come down with the team. I tried to give myself a few days, tried to get myself together. Yesterday I had to go get an IV just to make sure I was good. I didn't care what was happening. I wasn't missing this game for anything."
So he didn't, and he coached the game of his life in an 85-79 overtime victory over Kentucky to make history.
Can the Peacocks' magical run continue?
St. Peter's has been impressive thus far with wins against Kentucky and Murray State in the NCAA tournament, but Purdue presents a different challenge that might be too much for the MAAC champions to overcome.
For one, the Boilermakers have a future lottery pick in Jaden Ivey running the show. St. Peter's is a fantastic defensive unit, but it hasn't had to contain an athlete like Ivey all year long. Purdue also rolls out Zach Edey (7-foot-4, 295 pounds) and Trevion Williams (6-foot-10, 255 pounds) inside, while St. Peter's doesn't have a single player taller than 6-foot-7 in its starting lineup.
The Peacocks are 13-point underdogs in their Sweet 16 matchup, but they've overcome greater odds to get here. Holloway might just want to switch up his pregame meal for this one.
Like Sportscasting on Facebook. Follow us on Twitter @sportscasting19.