Shandon Anderson Went From NBA Champion to Top Chef
Former Miami Heat swingman Shandon Anderson is the definitive example of what a truly exceptional NBA career is.
Anderson never made an All-Star Game or was ever among the best players in the league, let alone on his team. But Anderson, who won a title with Dwyane Wade and the Heat in 2006, lasted a decade in the NBA as a second-round pick and made plenty of money along the way.
When his basketball career ended, Anderson turned his attention to another journey.
Shandon Anderson went from the NBA to cooking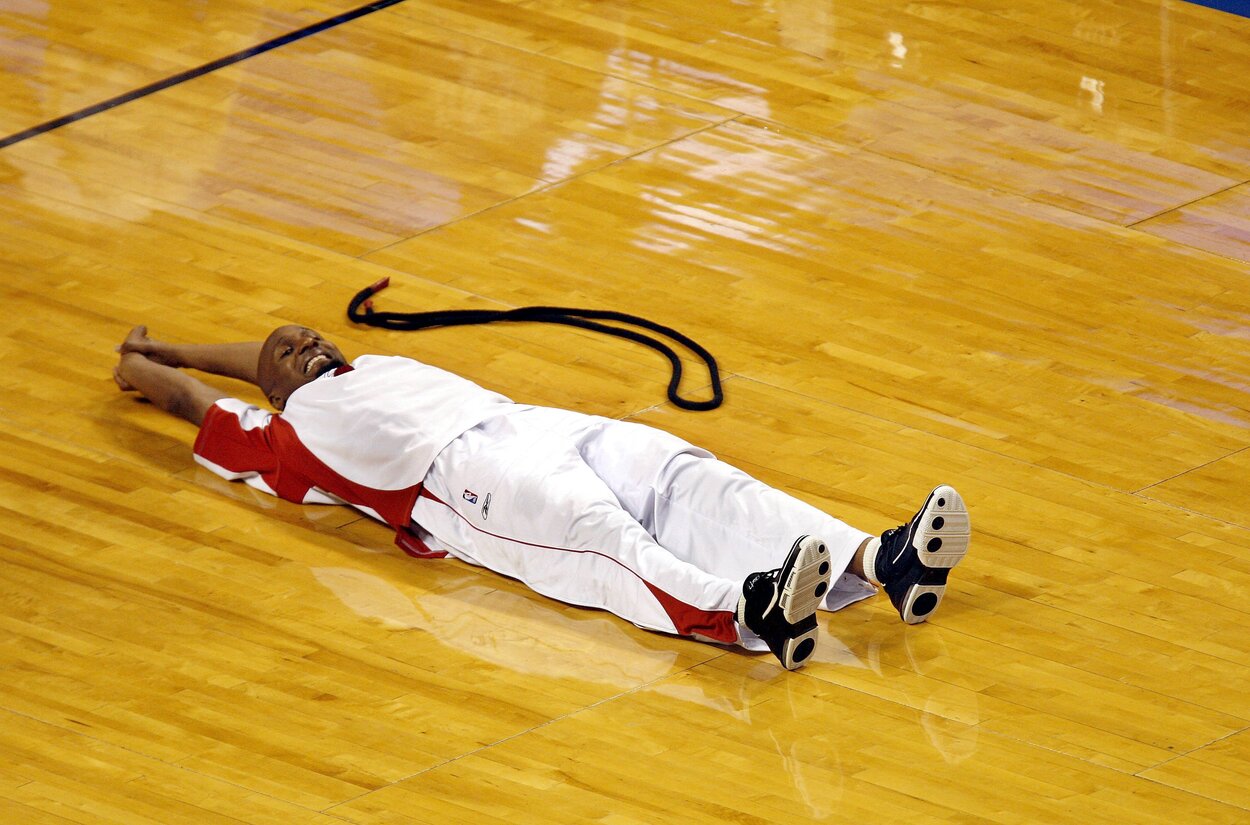 RELATED: Dwyane Wade's Personal Chef Lives the Good Life
Shandon Anderson played his final NBA game in the spring of 2006 and finished a 10-year career with a championship.
Anderson did everything he felt that he could in the NBA, and he was ready for another challenge. With his playing days over, Anderson — who has spent most of his life as a vegetarian — entered the cooking world.
According to exnba.com, Anderson spent 2010 to 2013 in culinary school and prepared himself for a life in the food industry. Anderson eventually opened Drink Art, an Atlanta-based vegan restaurant.
Ex NBA shared comments that Anderson made in 2014 about his decision to open a restaurant.
"The whole concept of Drink Art is about the arts, you will not only enjoy great food, but view the art gallery, receiving seminars or lessons about certain health issues. Yes, blending Thai and Vegan together enhances the flavor in the food and makes the experience that much more enjoyable."
Unfortunately for Anderson, Drink Art closed in January 2015.
Anderson played for various teams in the NBA
RELATED: Dwyane Wade Is Worth $170 Million After Becoming an NBA Superstar but Is Jealous of a Bench Player
Long before he became a chef, Shandon Anderson was a reliable NBA swingman.
In 719 games and 226 starts across 10 NBA seasons, Anderson averaged 7.4 points and 3.1 rebounds a night. Anderson hit 45.7% of his shots from the field and 31.6% of his 3-point attempts.
A second-round pick in 1996, Anderson spent most of his time with the New York Knicks, a stretch that ranged from 2001 through 2004. Anderson contributed 7.1 points and three rebounds per night in 245 games and 52 starts while in New York.
Anderson averaged 4.9 points in 74 playoff games. He played his final NBA season in 2005-06 alongside Dwyane Wade and Shaquille O'Neal on the Miami Heat.
According to Basketball-Reference, Anderson earned just shy of $50 million — $49.57 million, to be exact– in the NBA.
Shandon Anderson isn't the only athlete-turned-chef
RELATED: How LeBron James' Personal Chef Readied the Athlete for Stardom
Shandon Anderson is part of a long list of athletes who pursued culinary careers when their playing days ended.
Former Houston Texans running back Steve Slaton became a private chef in retirement. Tobias Dorzon played football at Jackson State and is now the owner of VictoryChef, a private cooking company.
Brooklyn Nets guard James Harden hired Dorzon as the executive chef at Thirteen, Harden's restaurant in Houston.
Bo Jackson, the former Auburn running back who played in the NFL and Major League Baseball, is also a celebrity chef. Jackson owns his own company, Bo Jackson's Signature Foods.
All stats and contract figures courtesy of Basketball-Reference.