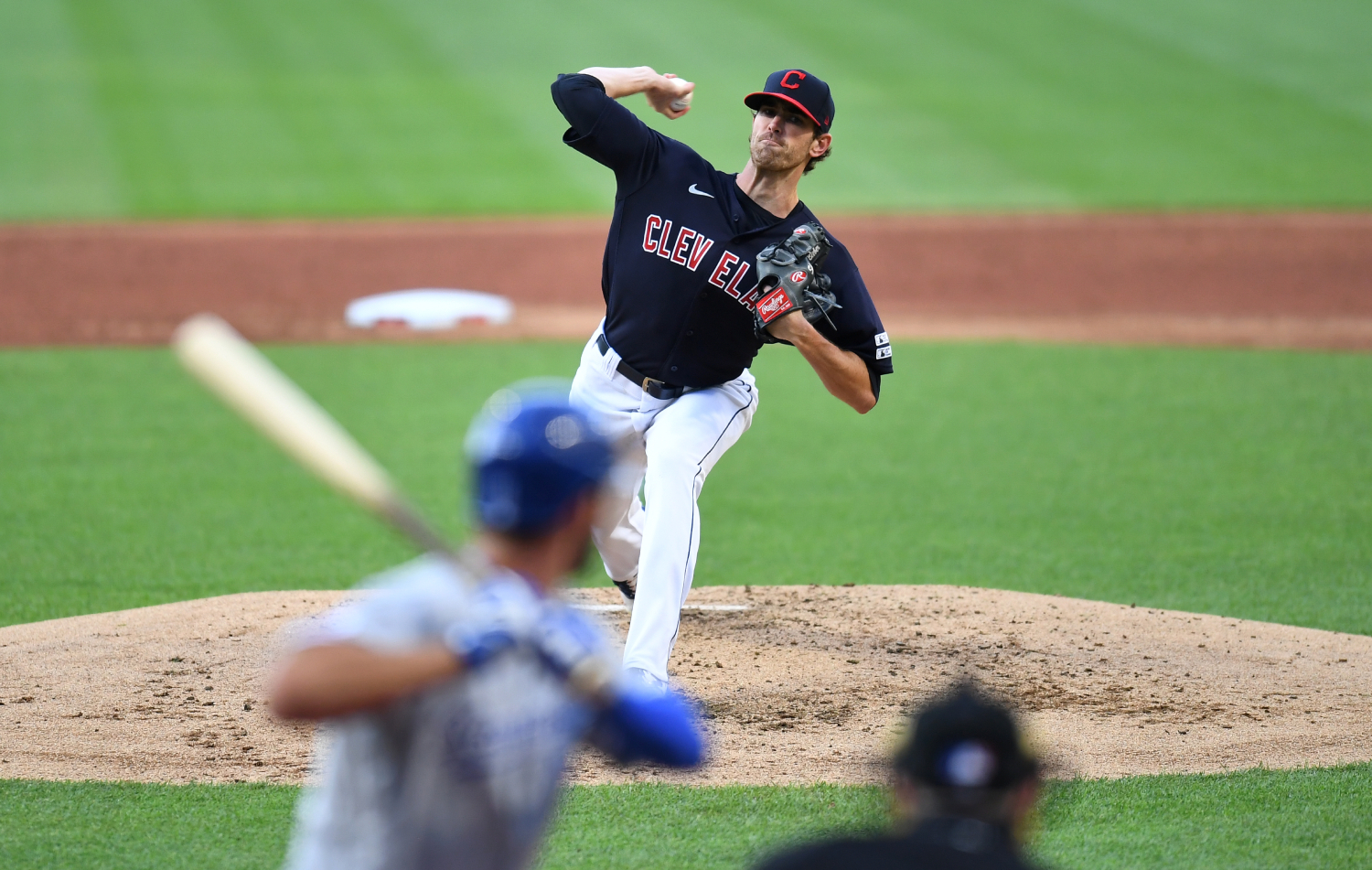 Shane Bieber, No Relation to Justin, Is Quickly Making a Name for Himself
Cleveland Indians pitcher Shane Bieber, no relation to popular singer Justin Bieber, is quickly making a name for himself.
The 2020 Major League Baseball season has been anything but ordinary. The same holds true for Cleveland Indians pitcher Shane Bieber. After just two starts this season, the Indians right-hander had been nothing short of dominant. Bieber is mowing 'em down at a record-setting pace and tied a 66-year-old record with his performance Thursday.
Shane Bieber's baseball career
Shane Bieber played his college baseball at UC Santa Barbara, where he made the team as a walk-on. Bieber earned a scholarship for his sophomore season and then went 12-4 as a junior. In 2016, Bieber was a fourth-round selection of the Cleveland Indians.
Bieber, a 6-foot-3, 200-pound right-hander, made his big-league debut May 31, 2018, against the Minnesota Twins. He finished that season with an 11-5 record and a 4.55 ERA. He had 118 strikeouts in 114.2 innings pitched.
Last season, Bieber was an American League All-Star and was named the game's MVP after striking out the side in his one inning of relief. He led all of Major League Baseball with three complete games and two shutouts in 2019. He finished the season with a 15-8 record and struck out 259 batters in 214.1 innings. This year, Bieber is off to a roaring start, going 2-0 with an MLB-leading 27 strikeouts.
Justin Bieber is no relation
To set the record straight, Shane Bieber is not a relative of singer Justin Bieber. Although some, like the Topps Baseball Card Company, might get the two confused, they are not relatives. Shane Bieber made sure there was no confusion at the 2019 MLB All-Star Game. During the game, players were allowed to wear nicknames on the backs of their jerseys and Bieber had 'Not Justin' on the back of his.
Justin Bieber then returned the favor. According to MLB.com, the singer went out and got his own custom Cleveland Indians jersey. On the back of Justin's jersey reads 'Not Shane Bieber' and the singer was photographed wearing it while riding around Los Angeles on his motorcycle.
The Bieber confusion has led to a social medial friendship between the two. Shane Bieber said the two haven't met, but the pitcher was enjoying the fun. "We haven't met," Shane told MLB.com in 2019. "We'll see what's coming with it. it was kind of fun, just yesterday, getting tagged with that and gaining a couple followers and got some messages from some Beliebers, some original Beliebers. We'll see what's to come of it."
Shane Bieber off to record-breaking start in 2020
In two starts this season, Shane Bieber has pitched 14 innings without giving up a run. He is 2-0 in those games and he has racked up 27 strikeouts. Those 27 Ks broke Nolan Ryan's American League record of 25 strikeouts for a pitcher in his first two starts of a season. Bieber's 27 tied Karl Spooner's (Dodgers, 1954) MLB mark.
"That's amazing company to be in, even in the same sentence with," Bieber said to MLB.com regarding Nolan Ryan. "Definitely going to enjoy this one." Bieber is even surprising himself with the strikeouts. "I've never been that much of a punchout pitcher, especially coming up through the minors," he said. "I made some adjustments over the past couple years and started to see more swing-and-miss."
"He's something special, man," said Indians reliever James Karinchak. "He's, I believe, going to be a Cy Young pitcher one day. Every time he goes out there that's honestly what I expect him to do. He's so nasty, commands everything, just makes every hitter uncomfortable."