Shannon Sharpe Blasts Baker Mayfield for His Performance Without Odell Beckham Jr.: 'Still Playing Like Some Trash'
The Cleveland Browns are coming off a Week 14 victory over the Baltimore Ravens. Still, questions remain about how far this team can go. The biggest of them all is Baker Mayfield. Former NFL tight end and current Fox Sports 1 analyst Shannon Sharpe doesn't believe Mayfield can be the guy. He took the fourth-year quarterback to task despite the narrative that he's better without Odell Beckham Jr.
Shannon Sharpe rips Baker Mayfield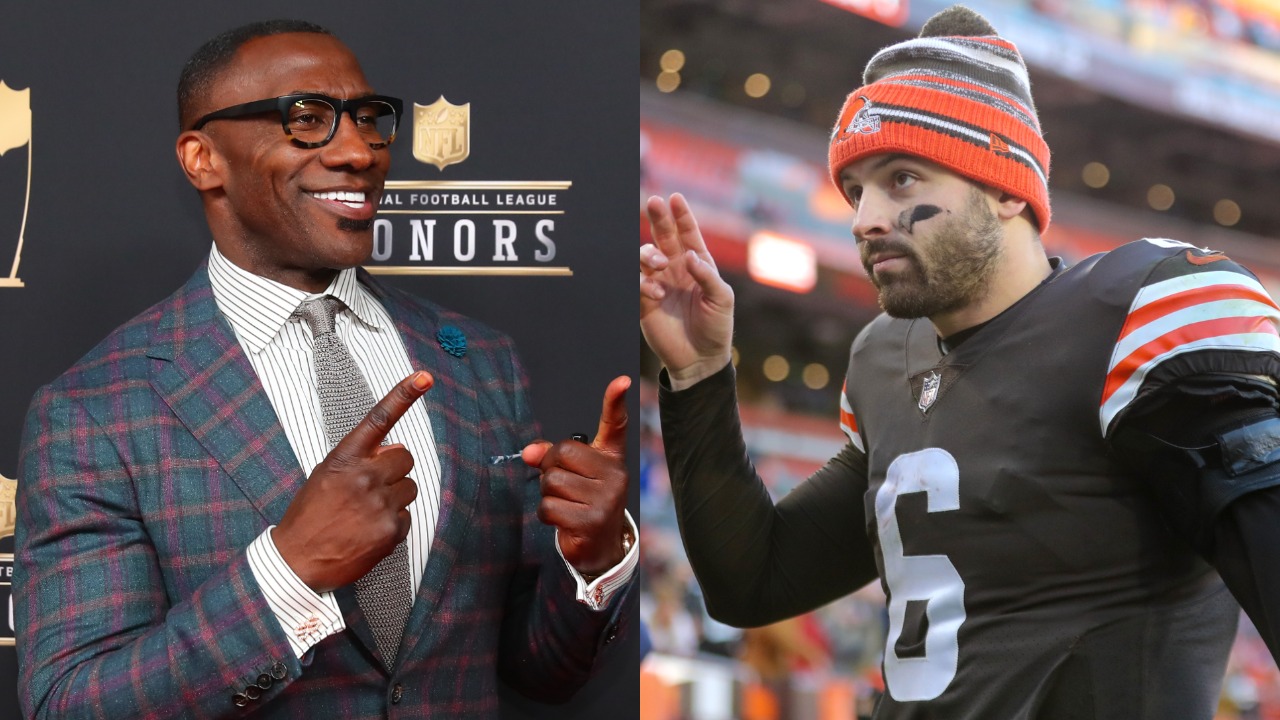 Shannon Sharpe's lack of faith in Baker Mayfield is well-documented. Every chance he gets to slander the Cleveland Browns quarterback, he welcomes it with open arms.
The topic recently came up on FS1's Skip and Shannon: UNDISPUTED. The 3-time Super Bowl champion didn't hold back when talking about Mayfield's play as of late.
"People really believed that the reason Baker Mayfield was not succeeding was because of Odell Beckham Jr.," said Sharpe. "Odell has been gone for a month now. Baker Mayfield is still playing like some trash. Now, what's the excuse?"
The Browns parted ways with OBJ after their Week 8 loss to the Pittsburgh Steelers. The wideout recorded a single reception for six yards on one target. Odell Beckham Sr. posted a video of what he believed was Mayfield intentionally avoiding throwing to his son.
The narrative that Beckham was the problem always seemed like a lazy one, and Shannon Sharpe doesn't have time to listen.
Injuries have been a concern for Mayfield throughout the season, but conveniently OBJ was the problem.
"We thought it was going to be a match made in heaven," added Sharpe. "They broke up and went their separate ways. Beckham was never the reason Mayfield wasn't succeeding in Cleveland. I need someone to tell me what's going on with Baker now."
The Browns QB hasn't played well since Odell Beckham Jr.'s release
The Cleveland Browns are now 7-6 on the season and 3-2 since releasing Odell Beckham Jr.
Head coach Kevin Stefanski's squad looked dominant in a rout of the Cincinnati Bengals in Week 9. However, it's been tough sledding since then.
Karma bit Cleveland hard in Week 10 as the streaking New England Patriots smacked the Browns in the mouth 45-7. Cleveland put up a lackluster performance against the Detroit Lions and barely won.
The Browns split the season series with a win over the Baltimore Ravens in Week 14. But the victory came against a Ravens squad that was down Lamar Jackson for most of the game.
Baker Mayfield has not played particularly well during this recent stretch of games, except for the win over the Bengals. The Oklahoma product threw for 218 yards and two touchdowns.
Since then, he's passed for 686 yards, five touchdowns, and four interceptions across four games. Mayfield has only completed 55.3% of his passes during that stretch.
The Browns' disappointing 2021 campaign doesn't all fall on Mayfield's shoulders. He's shown his toughness by playing through a multitude of injuries. Still, he's yet to prove the front office right for drafting him at No. 1 overall in 2018.
OBJ is carving out a role in the Rams' offense
Watching the Cleveland Browns play in Weeks 3 through 8, it was clear that Baker Mayfield and Odell Beckham Jr. weren't on the same page. The pairing lacked chemistry, and it seemed to hurt the offense.
The drama in Cleveland led to OBJ becoming the scapegoat for all of the team's problems, which was unfair. However, a change of scenery was much-needed for all parties involved.
While Mayfield and the Browns are fighting for a playoff spot, Beckham plays for a potential Super Bowl contender.
When the Los Angeles Rams signed OBJ, it was unclear what his role would be. But Robert Woods' season-ending injury opened the door for an increased role in Sean McVay's offense.
Cooper Kupp is the top dog in LA, but that doesn't seem to be an issue for the 3-time Pro Bowler. As the weeks go on, Beckham appears to be getting more comfortable in the system and catching passes from Matthew Stafford.
OBJ has recorded 15 receptions for 204 yards and three touchdowns in four games with the Rams. He had just 17 receptions for 232 yards and zero touchdowns in the first six games with the Browns.
Beckham is proving that he's not washed and that he can produce in the right situation. Shannon Sharpe says the jury is still out on Baker Mayfield.
All stats courtesy of Pro Football Reference