Shannon Sharpe Wants to Slow the Hype Train on Baker Mayfield and the Browns After Winning Without Odell Beckham Jr.: 'That's a Tired Narrative'
The Cleveland Browns have been dominating NFL headlines over the past couple of weeks. After drama between Baker Mayfield and Odell Beckham Jr. came to an ugly head, the Browns decided to cut ties with the disgruntled wide receiver. While Cleveland looked good in its first game without OBJ, Pro Football Hall of Famer Shannon Sharpe believes there's cause for pause.
Baker Mayfield and the Browns looked impressive in first game without Odell Beckham Jr.
The Cleveland Browns had a tumultuous week with all the Odell Beckham Jr. news. However, that didn't stop them from taking it all out on the cross-town rival Cincinnati Bengals in Week 9.
Baker Mayfield and the Browns dominated Joe Burrow and the Bengals from start to finish.
Mayfield completed 14 of 21 pass attempts for 218 yards and two touchdowns. He wasn't a world-beater by any means, but he played a good clean game. The running game paved the way for Cleveland. Nick Chubb gashed the Cincinnati defense for 137 yards and two touchdowns on just 14 carries.
On the other side of the football, the Browns' defense played its best game of the season. The defense features plenty of big names, but they've struggled at times in 2021. Defensive coordinator Joe Woods' unit finally lived up to the hype.
The Browns picked off Joe Burrow twice and held a potent Bengals offense to just 16 points.
This was a huge victory for Cleveland, as the AFC North is one of the most competitive divisions in the NFL right now. It could also serve as a statement game that Baker Mayfield and company are better off without OBJ.
Shannon Sharpe isn't buying that Cleveland is better without OBJ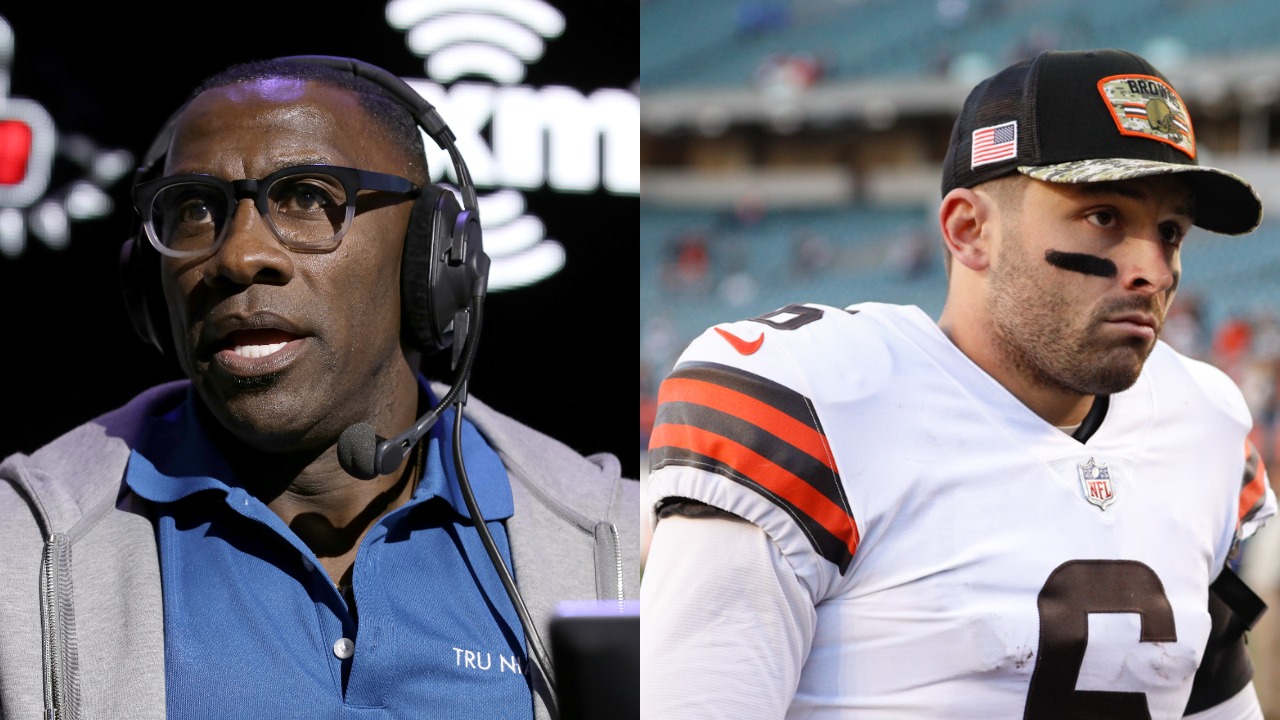 Statistically, the Cleveland Browns have posted a better record without Odell Beckham Jr. on the field. However, that doesn't tell the entire story.
Hall of Fame tight end and Fox Sports analyst Shannon Sharpe recently weighed in on the team's first victory in the post-OBJ era.
"That's a tired narrative," Sharpe said on FS1's UNDISPUTED. The former eight-time Pro Bowler argues that Beckham Jr. couldn't possibly have that much of an impact from his wide receiver position.
"Well, if you get three turnovers and one of them turns into a pick-six. And your running back is running for 10 yards a carry, which opens up the entire offense. Play action is what the Cleveland Browns' offense is predicated on."
As much natural talent as OBJ has, Sharpe argues that it's unfair to put the entire football team's success on him.
"The strong suit of this team would be the defense. Finally, it showed up. It took the ball away and gave the Browns extra possessions. Odell don't play no role in that. Odell doesn't play defense. It's easy to say Baker Mayfield played so much better. Baker played well, but he only had to throw the ball 21 times. That's a good recipe."
Pressure is mounting for Mayfield and Beckham Jr.
Shannon Sharpe is right. People are putting too much of the blame on Odell Beckham Jr.'s shoulders. It's possible that Baker Mayfield felt increased pressure trying to play with a ball-dominant receiver like OBJ, though.
The Browns releasing Beckham Jr. will probably end up being the best-case scenario for all parties involved. Cleveland gets to move forward without the unnecessary distractions. The separation may lift a weight off of Mayfield's shoulders. OBJ gets to pick his destination for the first time in his career.
Still, all eyes will be on Mayfield and Beckham Jr. for the remainder of the 2021 NFL season. The narrative was that these two players couldn't co-exist with one another on the football field. Now apart, it's time to put up or shut up.
Mayfield had a solid first game since OBJ's release, but it's a long season. As a former No. 1 overall draft pick, he needs to do more before the critics lay off of him.
As for Beckham Jr., he has the power after clearing waivers. The three-time Pro Bowler can sign with whatever team he chooses. According to ESPN's Adam Schefter, the LSU product wants to join a contender.
If OBJ signs with one of the best teams in the NFL, the spotlight will become even brighter. He demands the ball, and he will need to produce when he gets the opportunity.
Excuses are no longer acceptable for Odell Beckham Jr., Baker Mayfield, and the Browns.
All stats courtesy of Pro Football Reference