Shannon Sharpe Unleashes on Russell Westbrook, Tells the Lakers Star to Stop Playing 'out of Control': 'They Want You to Stop Turning the Ball Over'
Russell Westbrook has had an underwhelming opening to his Los Angeles Lakers tenure. Sure, he has had slow starts to seasons in the past. But it has been several years since Brodie has been on a team with a real chance of winning a championship, meaning his mistakes now mean much more than they did when he played on the Washington Wizards.
Despite his struggles, though, Westbrook recently said he thinks he has been "fine," which resulted in a heated response from Pro Football Hall of Famer and FS1 commentator Shannon Sharpe. In fact, Sharpe, the sports media superstar, recently unleashed on Westbrook during a segment on his show, Undisputed.
Russell Westbrook thinks he has been 'fine' despite his struggles for the Lakers
Russell Westbrook is one of the greatest point guards of his generation. He is coming off a season with the Wizards in which he averaged a triple-double for the fourth time in five seasons, and he's now on a Lakers team with enough talent to win the whole thing.
However, Russ, who some have accused of chasing stats, has always struggled with his shot. He is a career 43.8% shooter and only makes 30.5% of his 3-pointers. The UCLA product has also always turned the ball over frequently as a pro, doing so 4.1 times per contest throughout his career. In fact, he even led the NBA in turnovers in 2020-21 with 4.8 per game.
Those weaknesses have since been put under the microscope, given that the Lakers play in Los Angeles and the fact that LeBron James is on the team with him. Westbrook – who isn't quite averaging a triple-double this year with season averages of 19.6 points, 8.1 assists, and 7.9 rebounds – is shooting 45.1% this season and 30.4% from 3-point range. He is also turning the ball over 4.6 times per contest, which is No. 2 in the entire league.
However, he thinks he has been OK.
"Honestly, I think I've been fine," Westbrook recently said, per ESPN. "The conversation has been heavily on how I'm playing and what I'm doing, but I think people are expecting me to have f****** 25, 15, and 15, which, that is not normal. Everybody has to understand, like, that's not a normal thing that people do consistently."
Shannon Sharpe, though, says it isn't about the triple-doubles.
Shannon Sharpe blasted Russ, telling him to stop playing 'out of control'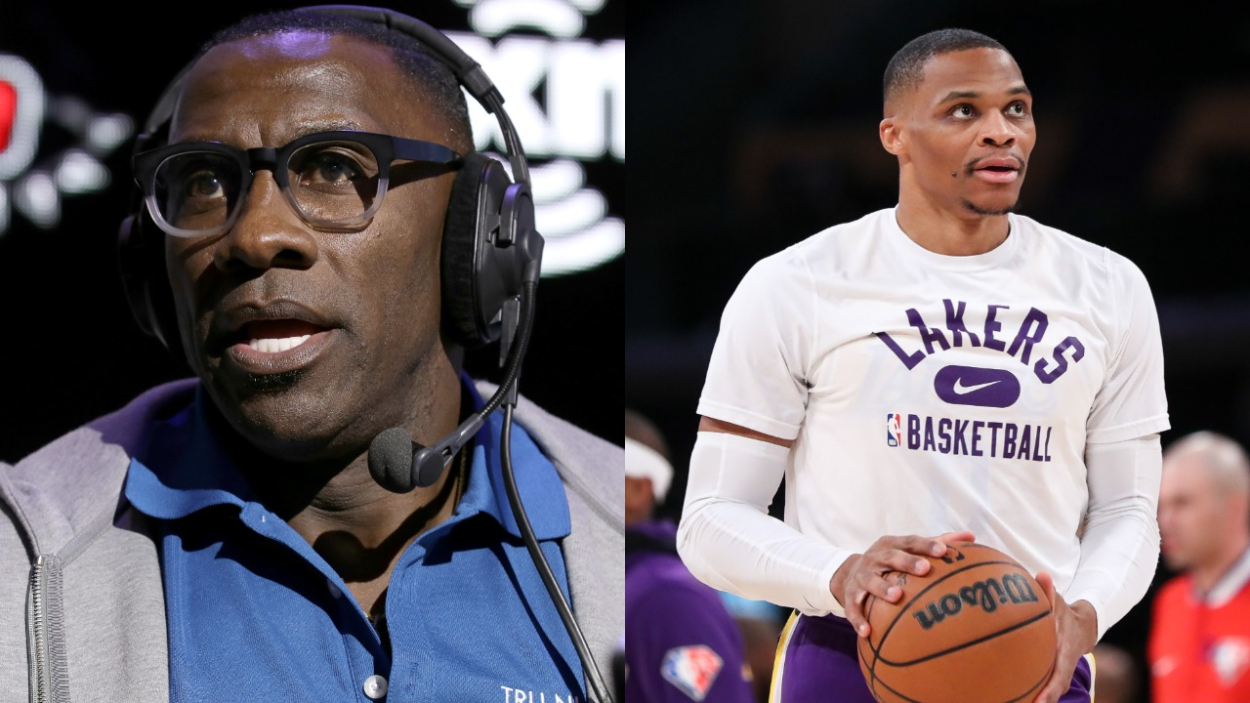 Shannon Sharpe is a massive LeBron James supporter, so he likely wants Russell Westbrook to do well because that would mean The King is winning. And Sharpe had some direct criticism for Russ on the Dec. 28 episode of Undisputed.
"[His quote shows] that he doesn't get it," he said. "…They were one of the favorite teams to come out of the West; they're the ninth seed, and Russ says, 'I'm fine.' Back to his original point, 'Everybody wants him to have 25, 15, and 15.' Nobody thinks that. Nobody wants that. They want you to stop turning the ball over, especially in crucial situations. They want you to stop playing so out of control on a normal basis. … You said, '25-15-15 is not normal.' What is normal is you turning the ball over at a high rate, you playing out of control more times than not, you taking terrible shots more time than not."
Sharpe then implored Westbrook to stop playing hero ball.
"You were brought on to ease the load; you added more to LeBron's plate," Sharpe said. "…LeBron is having to do more this year than he's had to do since he was in LA."
The Denver Broncos legend didn't stop there, though. Later on in the segment, he said that Westbrook simply just needs to start playing smarter, and he added that the triple-doubles were never an actual indication of how the guard was playing.
"Stop jumping up in the air to pass the ball with nowhere to go," he said.
Whether you are a Russ fan or not, Sharpe made some solid points. But the biggest question is this: Can the nine-time All-Star turn things around?
Russell Westbrook has proven he can win, but he has a lot of work to do with the Lakers
If Russell Westbrook wants to help LeBron James and the Lakers win, he does, in fact, have to stop turning the ball over. He also needs to stop playing at one speed, and, instead, play complementary basketball to James and Anthony Davis.
He has proven he can do it, too, as the 2016-17 NBA MVP only averaged 3.6 turnovers during the season that he and Kevin Durant led the Oklahoma City Thunder to the 2012 NBA Finals. That was before only recording 2.3 turnovers per game in the playoffs that year. Durant was the leader on that Thunder team, and Westbrook did what the team needed him to.
All in all, Westbrook is a fantastic player and one of the greatest point guards in NBA history. But if he wants to win a championship, he needs to do what Sharpe said and realize that things aren't fine. They need to improve, and they need to improve quickly.
Stats courtesy of Basketball Reference