Shaq's Mom Still Makes Time to Cook Him His Favorite Meal
Shaquille O'Neal is a man of many talents. He was a Hall of Fame player for many years. He put out a rap album years ago. Shaq even starred in numerous feature films. Currently, he's one of the most popular NBA analysts on TV, serving as part of the studio team for TNT's Inside the NBA. 
O'Neal has accomplished a lot, and there's no doubt that he couldn't have achieved half of what he has without the encouragement he receives from his mother. To this day, she still makes time to cook him his favorite meal. Let's take a look back at O'Neal's career, the role his Mom played in it, and the meal she continues to prepare for him.
Shaquille O'Neal's NBA career overview
RELATED: Shaq and Hakeem Olajuwon Nearly Played 1-on-1 for $1 Million
From the second he set foot in the NBA, O'Neal was larger than life in more ways than one. Early in his career, he starred for the Orlando Magic alongside Penny Hardaway. The team challenged Michael Jordan's Chicago Bulls for Eastern Conference supremacy, and actually made it past them for one NBA Finals appearance — unfortunately, they'd lose to the Houston Rockets, swept in four games. 
The greatest stretch of O'Neal's career came when he departed Orlando to join the Los Angeles Lakers as a free agent. It was there that he'd win three straight titles with Kobe Bryant, making up one of the most formidable dynasties of the NBA's modern era.
O'Neal was quite simply unstoppable in the late '90s/early 2000s. He was too big for any one player to guard effectively, yet he also had incredible grace and athleticism. For having so much brute strength, he also applied a soft touch underneath in the post. 
O'Neal added a third title after he left L.A., joining forces with Dwyane Wade and Pat Riley in Miami. He hung on with a few more teams after that, putting in less notable stints in Phoenix, Cleveland, and Boston.
According to Basketball Reference, he retired as a 15-time All Star, two-time scoring champion, and 14-time All-NBA team member. After his retirement, the Basketball Hall of Fame inducted him in 2016. 
The role Shaq's Mom played in his life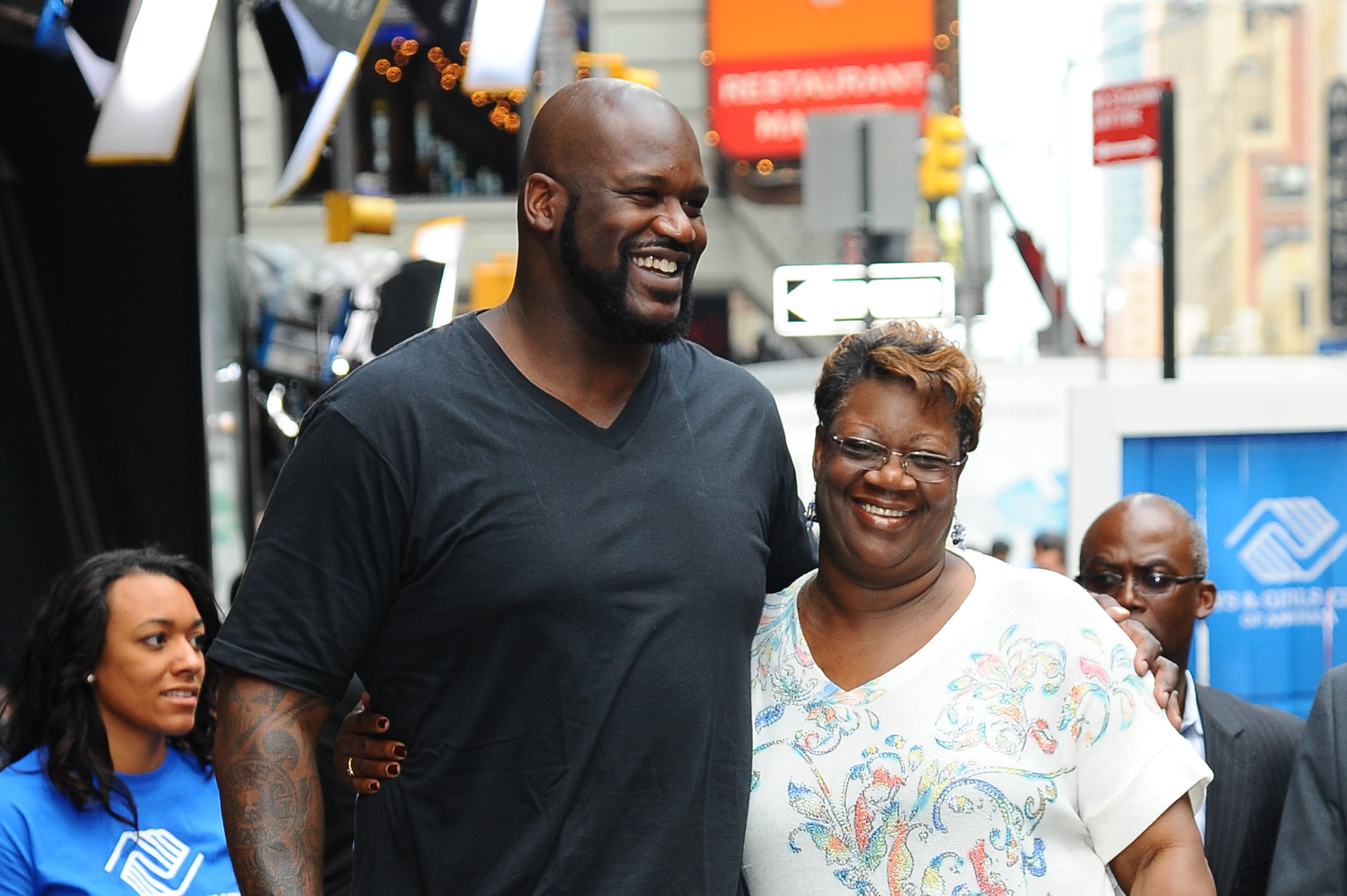 O'Neal's mother, Lucille O'Neal, supported O'Neal throughout his high school and college career on his path to superstardom. She's also had an incredible influence on his behavior. Along with being a support system and source of strength for the giant center, she's also an authority figure to him — still. Take, for example, when O'Neal got into a Twitter beef with JaVale McGee.
According to The Undefeated, O'Neal dropped the feud at the urging of his mother. There aren't many people who ever told this behemoth what to do, but when Mama O'Neal speaks, her son clearly listens. 
Shaq's favorite meal and how his Mom cooks it
RELATED: Shaquille O'Neal Missed out on Millions Because He Believed That 'Black People Don't Drink Coffee'
Lucille's support of her son continues to do this day. In an appearance on The Today Show, she talked about raising him and then supporting him throughout his NBA career. She said that he had strict rules concerning academics in his scholastic years ("no pass, no play") and that she even gave up alcohol to ensure she never embarrassed him as more attention was placed on their family.
She also revealed Shaq's favorite dish — her famous mac and cheese. During her appearance on the show, she actually walked the audience through her the process of making it. The fact that that's O'Neals favorite meal isn't too surprising — what's pretty incredible is that even after all the years of fame and fortune, his Mom still makes time to make it for him. It shows that the humble roots O'Neal came from gave him the foundation he needed to build a great career on.