Shaquille O'Neal Explains Why He Believes in UFOs: 'I Look at Charles Barkley and His Body'
Shaquille O'Neal is known as something of a prankster. After all, the Hall of Fame basketball star turned TV analyst once tried to pass off a fake Bigfoot video. During a recent television appearance, Shaq once again headed into supernatural territory. Of course, he was able to invoke his favorite TV sparring partner, Charles Barkley, in the process.
Barkley and O'Neal light up the Inside the NBA set during the NBA season with their never-ending give-and-take. Their playing careers overlapped for several years, but they didn't play against each other all that often. If a producer wanted a comedy hit, there are worse ideas than a Shaq-Barkley sitcom. The two have a rich history.
Shaquille O'Neal and Charles Barkley have gone at each other for 10 seasons on TNT
Shortly after Charles Barkley retired in 2000, he accepted a spot on the set of TNT's venerable Inside the NBA. The show airs on TNT's broadcast nights, typically Tuesday and Thursday, with expanded playoff coverage through the conference finals. Shaquille O'Neal took the same route. He retired in 2011 and immediately accepted a spot with TNT.
Thus began a relationship between a pair of frenemies that is always entertaining. O'Neal regularly barbs Barkley for never winning an NBA championship. Barkley jabs back criticizing O'Neal's defense. And so it goes.
As legend has it, their mothers put Shaq and Barkley on a path toward friendship. During a 1999 game between Barkley's Houston Rockets and O'Neal's Los Angeles Lakers, a thrown ball turned into a melee. Their mothers became friends throughout their sons' careers. It was the moms who brokered a peace deal between the superstars.
But that does not mean the two still won't go at it.
O'Neal invokes Charles Barkley in a UFO discussion
During an appearance on Jimmy Kimmel Live in May 2021, Kimmel asked Shaquille O'Neal about his beliefs regarding visitors from outer space. It wouldn't have been a proper Shaq response without a shot at Charles Barkley.
"Well, one, I totally believe in UFOs because I look at Charles Barkley and his body — he's definitely an alien. And you know what's crazy? I never told you about this story."

Shaquille O'Neal
O'Neal then shared a more serious story about a close encounter.
"In 1997, me and one of my good friends, Chris Flores, we were on a double date. The girl he married — her name is Melissa — we were on a double date. We're coming from a Hollywood Video in Madera, California.

"Right when we passed the fairgrounds, I could swear I saw a flying saucer come down with all the lights, and it was spinning, and then it took off. We all looked at each other, and it was like, I know it was a UFO. I don't care what anybody says."

Shaquille O'Neal
Given O'Neal's imposing bulk, who would want to tell him no?
Shaquille O'Neal is a TNT fixture, but Barkley has an escape plan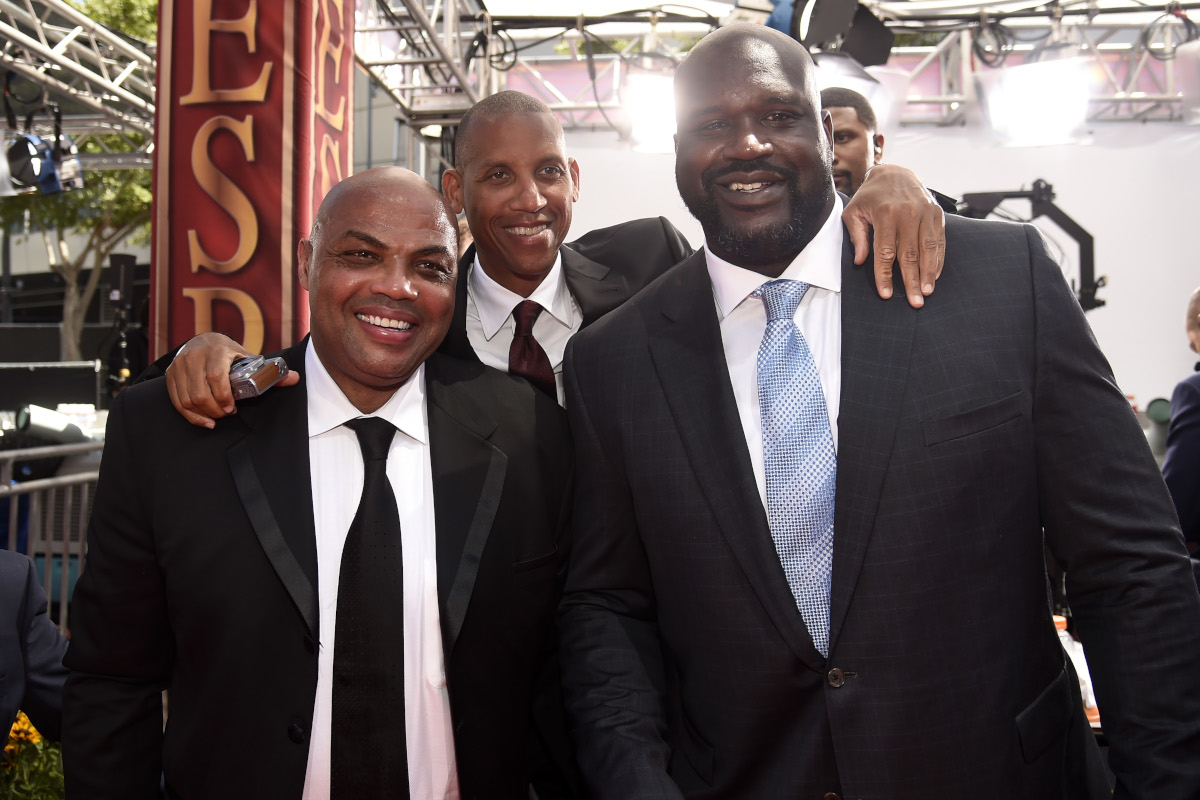 In August 2020, Shaquille O'Neal inked a multi-year extension to remain with the Inside the NBA crew. The deal with Turner Sports also called for an expansion of the popular Shaqtin-a-Fool' franchise and appearances on CNN and NBA TV.
Turner Sports didn't announce the length of the extension, but it's safe to say Shaq's not leaving any time soon.
On the other hand, Charles Barkley has zeroed in on his departure from Inside the NBA. He has won four Emmy Awards as a studio analyst but doesn't plan on continuing the gig indefinitely.
In June 2021, Barkley revealed his retirement plans during a radio interview. Barkley's plan has him remaining with TNT until he's 60.
He thought about retiring in 2016 before signing an extension. Under Barkley's stated timeline, he would leave Inside the NBA after the 2022–23 season.
If one believes Shaquille O'Neal, it may simply be a case of it being time for Charles Barkley to go back to his home planet.