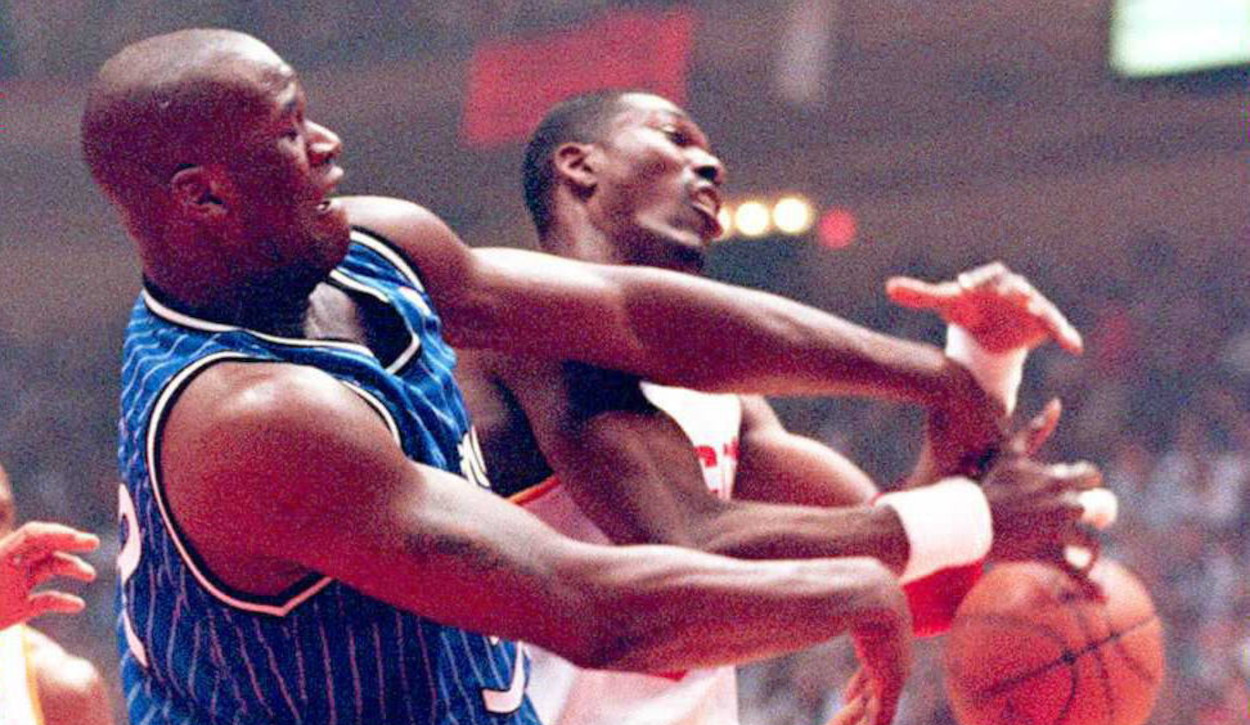 Shaquille O'Neal Blasts Current Generation of Players: 'Very Sensitive, Very Soft'
Shaquille O'Neal has gotten on the wrong side of current fans and players because of his lack of shyness when it comes to criticizing them. He's not backing down, referring to this generation as "very soft."
Shaquille O'Neal isn't always popular among today's generation of players. The Hall of Famer isn't shy about saying what he thinks. Occasionally, that leads to current players getting their feelings hurt or their egos bruised by The Diesel's comments. But O'Neal doesn't care if the new era has problems with his opinions.
The three-time NBA Finals MVP made a 19-year career out of bully-ball, using his power and athleticism to pummel opponents into submission. That's not to say the 2000 NBA MVP can't recognize the greatness on display in the modern NBA. However, he's not inclined to throw bouquets around as freely as some.
Shaquille O'Neal criticized Utah Jazz star Donovan Mitchell
In January 2021, Shaquille O'Neal told Donovan Mitchell, the All-Star guard for the Utah Jazz, that he didn't have what it takes to get to the next level. Critics were quick to jump on O'Neal, calling the perceived attack inappropriate. Heck, even the Utah House of Representatives jumped on the incident to score cheap political points, passing a resolution honoring Mitchell over the superstar-turned-TV analyst/entrepreneur.
The legislature went so far as to suggest naming "Spida" the official state arachnid (a fancy biological name for spider).
The four-time NBA champion didn't back down. He said he offered the comments as a constructive criticism of Mitchell. O'Neal pointed out when legendary big man Kareem Abdul-Jabbar criticized him early in his Los Angeles Lakers tenure. While saying he took Kareem's comments to heart, the 14-time All-NBA center referred to today's players as "pudding pops."
Months later, O'Neal still isn't backing down
During a recent appearance on the Full Send Podcast, Shaquille O'Neal offered a broad view of his NBA experience. He entered the league in 1992, battling the likes of Michael Jordan, Hakeem Olajuwon, and Charles Barkley. He later saw the emergence of a new generation of standouts like LeBron James, Dwyane Wade, and others.
O'Neal was a three-time All-Defensive player, but he thinks the current crop of players has the market cornered on defensive behavior.
"Very, very sensitive, very soft, very political. And I hate this term. But people say this is the era we live in, so we have to accept it. I've been through the era of Mike, Charles, (Karl) Malone, (John) Stockton, all these great guys, so I know what greatness looks like.

"I said something about Donovan Mitchell one time and everybody start bashing me. But they not listening to what I'm saying. He is a really good player, on his way. But to try to crown him as the next … if I'm not No. 1 or No. 2, don't bring my name up ever."

Shaquille O'Neal
O'Neal experienced enough greatness during his career to recognize it. And it's a term he takes issue with today.
Shaquille O'Neal and the definition of 'great'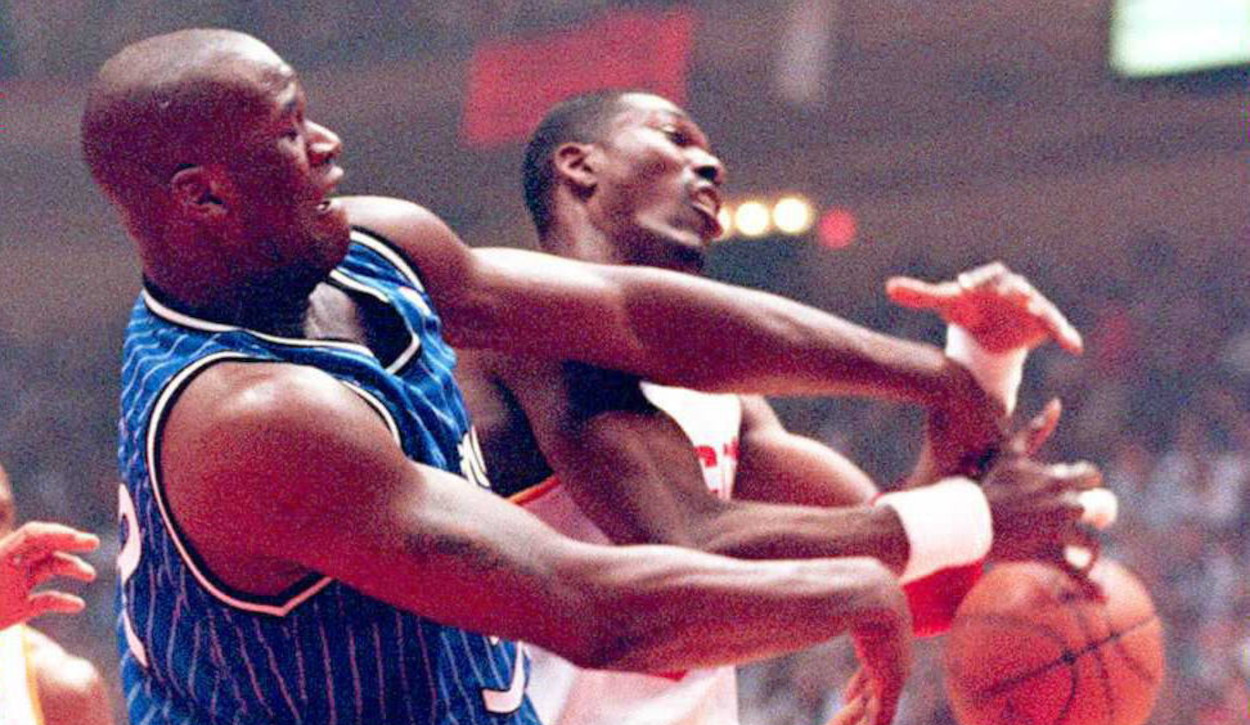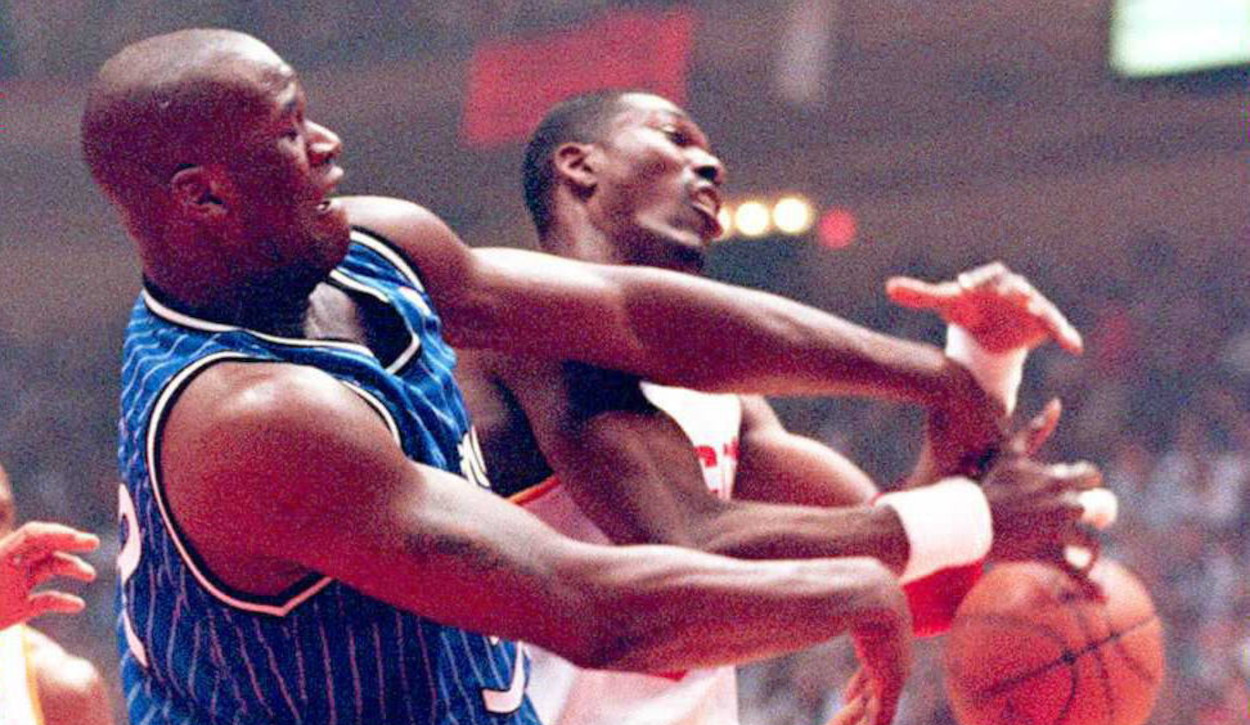 When the NBA released its list of the 50 greatest players of all time during its 1996 anniversary celebration, Shaquille O'Neal was one of 11 active players named. He was by far the youngest, having played four seasons. He was 24 at the time. So, he understands what it's like to be recognized as both young and great.
The two-time NBA scoring champion believes the word "great" is thrown around far too easily these days.
"I played with Penny Hardaway, Kobe Bryant, DWade, LeBron James, Steve Nash, and if you ain't on that level, I don't know what great is."

Shaquille O'Neal
The truth is there is as much greatness now as there ever was. It's just a different kind of greatness. Criticizing Bill Russell for being too thin to have been a great player in today's NBA is as silly as claiming modern stars wouldn't have been as dominant then as they are now.
Russell is listed at 6-foot-10 and 215 pounds. O'Neal played at 7-foot-1 and 325-ish. But consider this. If Russ were given access to contemporary nutrition and workout technology, you don't think he'd have filled out considerably?
As for critiques of the older generation of players for lacking shooting range? In their era, a big man's place was on the low block so the ball could be pounded inside.
It's the way the game was played. Transport today's players back in time, they'd adapt. But the same holds true for bringing yesteryear's stars forward.
Like Sportscasting on Facebook. Follow us on Twitter @sportscasting19.