Shaquille O'Neal's $2.5 Billion Power Play Makes a Longtime Dream Come True
Like most elite NBA draft prospects, Shaquille O'Neal entered the league with a shoe endorsement deal already in place. Two weeks before the Orlando Magic selected O'Neal first overall in 1992, the LSU big man signed with Reebok. Once upon a time, Reebok was a significant player in sports apparel and sneakers. O'Neal wants to bring the brand back to that status.
That desire is closer to becoming a reality now that Authentic Brands Group (ABG), which owns the rights to O'Neal's endorsement and merchandising deals, made a deal. The $2.5 million to acquire the Reebok brand from adidas, which bought it in 2006, is set to close early in 2022.
Shaquille O'Neal was part of Reebok's glory days
The company that would become Reebok began in England in 1895. The shoemaker was renowned among top-level athletes, who first wore the J.W. Foster & Sons shoes in the 1908 Olympics.
The Reebok brand itself dates to 1958 when Foster's grandsons took control of the company. The name came from a type of African antelope known as a rhebok. Reebok didn't come to the United States until 1979 and made waves with the 1989 release of the iconic Reebok Pump.
Shaquille O'Neal joined the brand in 1992. The company released the signature Reebok Shaqnosis shoe in 1995. In 2001, Reebok landed the contract to provide apparel to the NBA and WNBA; a deal adidas took over after it acquired the firm.
O'Neal was vocal in his criticism of how adidas neglected the Reebok brand. Now, he gets his wish to own the brand.
Reebok sold at a loss to ABG
In 2019, Shaquille O'Neal told CNBC that he wanted to buy Reebok because of what adidas had done to it.
"(They) diluted (the brand) so much to where it's almost gone. If they don't want it, let me have it. I want to bring them back to basketball and to fitness."
O'Neal recalled the glory days of Reebok when he was the brand's top pitchman, and it was running neck-and-neck with Nike.
In the end, adidas sold Reebok for a loss. It purchased the brand for $3.6 billion and sold it to ABG for $2.5 billion. According to ABG president Nick Woodhouse, O'Neal played a key role in the negotiations, per Yahoo Business.
"Shaq is very involved in our business and very involved in his business with us. So it's super gratifying for him, too. (Reebok) is the company that helped, with his athletic prowess, vault him to fame and teach him how to be a businessman."

Nick Woodhouse, ABG president
Woodhouse shared that most conversations with O'Neal began with whether the firm had bought Reebok yet. Now that answer is yes.
Shaquille O'Neal's role going forward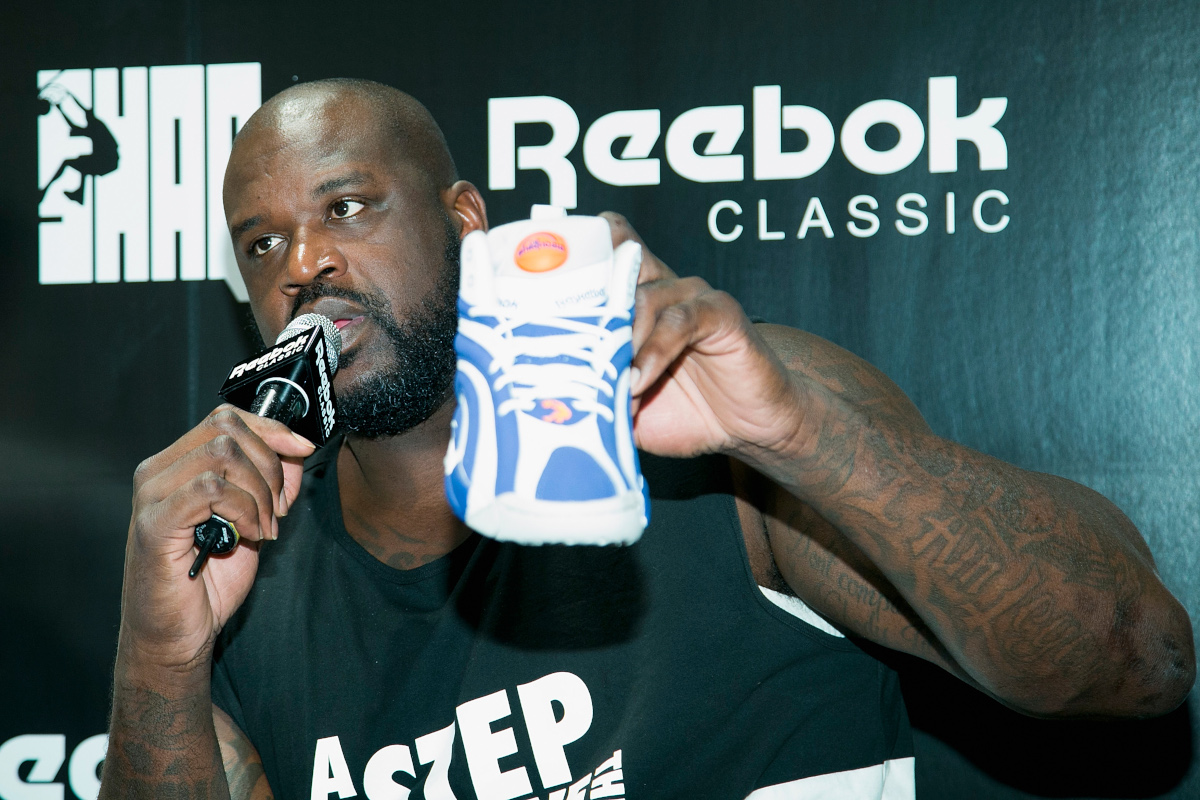 Soon to be a part-owner of Reebok, Shaquille O'Neal figures to have a significant role in reviving the name. Woodhouse said the plan is to work with O'Neal on more retro styles from his old line. The goal is to make those styles available for a new generation.
While there is no deal in place for a company to license Reebok's footwear and apparel, Woodhouse said there is no shortage of interest.
"Not surprising, the phone's been ringing off the hook for us."
O'Neal's business philosophy is a simple but effective one.
"I'm going to invest in things that are going to change people's lives. My style is very simple."
Now Shaquille O'Neal has put his money where his dreams are. He was the frontman for Reebok more than a generation ago, and now he'll be asked to bring the brand back to the forefront.
Like Sportscasting on Facebook. Follow us on Twitter @sportscasting19.